Cantilevered homes have a certain remarkable charm about them; even f we have seen plenty of them around. Just the idea of a large and heavy structure seemingly hanging in the air gets us excited! Designed by March Studio, the Studley Park House in Melbourne is one such gorgeous home where the cantilevered structure is balanced with a dramatic and dark façade that feels both unique and contemporary. The house surprises you in more ways than one with its façade being crafted using wooden dowels and planks that combine to form a 'fence of complete privacy'. The round window is another smart feature that grabs attention while colorful accents enliven the interior.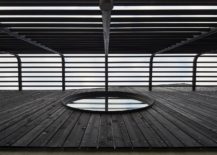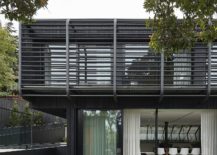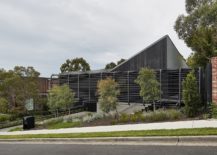 The house has been intentionally placed on the rear of the lot to create enough space for the cantilevered upper level structure at the front. Then you have an interior that feels contemporary and practical with its engaging open plan living area, kitchen and dining space. With the bedrooms and bathrooms placed on the upper level, each particular zone has a style of its own. Black, white and pops of green form the color scheme that completes this modern Melbourne home that is unlike any other in the neighborhood. [Photography: Peter Bennetts]
RELATED: Budget Renovation of Sydney Home Brings Japanese Charm to a Heritage Setting
The client's focus on their young family and entertaining is reflected through the ground floor where the relationship between indoor and outdoor, living the cooking is fluid and interconnected. While the upper floor of the home aims to prepare the family for the later stages of their children's lives, where the option for privacy and separation will become as important as the values of shared space.
RELATED: Scenic River Views And Indoor-Outdoor Interplay Shape Classy Aussie Home
You're reading Cantilevered Family Home in Sydney Brings Privacy to Indoor-Outdoor Interplay, originally posted on Decoist. If you enjoyed this post, be sure to follow Decoist on Twitter, Facebook and Pinterest.