In 1961, Herman Miller and Alexander Girard opened the Textiles & Objects Shop in New York, selling the preeminent designer's exuberant fabrics and a handpicked selection of folk art.
First came glass and steel. Then came Alexander Girard. A stark contrast to architecture of the time that was—well—stark, Girard brought warmth and whimsy to midcentury design, touching everything from dolls to downtowns. Since the breadth of his oeuvre will leave you quite breathless, here, we hone in on a pivotal year in his career: 1961, when the Textiles & Objects (T&O) shop opened in Midtown Manhattan.
Capping a 10-year relationship with Herman Miller, Girard designed a store where visitors could buy his fabric by the yard alongside a global selection of folk crafts. The items in T&O existed for one purpose only: to delight. Girard's pieces were accompanied by the work of George Nelson and Ray and Charles Eames, who became the design trifecta of the era. Girard, affectionately referred to as Sandro among his peers, was the ringmaster of the wholesale/retail experiment for Herman Miller that would go on to capture the zeitgeist of a playful, yet poignant moment in midcentury modern design. "When Herman Miller gave the go-ahead to launch a shop only devoted to textiles and objects, it was something never done in the past—no other American manufacturer had done this," says author, professor, and Milwaukee Art Museum Curator Monica Obniski. "It was a totally new endeavor. Giving a curatorial license to a designer? Highly unusual."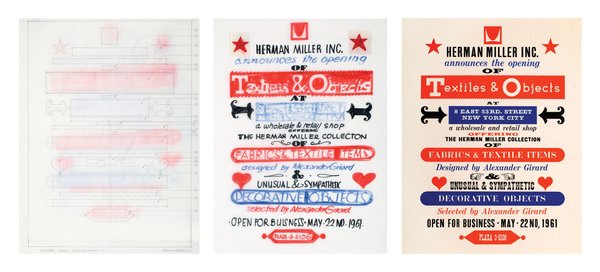 Throughout a design career spanning architecture to typography, T&O was perhaps the most authentic representation of Girard's interests. That's because the items were not just curated, but rather handpicked from travels abroad to Turkey and Poland and Portugal and Sicily, all with his wife, Susan.
The collection comprised these folk art figures, but also Eames chairs, graphic print pillows, ottomans shaped by the big top—not to mention daring hues. At the time, Girard said, "People got fainting fits if they saw bright, pure color." Never before had there been such a saturation of candy-colored items that really did make it feel like a day at the circus.

See the full story on Dwell.com: Was Alexander Girard's Short-Lived Textiles & Objects Shop Too Far Ahead of its Time?
Related stories:
6 Simple, Sophisticated Paul McCobb Designs to Know and Love
Cooking
Warmth