There are plenty of ways in which you can celebrate the change of seasons and everything new fall brings with it. Of course, your wardrobe is one of the first things that sees a change and once you have a bit more time, then focus turns to interior of your house. Different rooms require different approach when it comes to a home makeover that embraces seasonal trends. Even though it is the living room, kitchen and bedroom that demand your attention at first, the bathroom is one space where you can easily turn to seasonal trends for a fresh and fabulous new look. Today, we take a look at the most popular colors for bathrooms this fall along with 25 inspirations that showcase their beauty.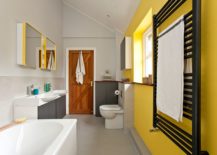 Fall color trends for bathrooms feel like an extension of the most popular choices that dominated this summer. The transition is all too simple and while there are a few choices that feel all too obvious, a few of the colors in here will surely leave you surprised. Whether you love something understated and neutral or prefer a setting that is bolder and a whole lot more colorful, the best bathrooms this fall have something for everyone. Step in and discover them all!
Seasonal Spunk of Orange
If there is one color that perfectly epitomizes the flavor of fall, then it is orange. It is an easy choice and yet one that most homeowners tend to stay away from in the long term. Orange is perceived as a risky color; one that leaves people divided. Yet, in the bathroom, it is only your opinion that matters and trying out orange is bound to give that old bathroom in plain, neutral colors a gorgeous and refreshing new look. Instead of brighter and polished shades of the color, give matte shades a go this fall. Combine orange with other fall favorites like light yellow and browns for a truly captivating bathroom.
Mellow and Cozy Yellows
Yellow has been a popular color in the bathroom even in the first half of 2019 and it is bound to continue on this path as we step into the last few months of the year as well. Just like orange, you might want to try out matte and light shades of yellow this time around to give the fall bathroom a cozy and inviting appeal. Stylish like farmhouse, Mediterranean and rustic are absolutely perfect in this regard. But you can use the color in more modern bathrooms as well with ease. Finding balance between bright pops of yellow and smart neutrals is the key in here.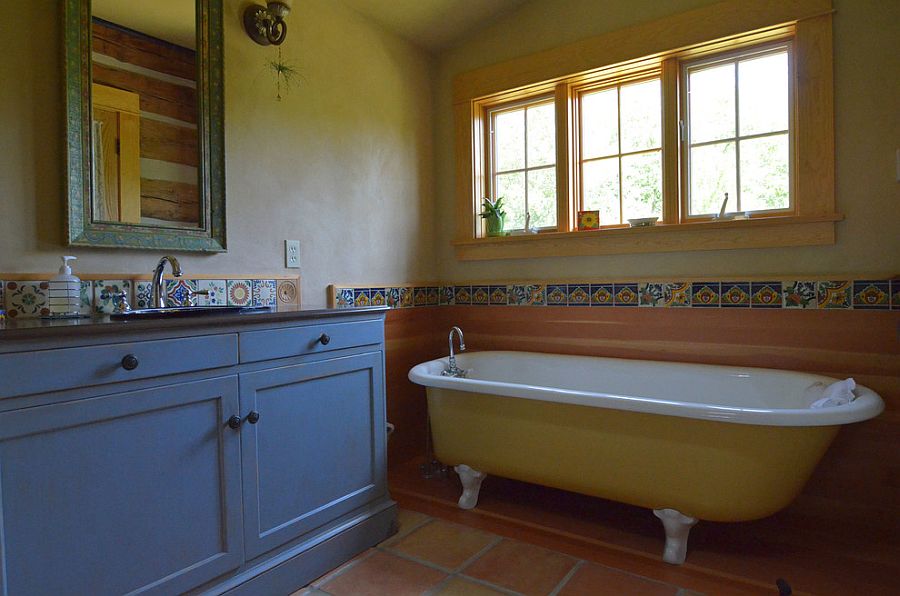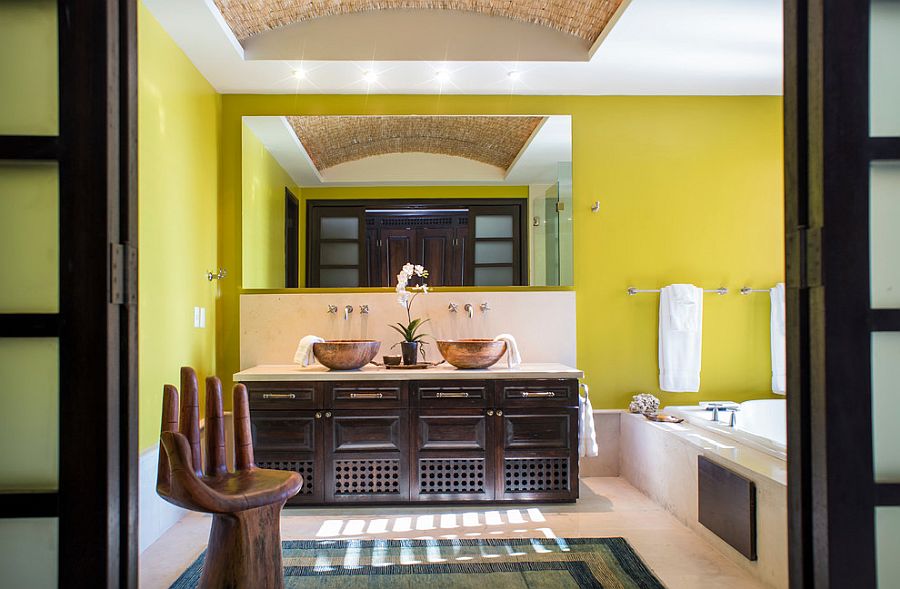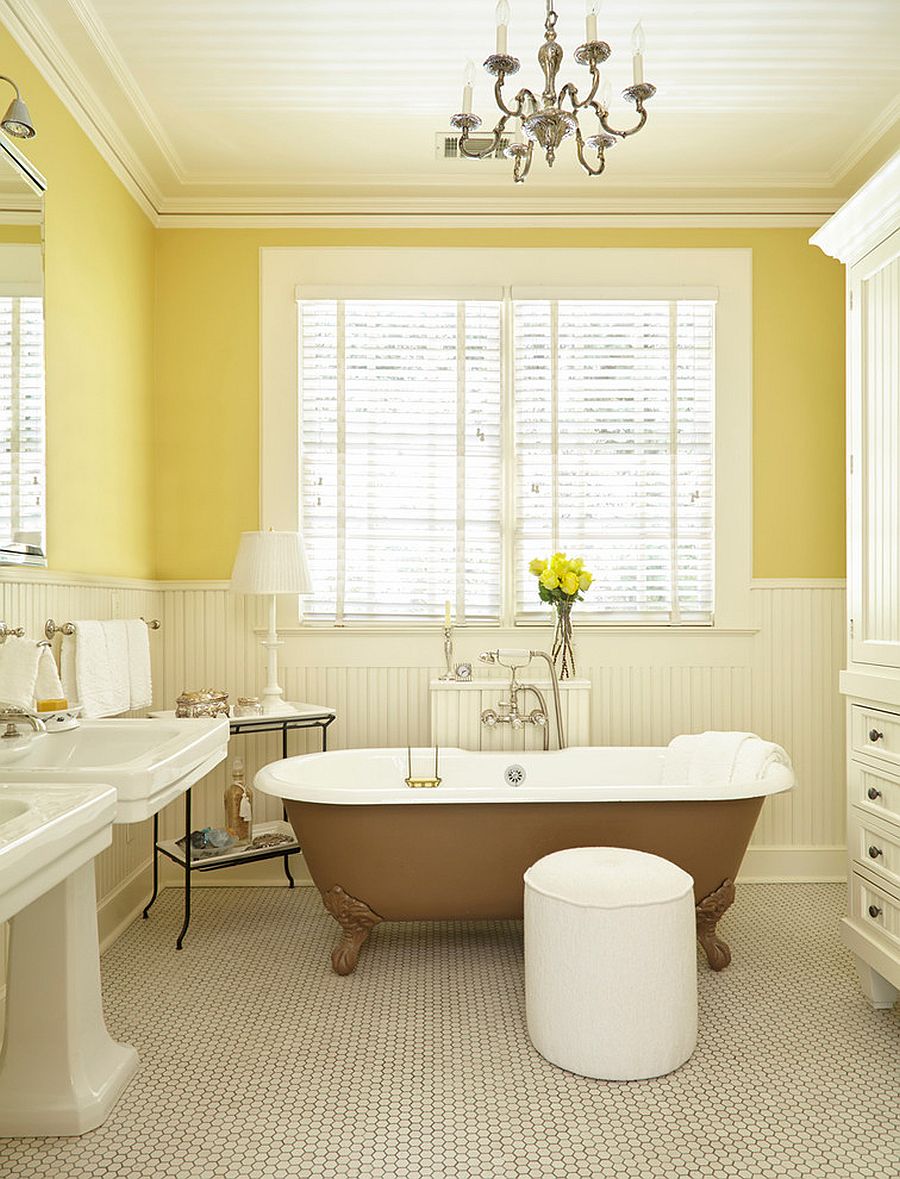 Explore Many Shades of Green
As a color, green is used surprisingly sporadically inside homes. While you find a more ready acceptance for colors like blue, red and yellow, green somehow has been left behind a bit in the last decade. But that is quickly changing and as another trend that borrows from the summer months, bathrooms in green are predicted to be a hit even as we head into the next year. You can either use color to get the job done in here or turn to more natural options with indoor plants. Those who have the privilege can also open up the bathroom to the garden outside; creating a smart indoor-outdoor interplay.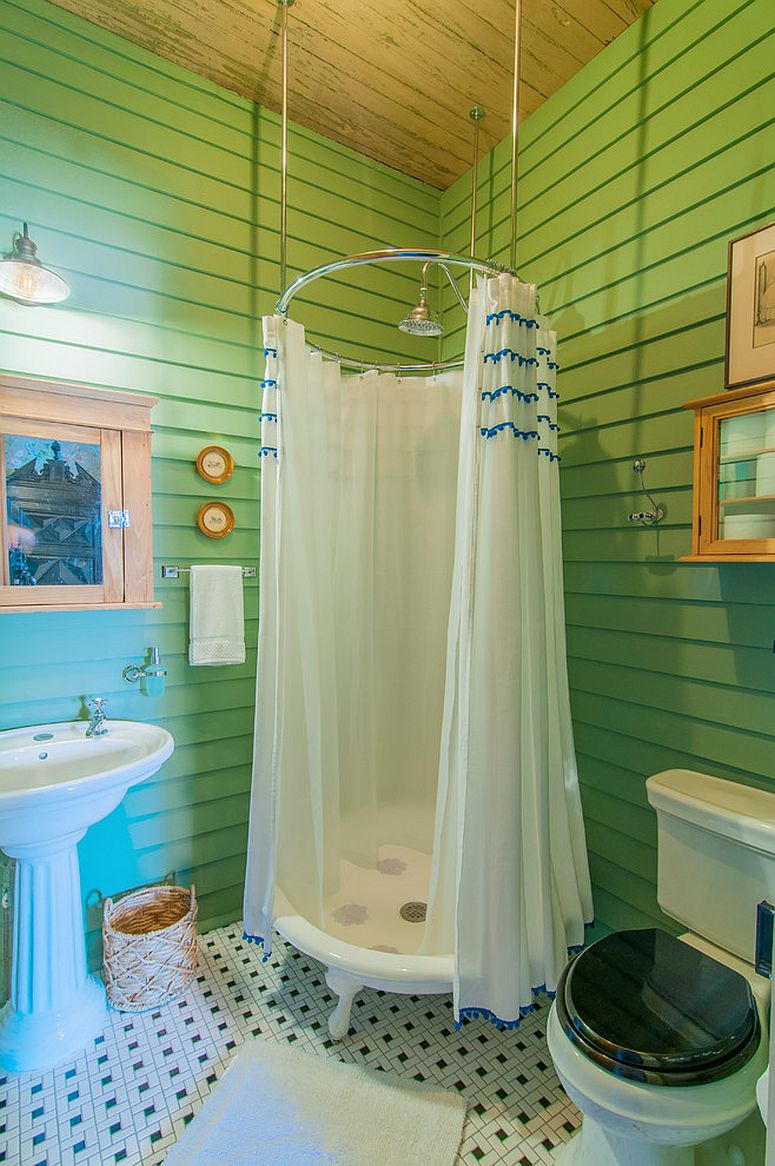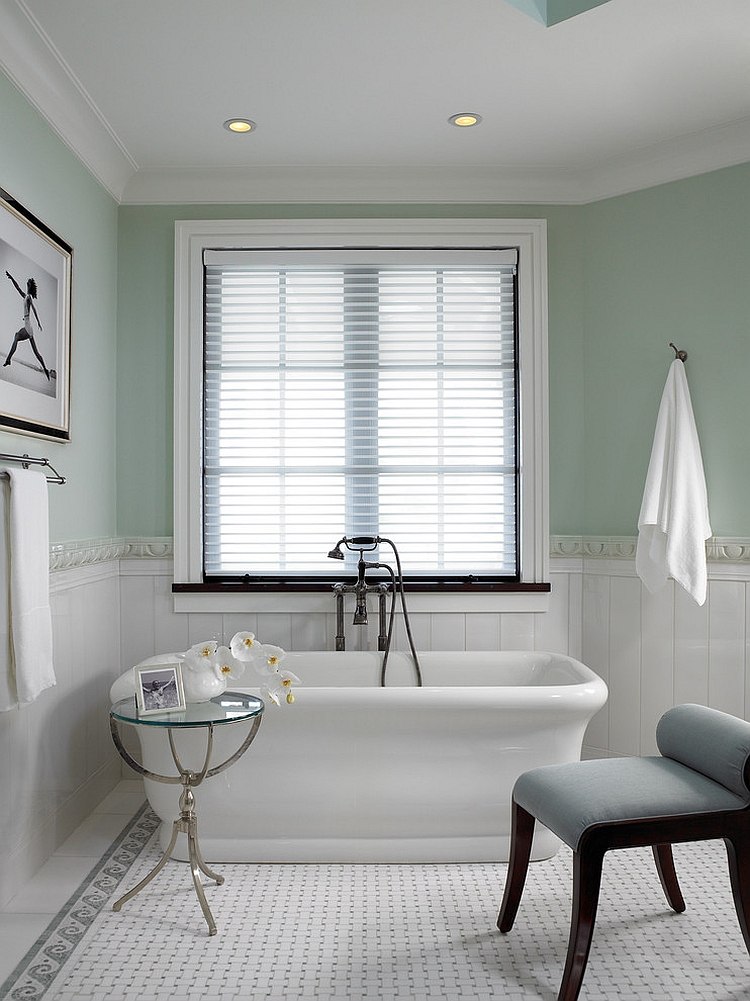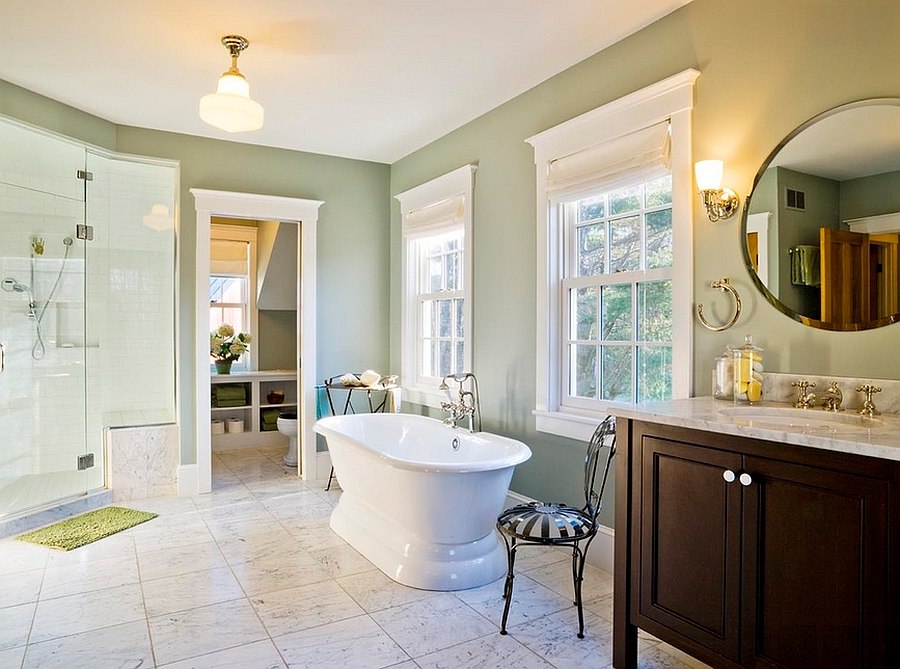 Delve into Spa-Inspired Neutrals
The wood and white bathroom is a trend-topper this year and you can extend this look and give yourself a stunning bathroom that feels like a spa at home. It is white that is the key color here and shapes much of the backdrop while luxurious décor pieces, bathroom fixtures that feel urbane and a relaxing environment complete the setting. This is a bathroom that will serve you well for years to come irrespective of changing styles and trends.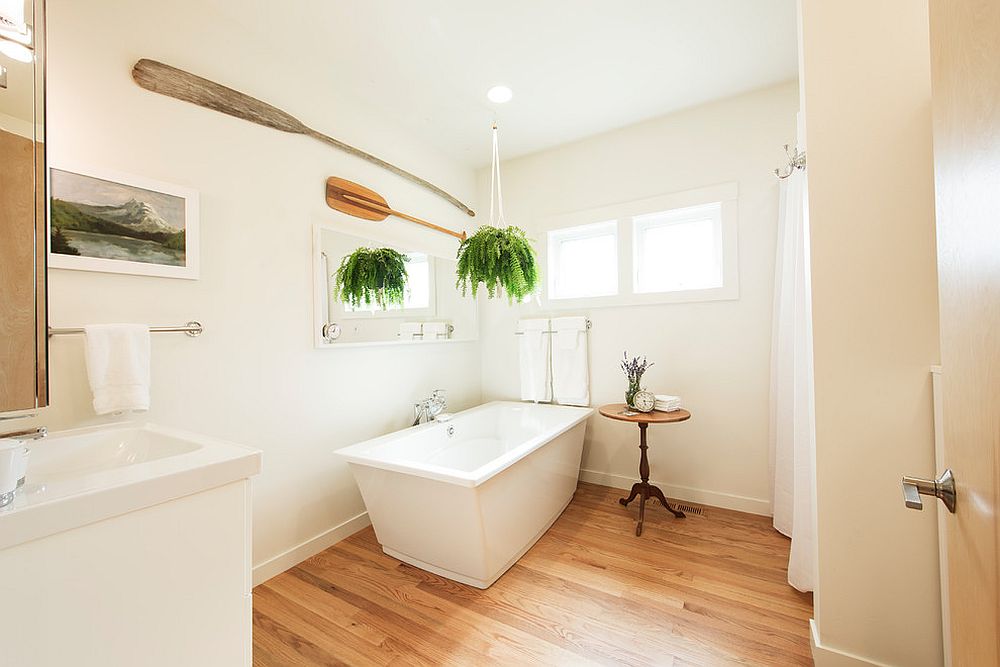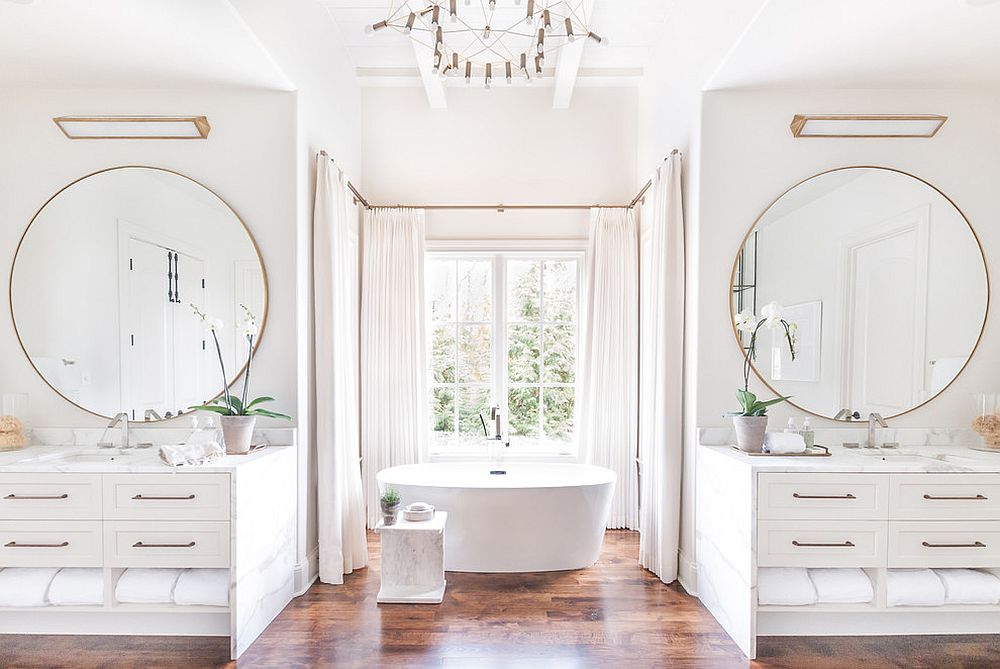 You're reading 25 Fabulous Bathrooms Color Trends for Fall to Try Out, originally posted on Decoist. If you enjoyed this post, be sure to follow Decoist on Twitter, Facebook and Pinterest.