Thanksgiving is the perfect way to welcome the Holiday Season in a grand fashion and it is a great time to bring friends and family together. Of course, not all of us have weeks and weeks to prepare for the big day. Some of us are far too busy with our own lives and just procrastinate Thanksgiving preparations and before you know it, the big day is upon us. With less than a week to go for Thanksgiving 2019, now is a great time to take a look at some last-minute ideas that will help decorate both our home and the Thanksgiving dining table without much energy and fuss. This is for those who want to get things done in a hurry!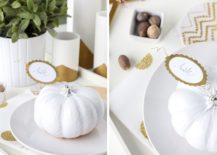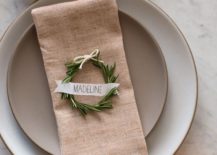 Easy last-minute Thanksgiving ideas can also be beautiful and loads of fun. As you settle into the weekend, just spending a few hours over the next two days in crafting these fabulous DIYs or just bringing stuff together can give your home that instant Holiday Season vibe. Some might want a understated and curated look while others could opt for a grander Thanksgiving theme that dazzles guests. No matter which path you take, these smart and ingenious ideas surely would help everyone. Time to get started –
Beyond the Thanksgiving Table
When it comes to decorating for Thanksgiving, we often tend to concentrate almost entirely on the dining experience, which include the dishes and the table decorations. While that is understandable, it makes plenty of sense to decorate rest of the dining room and the home itself to reflect a festive vibe. We start off here with one of our absolute favorites in the form of the DIY burlap Thanksgiving banner. A colorful fall-themed wreath can welcome guest at the door while the Thankful tree is an idea that both kids and adults will enjoy alike. For the eco-friendly folk, the upcycled DIY tin can centerpiece is a must this season as it is both eye-catching and green!
RELATED: 25 Thanksgiving Crafts and Table Ideas for the Big Day Ahead!
Perfect Thanksgiving Table Crafts
Now we move on to the section that most of our readers want to dig into and the rosemary place wreaths are the easiest way to kickstart your Thanksgiving table decorations. Equally impressive are Thanksgiving centerpieces that involve pumpkins and with a bit of color and some flowers, you can really do wonders here. He inspirations below are just that – ideas you can improvise on to create your own custom, dramatic centerpiece that ends up stealing the spotlight. Everything from craft paper clad tale decorations to pumpkin place cards can bring that special festive charm to the table this fall.
RELATED: DIY Thanksgiving Centerpiece Ideas That Celebrate Fall
Showcase Flavor of the Season
It is always best and easiest to create decorations from what can be obtained without much effort around your house. This is why the best and most impressive last-minute Thanksgiving ideas involve materials like pine cones, fallen leaves and twigs and twines. They epitomize fall at its beautiful best and crafting a wreath with them is all too easy. You can use these wreaths both indoors and outside while ideas like the assembly of colorful pumpkins and flowers just placed on the floor makes a big visual impact indeed!
RELATED: 30 Natural Thanksgiving Decor Ideas
You're reading 15 Easy Last-Minute Thanksgiving Ideas and Decorations, originally posted on Decoist. If you enjoyed this post, be sure to follow Decoist on Twitter, Facebook and Pinterest.