Stretched along a grassy plateau in Ibiza, Spain, the island home employs Belgian architect Bruno Erpicum's characteristically minimal style to create a modern Spanish "finca."
Belgian architect Bruno Erpicum believes that architecture should disappear into its surroundings, a philosophy that allows the landscape to dominate with simple yet striking designs. His works can be found throughout the world, including several on the Spanish island of Ibiza in the Mediterranean Sea. One of his most recent creations is now for sale.
Built in 2017, the concrete-faced villa stretches out to fill an opening in the grassy plain above town, with views overlooking a valley of pine trees and the port of Ibiza. Stacked stone walls line the base of the home, recalling traditional elements of an Ibizan country estate and creating a plinth on which the home appears to rest. Erpicum intended for the design to disturb the native landscape as little as possible.
A large concrete wall runs across the rear of the interior and continues outside as well, creating a harmonious element from which the rest of the home appears to be built around. Offering around 6,500 square feet of total living area, spacious, open rooms flow together with seamless finishes of concrete, wood, and steel. Floor-to-ceiling glass also encloses three sides of the home, providing views out to the surrounding forests and gardens. Scroll ahead to see more of this unique property, which just recently went up for sale.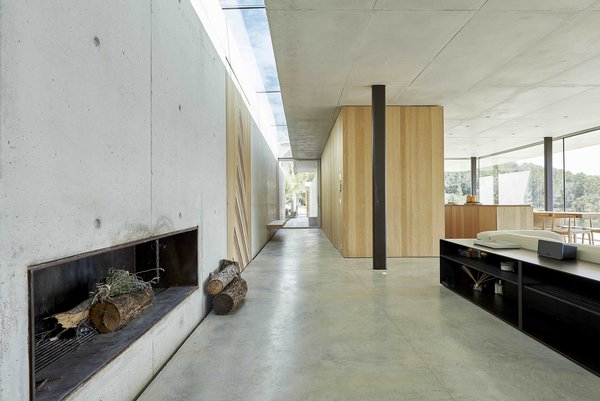 See the full story on Dwell.com: Take a Peek Inside This Ultramodern Balearic Villa Before Someone Snaps It Up