Sim-Plex Design Studio transforms a tiny apartment into a flexible, four-bedroom home whose Zen-inspired interiors belie high-tech features.
Hong Kong–based architect Patrick Lam is no stranger to small spaces. He lived in a small tenement apartment in Kowloon for many years, and the experience of living in such a tiny home was the driving force behind his approach to architecture. Today, as the founder of Sim-Plex Design Studio, his focus is on investigating the possibilities to expand limited space. His latest project, an apartment renovation for a young family in Hong Kong, makes the most of its small footprint through a combination of high-tech functionality and Zen philosophy.
"We are good at designing transformable space to create flexible, multifunctional and imaginative environments," says Lam. "Our name—Sim-Plex—is derived from the idea of searching for complexity amongst simplicity. We believe every space can be expanded by finding complex spatial transformations in the simple details of living."
The Smart Zendo apartment is located in Tung Chung, an area on the Northwestern coast of Lantau Island, and has stunning views of the surrounding hills. It takes its name from a zendo—a place for Zen meditation. Lam has used elements from both Zen and Feng Shui design philosophies alongside high-tech, adaptable features to create a harmonious living space that can meet the ever-changing needs of family life.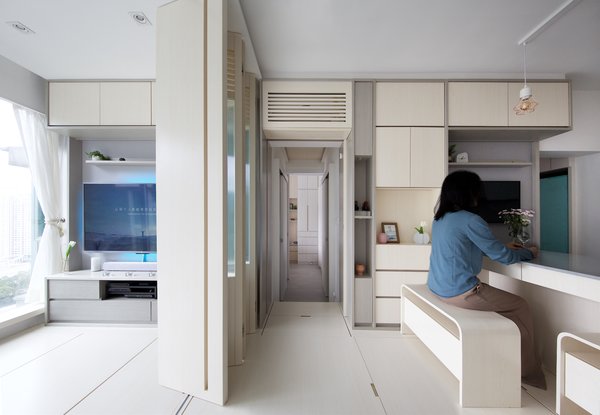 See the full story on Dwell.com: This Shape-Shifting Pad in Hong Kong Challenges What You Think of Smart Homes
Related stories:
A Community of Eco-Friendly Cottages Pops Up in Massachusetts
The Frank Lloyd Wright–Inspired Home in "Mrs. Maisel" Is a Stunner—and it's for Sale
Before & After: An Adirondacks Lake House Escapes its Amorphous Additions