Vladimir Radutny Architects refines an industrial loft in Chicago, introducing a restrained palette with sculptural accents.
Dubbed the "Michigan Loft" for its covetous spot overlooking Michigan Avenue in the Motor Row district of Chicago, this transformed loft is situated in a century-old building that was initially built for automotive assembly and display. Around 2000, the building was converted to industrial style lofts. More recently, Vladimir Radutny Architects overhauled a corner unit to achieve a more functional layout and blend the industrial character of the building with refined and sculptural elements.
Before: Entry and Kitchen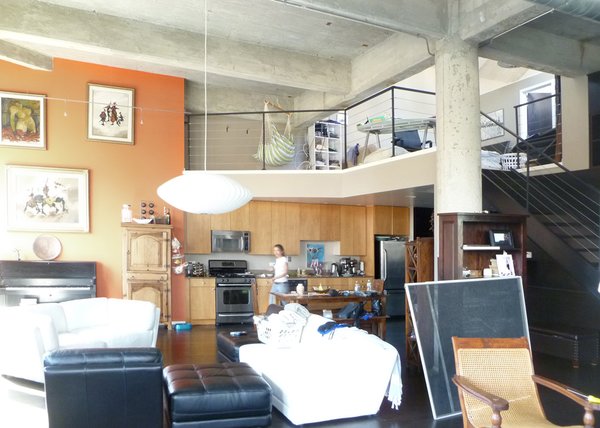 At 2,250 square feet, the existing loft felt both cavernous and disjointed, without a thoughtful means for organizing the layout and little in the way of practical storage. The firm's redesign calibrates the scale to make the apartment more livable, starting with a new wood-clad entry zone lined with storage. "Now, as one enters this dwelling through a low, wood clad transition zone the overwhelming feeling of being inside a large industrial room is very much subdued," says the firm.
There, ceilings with exposed rafters and warm lighting guide entrance into the living spaces with higher ceilings. A utility volume wrapped in wood with a concealed door keeps practical elements like the laundry machines, and brooms and mops, close by, without drawing attention.
After: Entry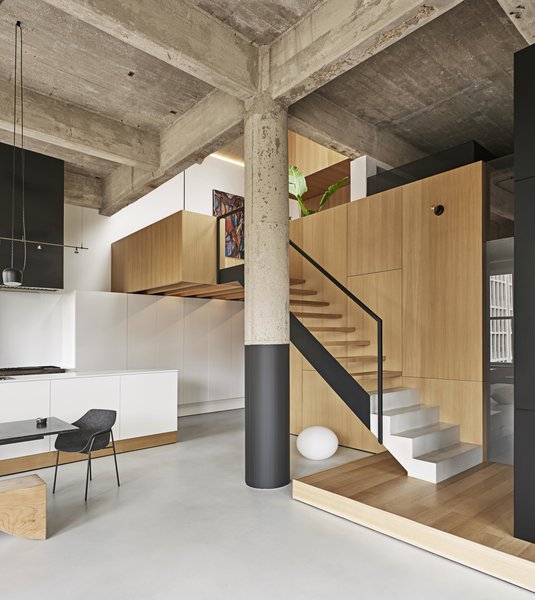 See the full story on Dwell.com: Before & After: A Cavernous Chicago Loft Undergoes An Artistic Renovation