With two dedicated living spaces, a modular interior, a bathroom, and a kitchenette, Happier Camper's 2020 Traveler is ready for life on the open road.
Happier Camper just unveiled their brand new 2020 Traveler—and it's a little roomier, a bit more equipped, and just as flexible as their compact HC1 model. Inside, a series of rugged yet lightweight modular boxes can be rearranged to transform the living area into a dining room, sleeping quarters, or lounge. The boxes provide usable storage space, and they can also be toted outside to serve as furniture when you've settled into that perfect campsite.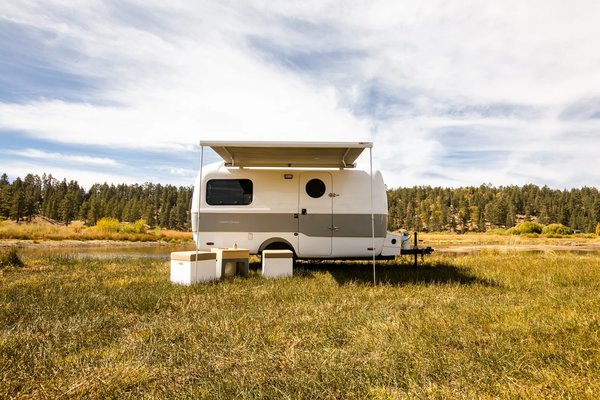 The camper's curvy retro shell is packed with sleek design elements—like wood cabinetry and wraparound shelves, inlaid mood lighting, and five panoramic windows that prop open for ventilation and unhindered views of the great outdoors.
See the full story on Dwell.com: The New Happier Camper Might Make You Want to Give Up Your Apartment
Related stories:
"More Than Just a School": A Former Taliesin Student Gravely Outlines What the Closure Really Means
Frank Lloyd Wright's School of Architecture Is Closing After 88 Years
China Is Building a 1,000-Bed Prefab Hospital in 10 Days to Shut Down the Coronavirus