Built in 1960 by Chalfant Head & Associates, this square-shaped house is wrapped with a circular patio—and it's currently available for $2.88M.
The charming town of Ojai, located northwest of Los Angeles and east of Santa Barbara, is nestled in a valley surrounded by hills and mountains. It's known for its artful, health- and ecology-focused culture, as well as popular annual music and wine festivals. A recently listed midcentury home in the town's exclusive East End provides a relaxing base for enjoying all the area has to offer.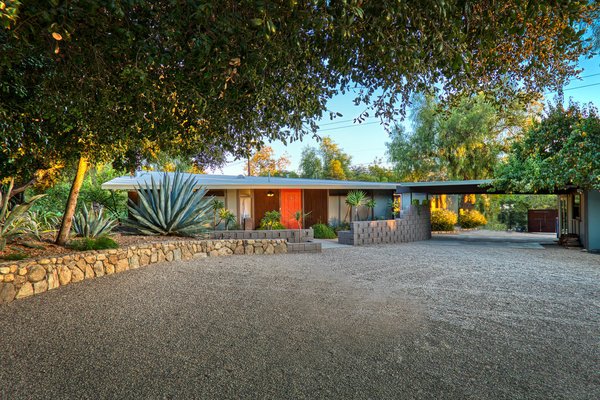 The three-bedroom, two-bath property is located just minutes from Ojai's quaint boutiques and organic cafes. The home is a lush oasis within the desert landscape—and it comes with a detached studio and a shimmering backyard pool with a spa.
The current owners, an actor and a director, lovingly embraced many of the home's period details during renovation work—including the extensive redwood paneling, floor-to-ceiling windows, and architectural cinderblock screens.
Designed in 1960 by noted local firm Chalfant Head & Associates, the square-shaped structure is surrounded by a series of rounded patios, decks, and landscaped areas. Throughout the .75-acre lot, stone and gravel hardscapes mix with lush plantings and grassy areas. Keep scrolling to see more of this midcentury retreat in the Ojai Valley, currently listed for $2,882,000.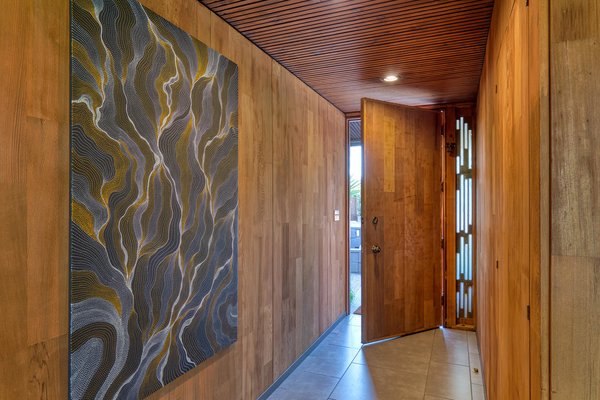 See the full story on Dwell.com: This Midcentury Home in Ojai Soars Toward the Sky and the Surrounding Mountains