It is the year of blue and that makes our life a whole lot easier indeed! Blue as a color does not really need any special 'lift' and homeowners are inherently happy to use it in various rooms and across styles all year long. It is a color that is 'perennially in trend' and having been proclaimed the hottest color of 2020, it is only natural that we share more inspirations that include blue to help out our readers. Today, we delve into the fabulous world of blue bathroom vanities; dashing additions that add color and charisma to the bathroom without going over the top. From the understated to the extravagant, the stylish bathroom vanity in blue comes in all forms and finishes.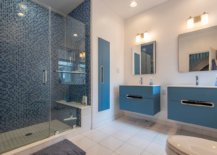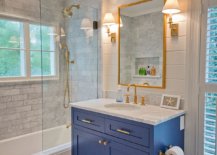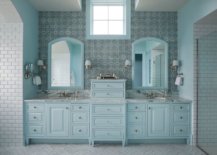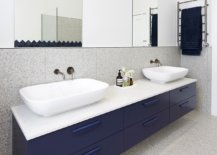 Adding a trendy color to the existing bathroom does require some effort. Instead of redoing the tiles or trying to fit in an accent wall, a simple change in vanity can do the trick with ease. Even if you are not exactly a fan of the 'classic blue' hue, you can try out other variants of the color that are more to your liking and also accentuate the style of the space. Of course, the whole thing is a lot easier if you planning for a fresh bathroom. Step in and discover the most impressive bathrooms with blue vanities –
Time to Take in Bathroom Blues
Blue is the next best option after white when it comes to bathroom colors and the second most preferred option for vanities after wood. The bathroom vanity in blue is one that captures plenty of attention in the neutral colors-clad bathroom while repeating the color throughout the space adds to its visual appeal. The most shades here are grayish-blue at its trendy best and light blue with its unassuming appeal. The blue vanity allows you to play between styles like coastal, beach, shabby chic, modern and minimal without altering it dramatically. More than the hue itself, the material of the vanity, its handles and overall build help determine the style.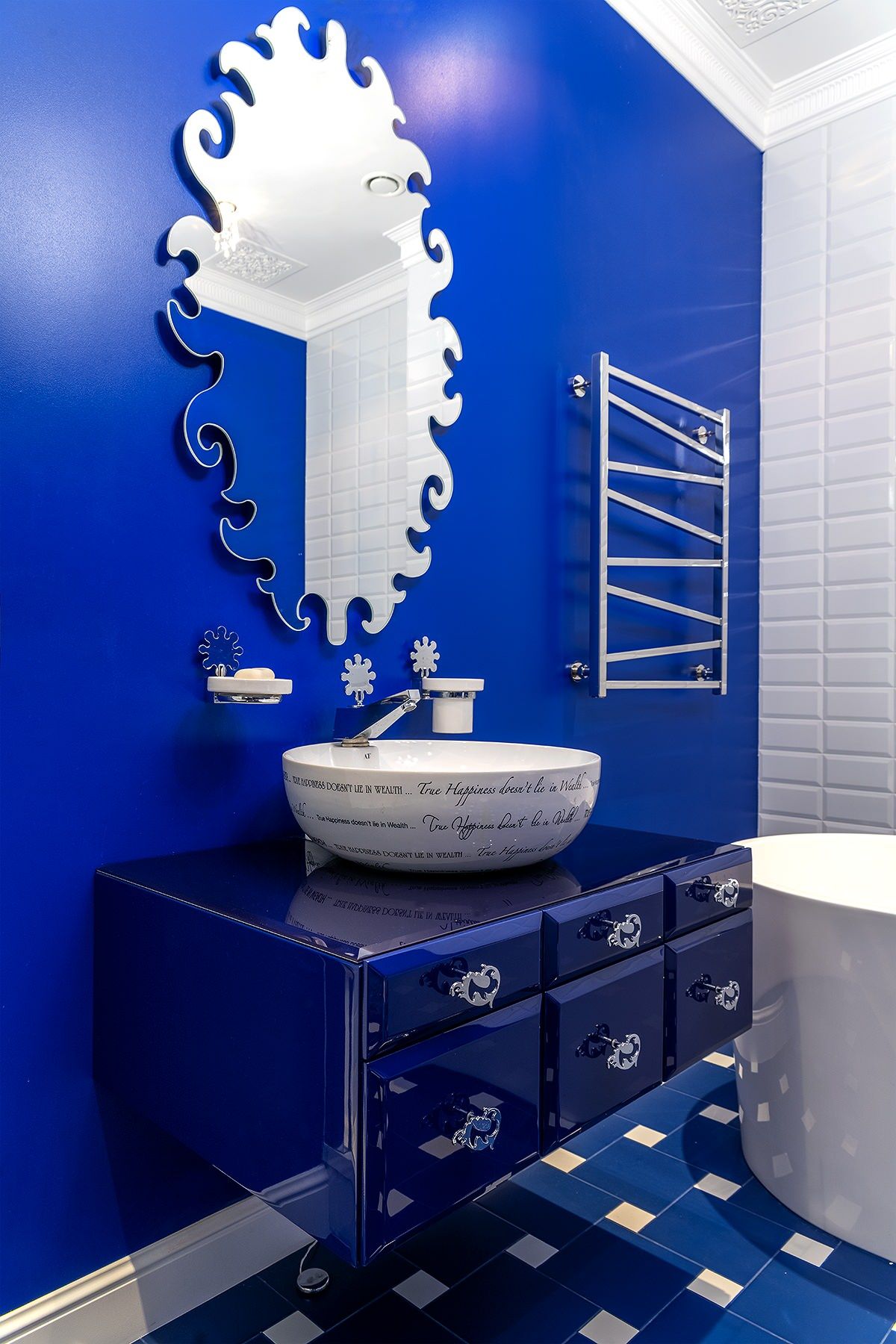 White Coupled with Blue in Bathrooms
White and blue is a color combination that is a winner every single time and just like blue on its own, it is flexible as well. Keeping the bathroom backdrop white, you can use the blue vanity to create contrast, a smart focal point and usher in a cheerful presence. Metallic accents brought in by the handles, lighting fixtures around it that turn it into the showstopper and a matching mirror frame help finish the curated makeover.
Try Out Different Shades and Styles
Even if you have decided on the color of the bathroom, there is still plenty you need to sort out regarding its overall form, style it exudes and the amount of storage it offers. Double vanities in the bathroom are a hot trend that double bathroom functionality in more ways than one while a slim floating vanity in blue saves space even as it provides additional storage space. Blue vanities with white countertops are the most choice among homeowners while you can try out wood and blue combination for a cozier look this spring.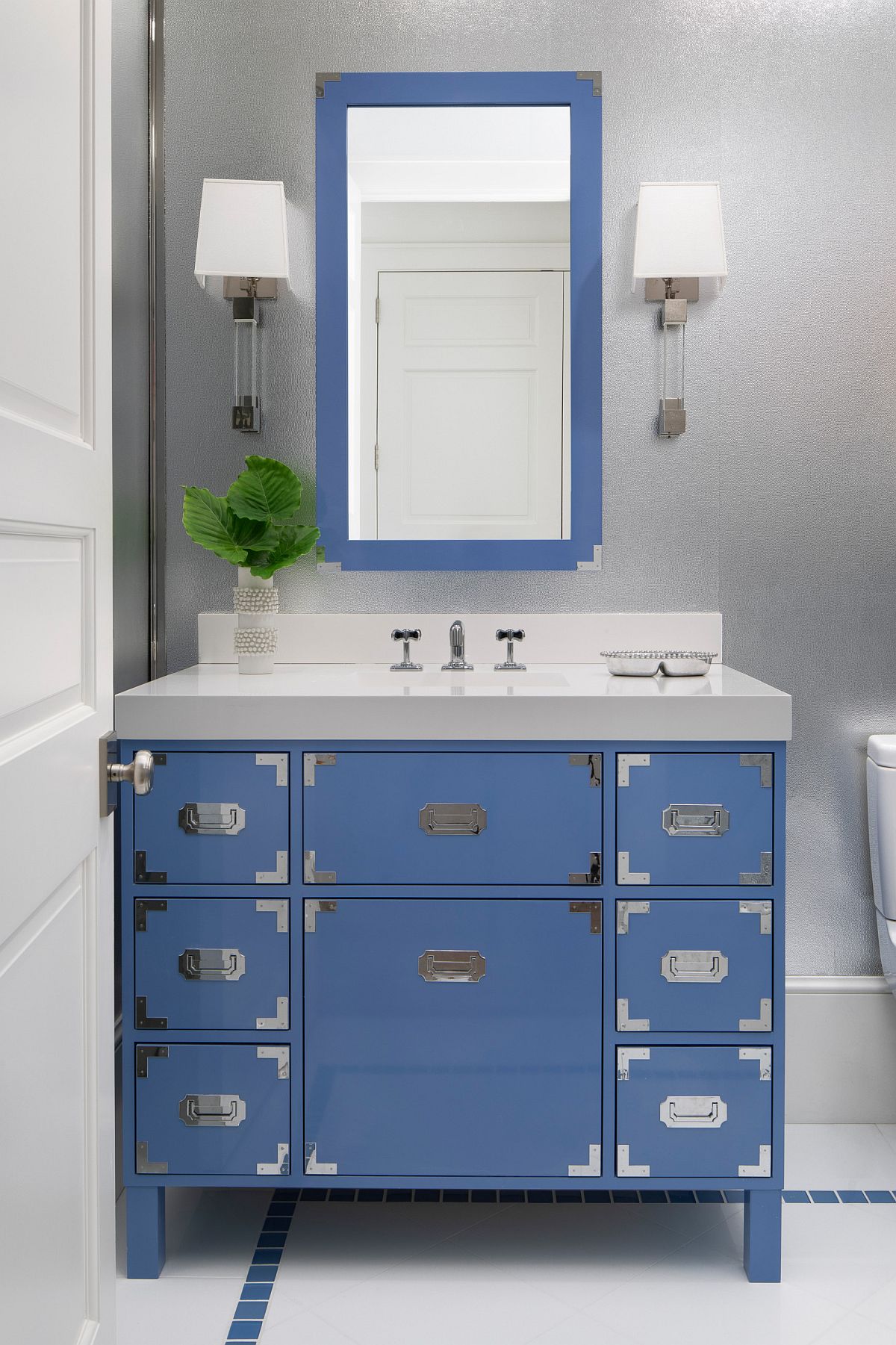 You're reading Embracing Color of the Year: 20 Lovely Bathroom Vanities in Blue, originally posted on Decoist. If you enjoyed this post, be sure to follow Decoist on Twitter, Facebook and Pinterest.