If you are an avid golfer, then the idea of living on the edge of a golf course is one that would seem pretty appealing; probably even a dream come true! Of course, you might have to be more honest with where you are headed since you cannot get away with a day at the golf course by pretending to have work at office. Houses Townhouse Nocedal is a project designed by Norte Ready Made where a series of residences sits just outside a golf course in Santiago, Chile. Each of the houses is a bit different when it comes to their internal design and yet all of them seem the same on the outside. With central patios and half floors, the design here is unique and eco-friendly.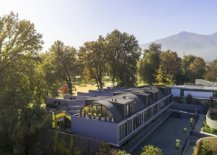 Te purpose of the half-floors inside the houses is to gradually increase the height indoors without forcing the homeowners to shuttle between different levels constantly. The inner patio also offers a safe refuge along with bringing natural light into the various levels with ease. Apart from the gold course itself, a lovely series of old English oak trees shape the landscape around these independent homes and also provide a natural privacy screen.
On the outside it is metal and wood that shape these houses and their smart design employs passive heating and cooling techniques that cut down reliance on artificial sources. Glass walls, smart shutters and modern décor complete these contemporary Chilean homes where life feels like an absolute breeze! [Photography: Pablo Blanco and Viviana Morales]
You're reading Budget Townhouses on the Edge of a Golf Course Offer a Relaxing Escape, originally posted on Decoist. If you enjoyed this post, be sure to follow Decoist on Twitter, Facebook and Pinterest.