Now more than ever, more and more of us are working from home. Working where you live has its perks, but one possible consequence is the blurring of boundaries between work and relaxation. By making your home office its own unique space, you can carve out an area of your abode where true productivity can happen, leaving areas such as your sofa for the enjoyment of down time.
Even if your home office is nothing more than a desk in the corner of the living room, there are things you can do to make it a motivating, comforting workspace. Today we're rounding up a collection of stunning home offices, providing plenty of design inspiration as you create a productive nook of your own. [home office below by A Beautiful Mess…details later in the post]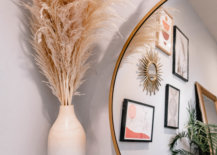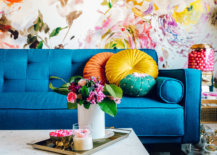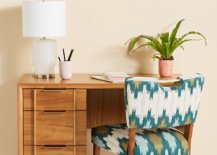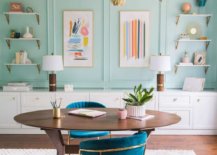 Survey Your Space
As you start imagining how your home office will come together, take a look around you. Are there special features that make this room or area unique? For example, the wainscoting on the walls below made them ideal for a refresh. Painting the entirety of the walls (paneling and all) Moon Glass by Behr created an upscale look for this home office makeover from Sugar & Cloth:
If you're lucky enough to have a feature such as bookcases, consider painting them to create a designer look. The bookcases below were painted a dark color, adding instant elegance and sophistication. Note how the decor on each shelf truly pops against the rich-hued paint. See more of this home office makeover from Just a Girl here.
If your space is on the small side, don't fret. There are plenty of creative solutions. Alyssa from A Glass of Goldwater used an acrylic hanging wall divider to delineate her workspace from the dining room. The boundary creates an area of her own, reminding her family that when she's in her office, it's time to work. You can see all of the design details here.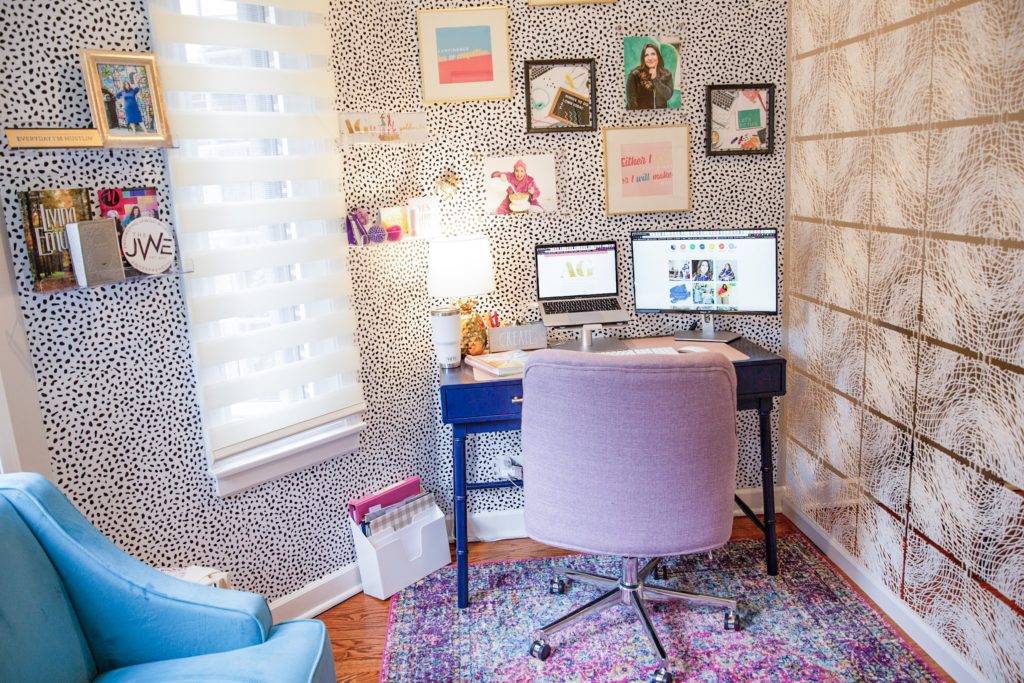 Determine the Essentials
Once you've sized up your space, it's time to determine what you truly need. Obviously a place to sit (or stand) and work is key. This Quincy Desk from Anthropologie is clean-lined and fabulous, thanks to solid eucalyptus wood and a modern form:
Don't forget the desk chair! You can truly have fun with this purchase, using it as an opportunity to set the tone for your space. Is your look minimalist? Elegant? Eclectic? While style is important, comfort is what truly matters. If the chair comes in a beautiful package, even better! Anthropologie's Elowen Swivel Desk Chair is petite and plush: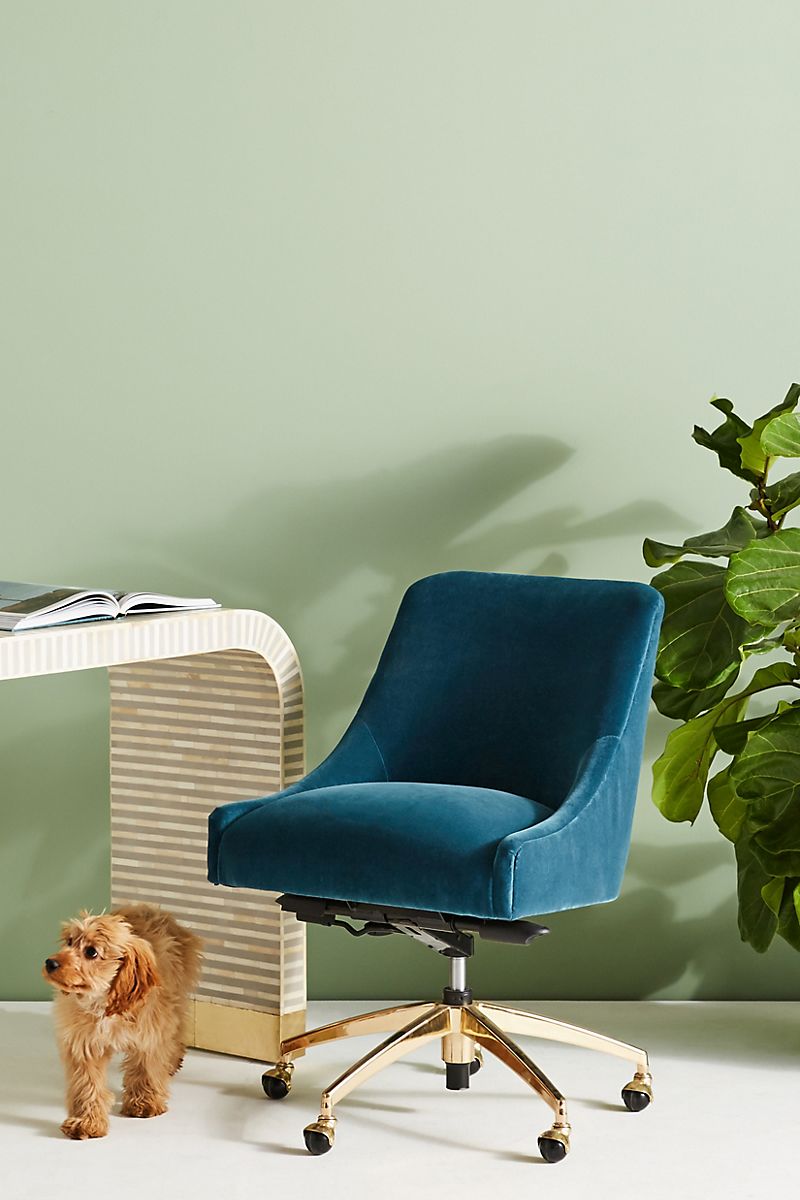 The more storage you have in your home office, the less clutter you see. Now may be the time to consider adding built-in shelves and cabinets, or at the very least investing in some storage baskets and containers. This office reveal from Room for Tuesday takes excellent storage to new heights, thanks to built-ins, as well as special touches like grasscloth added to the backs of the shelves:
Utilizing the wall space at hand is key as you maximize your home office square footage. So is good lighting. Halfway Wholeistic's home office reveal illustrates how window lighting and desk lighting can combine to create a bright and airy interior: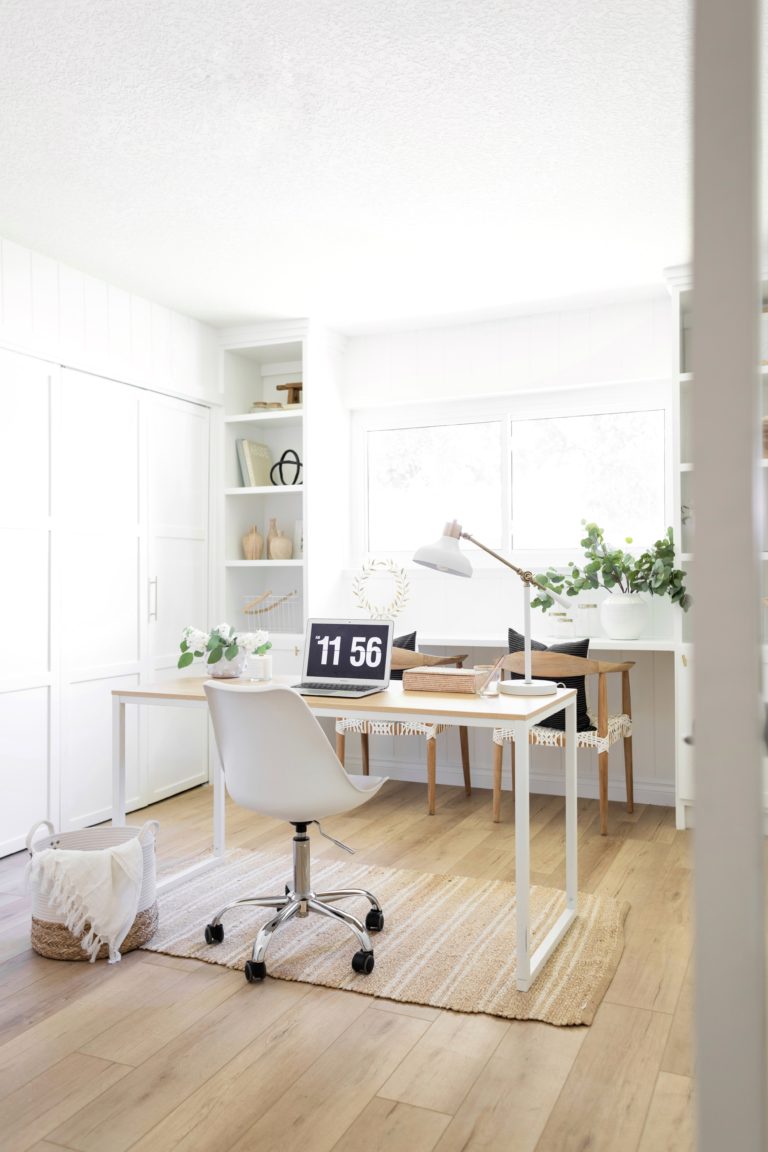 House Becomes Home Interiors created an amazing home office that blends the best of both worlds: practicality and special touches. We'll cover special touches in the next section, but when it comes to the practical, there's a lot to be said for making the most of your space. Whatever it is that you need most, find a way to make it work. If you're a writer, a good desk is important. If you're a photographer, a place to stage photos is a must.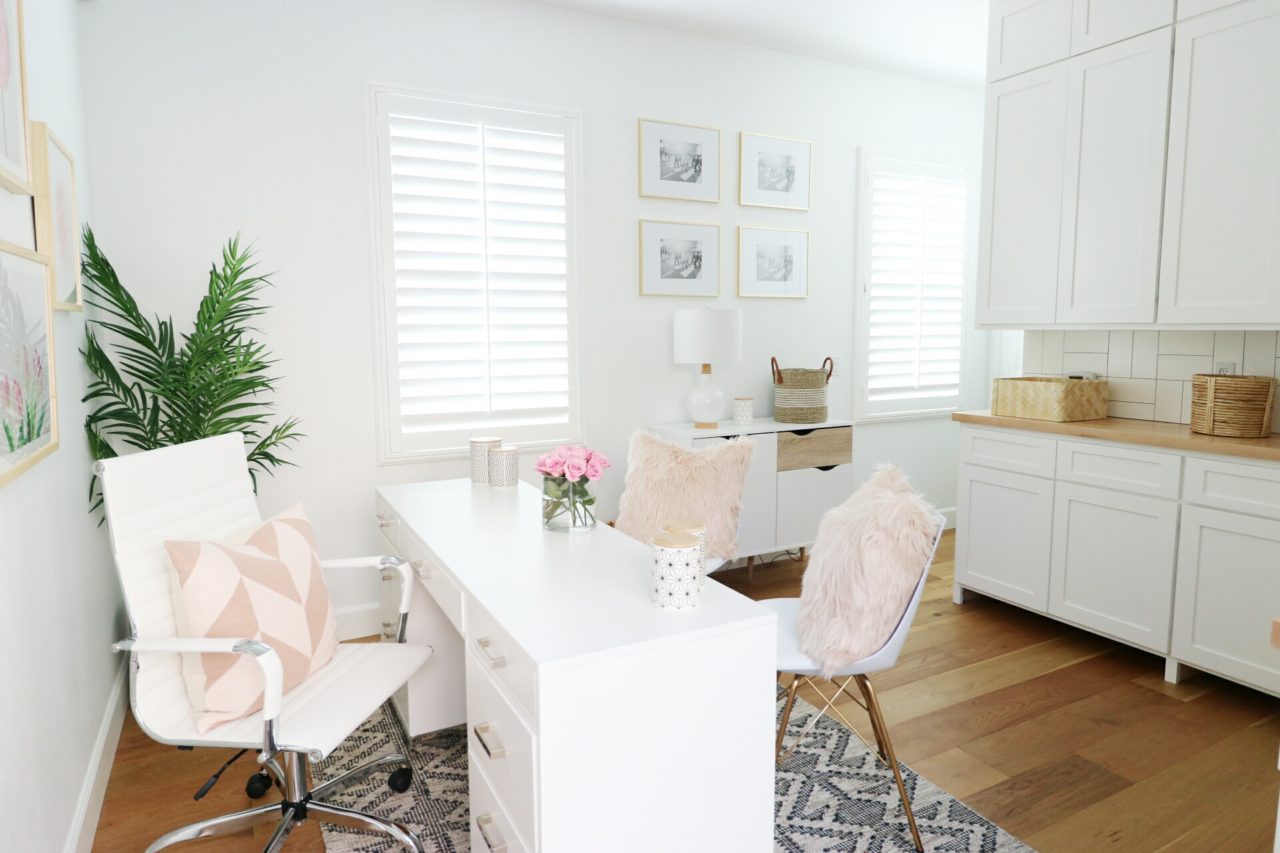 Utilizing all of the wall space on hand, House Becomes Home Interiors took practical design to the next level with a slew of built-in cabinetry, as well as additional wall shelving from IKEA. Practical, yes, but there are so many amazing touches to admire. Check out all of the design details here.
Create Special Touches
We end today's post with a focus on making your home office a home haven. Just because it's an area where you work doesn't mean it shouldn't make you blissfully happy. If you're lucky enough to have room for a gorgeous sofa (complete with amazing throw pillows), even better! A Side of Sweet has created a beautiful home office palette that is suited for comfort, productivity and style:
A comfy "thinking place" doesn't have to be as large as a full-sized sofa. Even a bench with a couple of throw pillows can achieve a decadent, serene look. Once again we see Room for Tuesday's office reveal. A lovely vignette is created with the help of a bench from Lowe's, a marble accent table, and a beautiful vase of flowers. See all of the details here:
Don't forget about styling! Just because you have bookshelves that hold organizational items doesn't mean you can't make them beautiful with an assortment of houseplants, vases, bowls and objets d'art. The time and care you put into creating a beautiful workspace will comfort you on the most challenging of days. Homey Oh My has utilized styling in clever ways, taking an opportunity to give this home office a high-end look: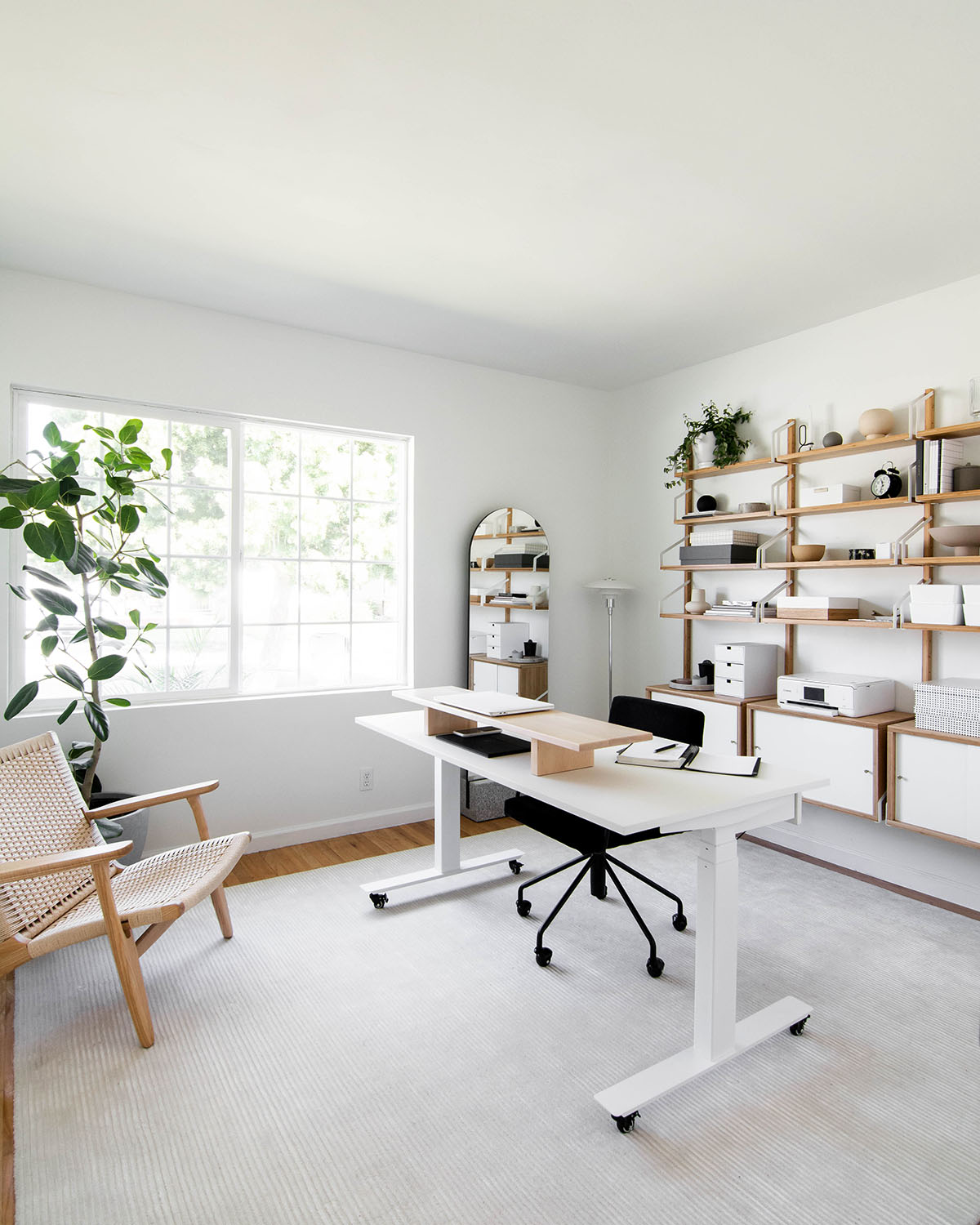 One prominent accent has the power to transform our interior. In the home office of Quartz and Leisure, a vase of pampas grass is an unforgettable focal point. The look is both dramatic and serene.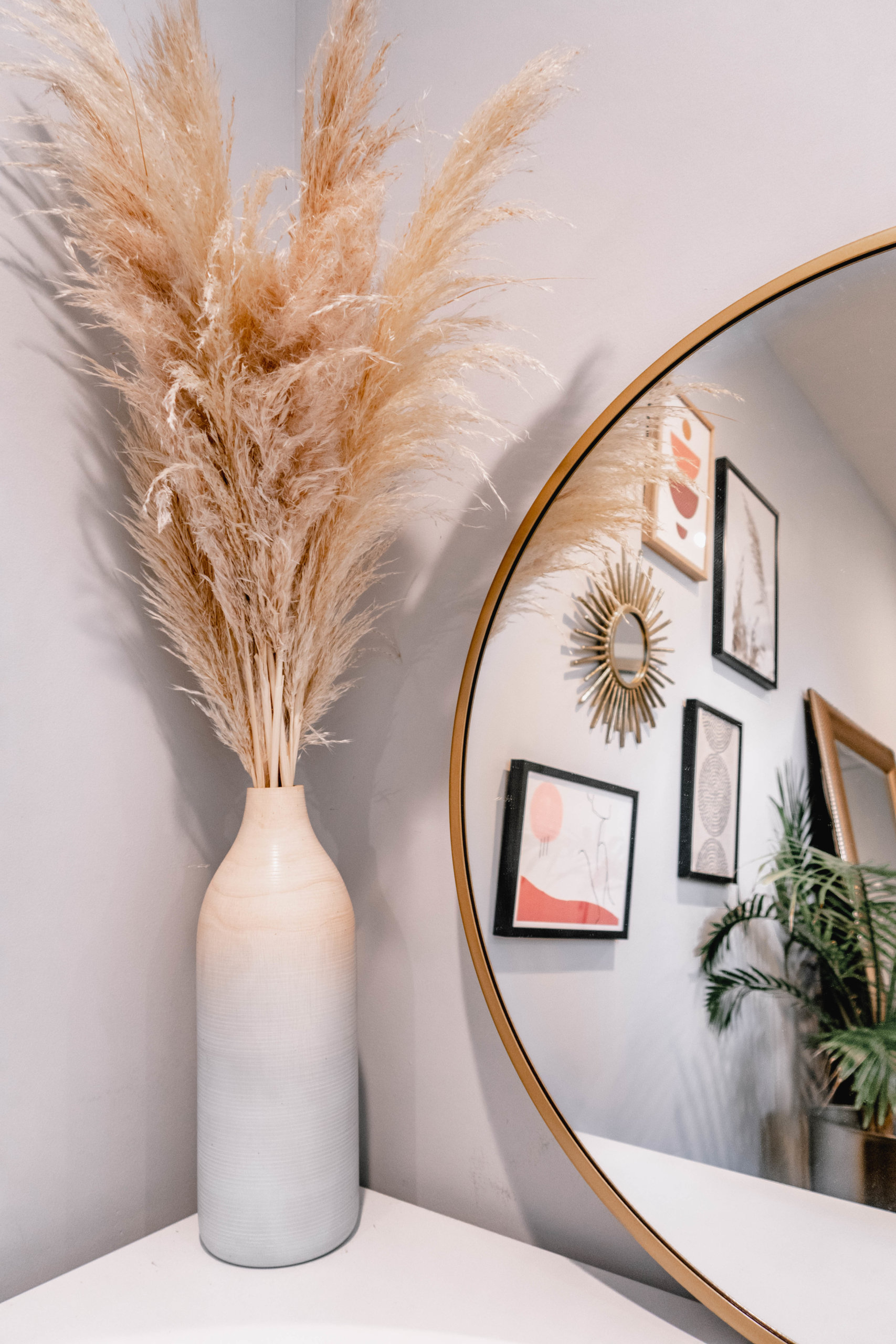 Recognize this next home office from the top of the post? A Beautiful Mess blogger Emma Chapman created a DIY faux living wall using a huge assortment of faux greenery. Time and patience are key in a project like this, but with results this jaw-dropping and fabulous, it's worth every minute you invest. See the whole space here. As an update, the office has received another makeover since the living wall project debuted. You can check out the room's latest rendition here.
Now that you have a catalog of eye-catching visuals to inspire you, it's time to get to work on designing a home office where work will be your top priority. But there's great fun to be had as well! Enjoy the process, and thanks for reading.
You're reading Design Inspiration for Your Home Office, originally posted on Decoist. If you enjoyed this post, be sure to follow Decoist on Twitter, Facebook and Pinterest.