It is not very easy to convert an old and dilapidated granite shack into a modern home that feels both elegant and spacious. The task becomes trickier when you combine these new modern aesthetics with an exterior that is a touch timeless and still retains the classic appeal of the past. But that is just what you get with the lovely little Small House with a Monumental Shower designed by fala in Portugal. The house was once just a forgotten shack before the architects completely altered it and gave it a refreshing, cheerful makeover with an eclectic twist just next to the main building!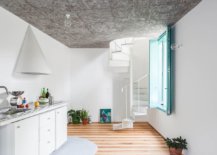 The new home has a lower level open plan living area along with a kitchen and dining space and the upper floor contains the bedrooms. A small spiral stairway at the end of the open plan living area connects the two levels and gorgeous windows and doors in bright green add color to an otherwise neutral setting. Stone, concrete, wood and polished modern finishes combine to shape a polished and bright home where you feel the old and the new are intertwined in a seamless manner.
The real highlight of the transformation though lies just outside as the new tall tower containing both the bathroom and shower adds patter, pastel pink and a sense of uniqueness to the old home. A perfect blend of form, functionality and ingenuity! [Photography: Ricardo Loureiro]
The outward expression is dominated by this exuberant pattern and the new thin metal roof flying above the granite piece. The texture of the granite walls is kept and all the doors and window frames are refreshed with color. The tall tower is standing in paradoxical independence, refusing to be serious, making a courageous formal statement. A monumental object for a non-monumental program…
You're reading Dreamy Old Shack Turned into a Lovely Modern Home with Striking Tower, originally posted on Decoist. If you enjoyed this post, be sure to follow Decoist on Twitter, Facebook and Pinterest.