With an abundance of time at home becoming a reality for many all over the world, now is the perfect time to make your abode a place that brings you joy. Today's post is dedicated to simple ways that will transform your home into a peaceful haven. If you'd rather not have an influx of merchandise arriving at your doorstep, we get it. Shopping for new items isn't the only way to bring peace to your home. Either way, we've included sources below, in case you're curious about the featured products. Read on for simple tips that will freshen up your space and ensure it's a place that fills your heart with comfort and peace. [photo from Zara Home]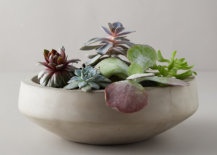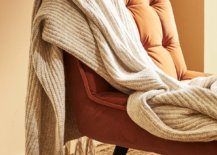 A Laid-Back Living Room
For many, the living room is one of the first rooms you enter when you open the front door. It's also a place to lounge, spend time with family, take naps, watch TV, and more. When it comes to transforming your living room into a relaxing haven, think about the things that bring you joy and peace. It can be something specific, such as houseplants and dried tropical foliage. Or perhaps it's an overall vibe, such as a crisp, fresh feel. All of the photos in this section of the post feature Urban Outfitters' Olivia and Isobel Collections. In fact, the brand is referring to these collections as "serene space decor". What could be more perfect at a time like this?!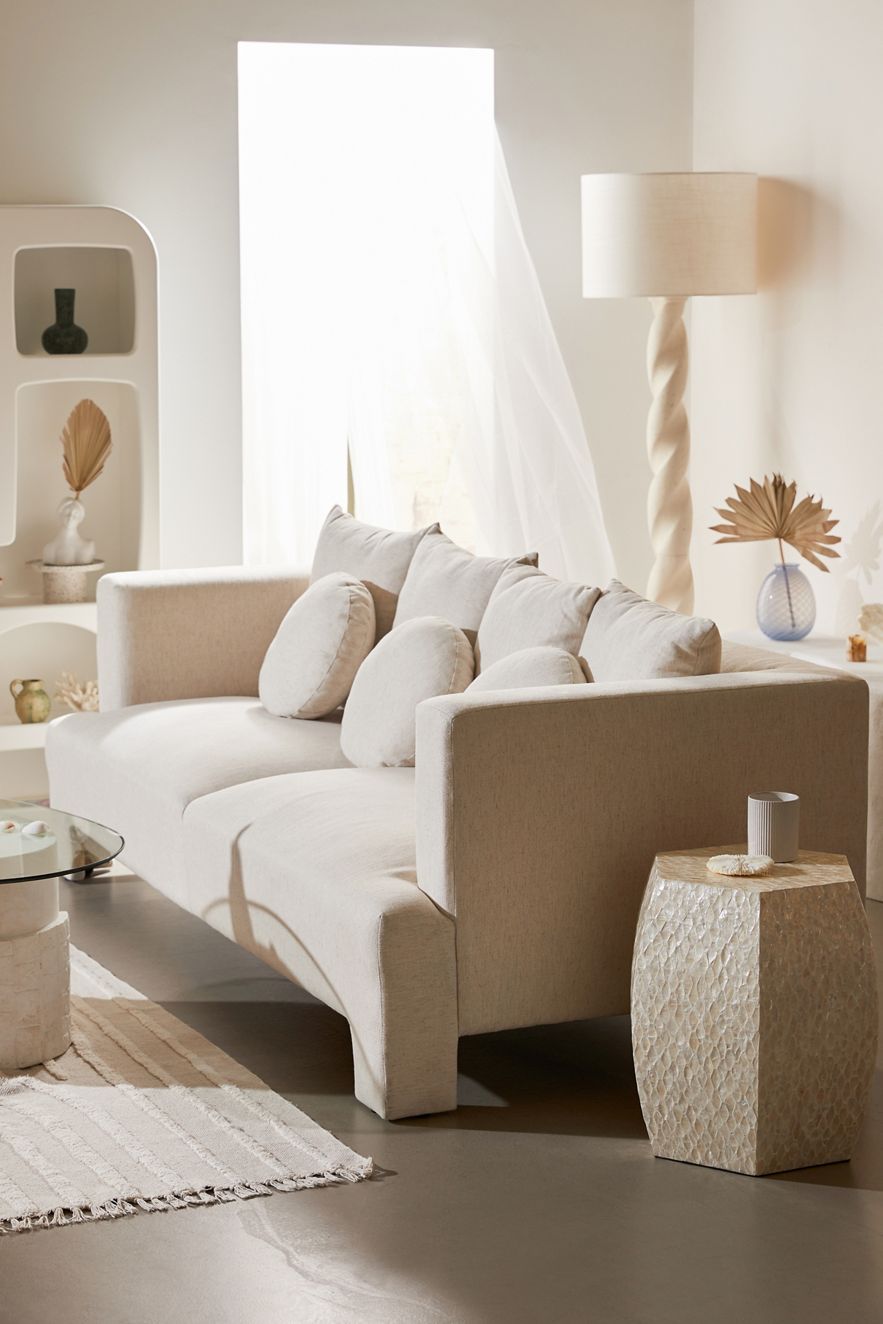 Texture can be calming and comforting. Whether it's a geometric rug with raised surfaces or a collection of comfy pillows, consider surrounding yourself with softness. If you really want to get creative, use yarn to make a simple wall hanging that brings a dash of texture to the walls.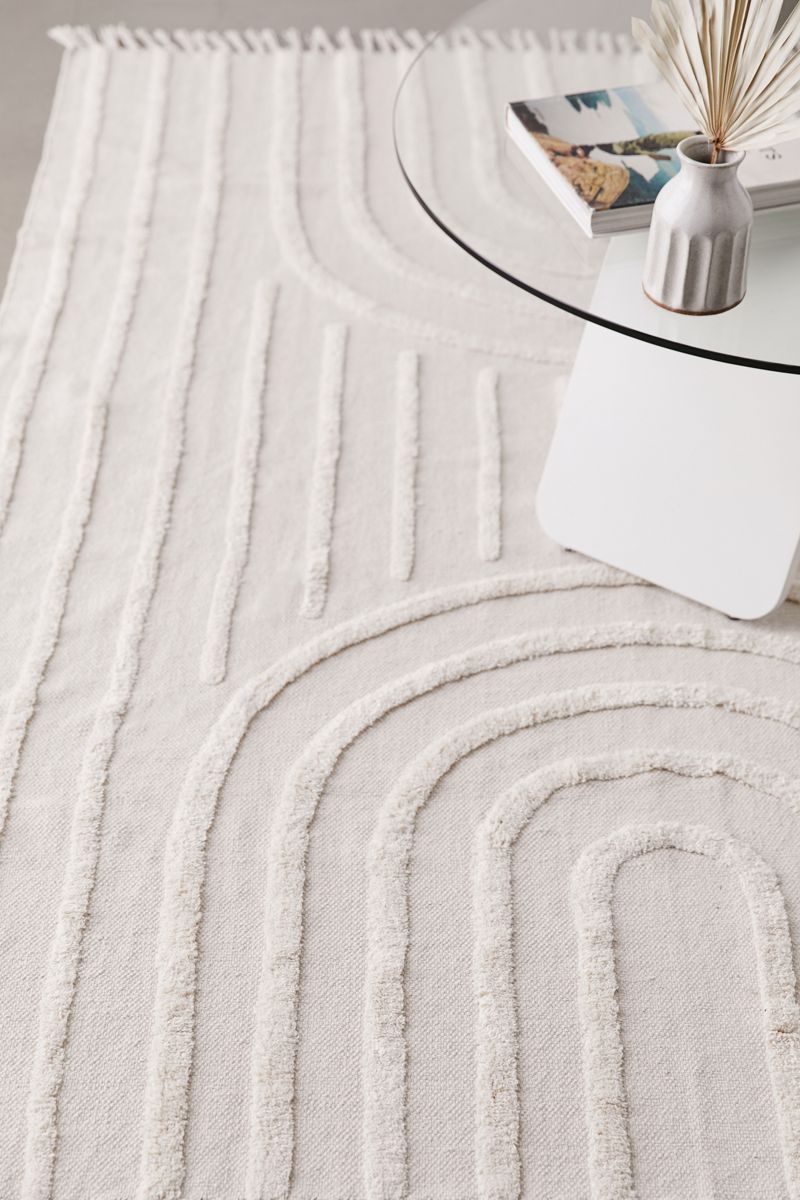 Also think about brightening your space with reflective surfaces. A strategically placed mirror can create the illusion of a window, or you can use it to highlight a special feature or favorite touch, such as a palm frond. Below we see the Capiz Arch Wall Mirror. Side note: arches are one of today's top design trends!
Greenery breathes new life into a space. Even the simplest of houseplants can be given a lift with an interesting pot or planter. The ceramic planter below adds a touch of color with a brushstroke design. You can also shop your own home for containers that will double as planters. You may be surprised by how an unexpected decor item can bring a smile to your space when filled with a plant.
A Reading Nook
A cozy spot to curl up with a book is a welcome addition when faced with a lot of time at home. And no judgement here if you want to curl up with your tablet and browse Pinterest. The idea is to make your nook a relaxing spot rather than a place to answer the demands of your screens. Try to avoid returning work emails and other to-dos. Chilling out is the name of the game. The sunlit photos in this section of the post come from Zara Home's new collection, which encourages all of us to create a special reading space. It starts with a lovely chair!
Just make sure your chair of choice is comfy. Perhaps you already have a favorite chair and you're interested in sprucing it up with a comfy throw blanket. Whatever it takes to create an inviting spot that you can't wait to sink into. Bonus points if the mere sight of it makes you feel more relaxed!
A new throw pillow or two can make a big impact, or you can shop your own home for pillows that you've stuck in the closet or placed in a different room. Sometimes a change of location makes all the difference. Pillows are also a great way to cushion a chair that has tough spots. Custom design the perfect perch for your down time.
Make sure creature comforts are at the ready while you're unwinding. For some of us, the down time is scarce, so you can make each moment count by having something nearby that you can savor. A handy tray for carrying tea from the kitchen can make a big difference. Place it on a side table, and you have your very own tea service. More lemon, please!
A Chill Bedroom
When life gets stressful, a good night's sleep is of the utmost importance. Your room should be a place that instantly calms you. As you search for ways to add comforting details to your sleeping space, take note of your first view of the room as you stand in the doorway. What's the overall vibe? You may not have a view like the room below, but the mood should be serene, and possibly even inspiring. Does your bedroom make you happy, or are there obstacles to channeling calmness? If what you see doesn't match what you were going for, perhaps it's time to make changes such as clearing out clutter. The photos that follow feature new arrivals from H&M Home.
If new bedding is an option, there's nothing like the fresh canvas that soothing textiles can create. Duvet cover sets are an easy way to do a quick update, and some design lovers switch them out seasonally to change up the bedroom's overall look. Once again, comfort is key. Rest assured something new isn't required to create a cozy bed. In fact, sometimes less is more. For example, removing a plethora of throw pillows can actually result in more tranquility.
If you have children, think about how you can make their rooms cozier and more inviting. Can you create the feel of a fort? Are there ways to surround them with their favorite things? Details such as comfy blankets, cheery artwork and special touches can transform a child's room into a welcoming wonderland.
Below we see another vignette from H&M Home, this time featuring the Waffled Tasseled Throw. Making the most of your floor space can be crucial in kids' spaces, especially since many creative play activities happen while children are seated on the floor. Indoor picnic, anyone?!
An Outdoor Haven
We end today's post with a quartet of inspirational photos from Terrain's spring collection. If you're lucky enough to have a yard or balcony, now is the time to make this space an outdoor haven. Even something as simple as planting new blooms or ordering new throw pillows for your outdoor sofa can make a huge difference. Pick one or two small projects or additions, and use them to put a special stamp on your outdoor space for spring.
It can be something as small as moving one of your favorite throw blankets to your outdoor seating or arranging several different plants in a large pot to create layers of interest: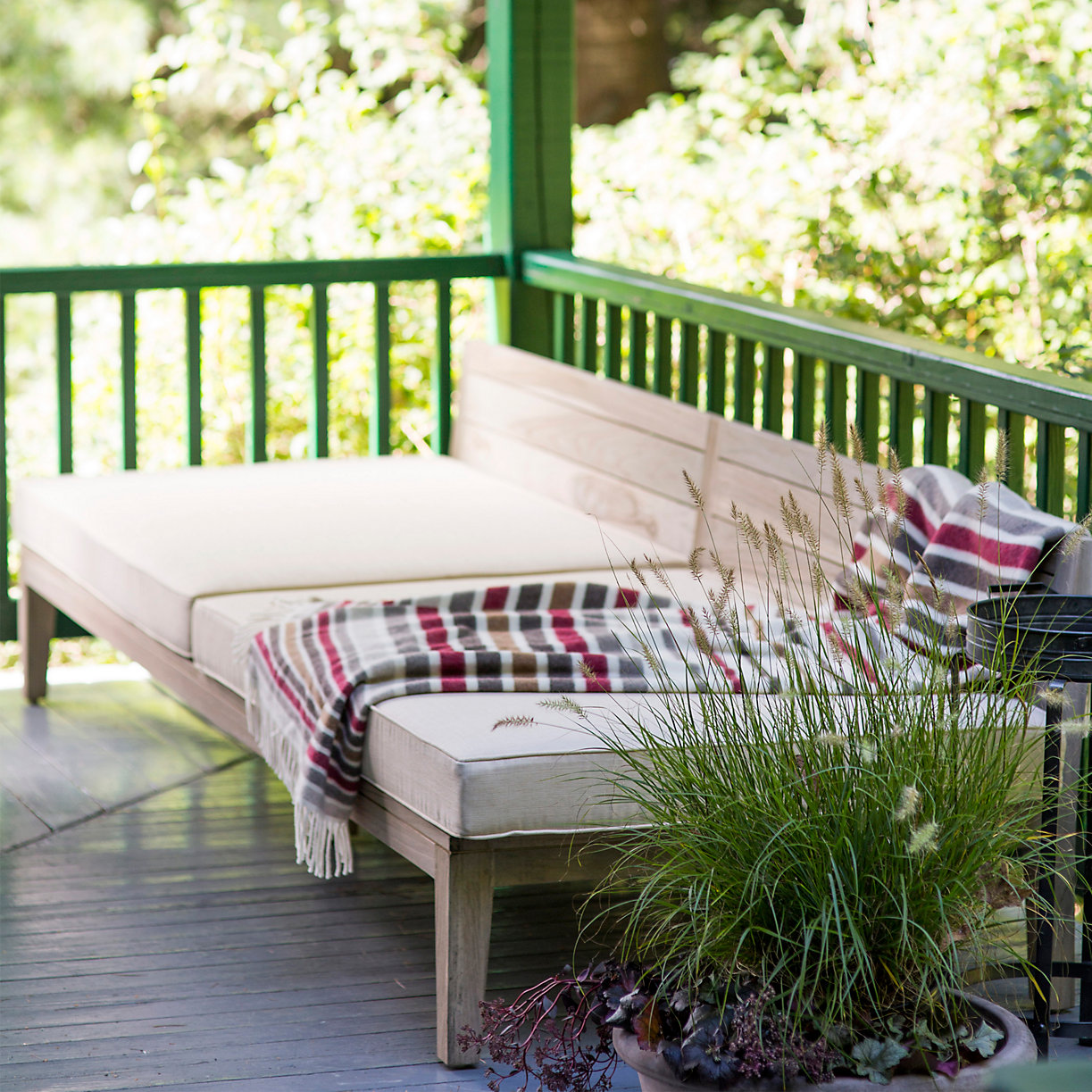 One low-maintenance idea: create a centerpiece by placing succulents in a low bowl. Display it on an outdoor surface such as a patio table. Even something this simple can refresh your patio or balcony, serving as an instant reminder of spring. When combining different plants in one container, go for variety. Opt for selections that feature different colors, textures or leaf shapes.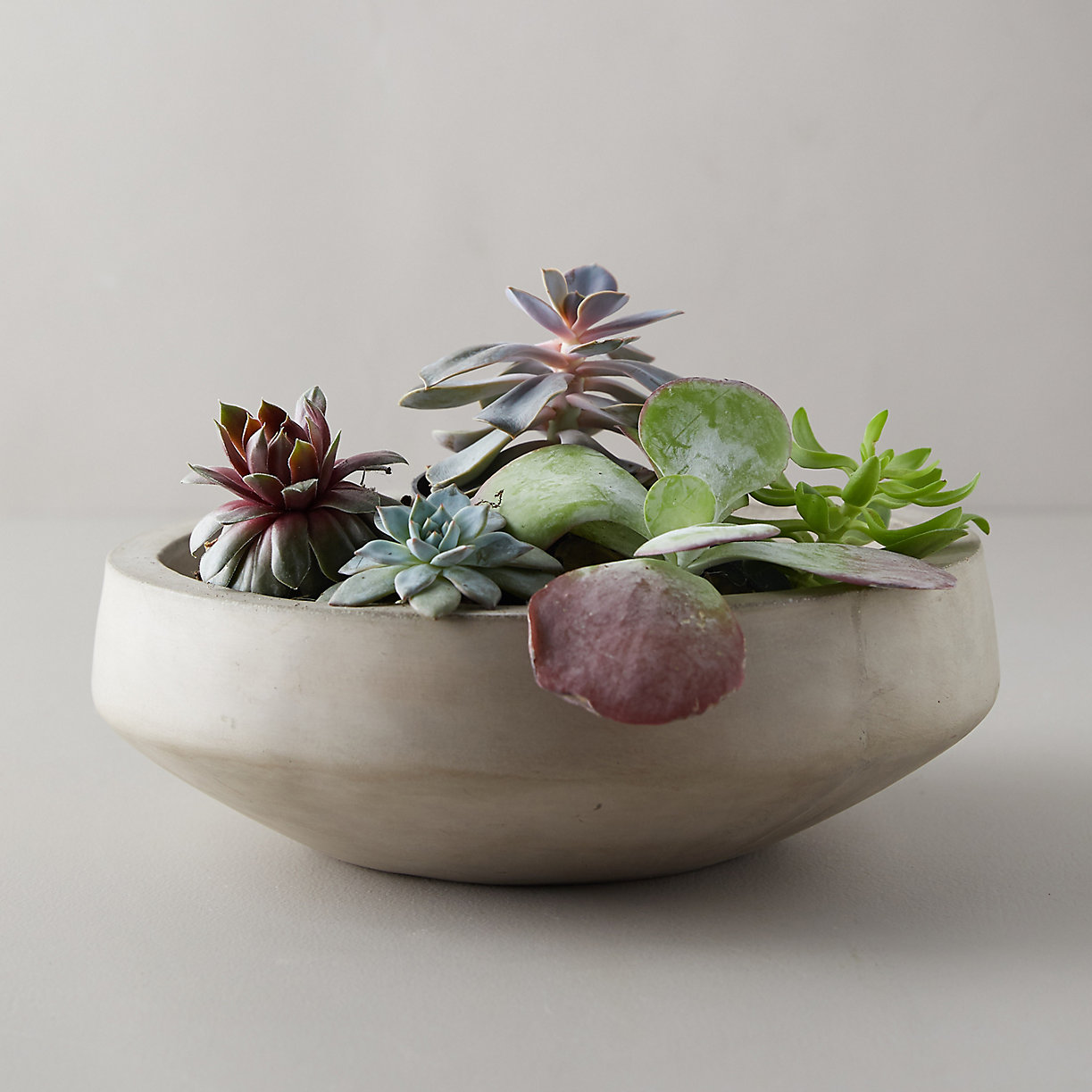 If you don't have an outdoor space of your own, you can always bring nature indoors. Choose a room with a lot of light and create a greenhouse vibe by filling it with an abundance of houseplants. Comfy armchairs and a sleek dining table are surrounded by lovely foliage in the next featured photo. The look is lush, verdant and abundant. Even the houseplants on the table alone would be enough to bring the outdoors in!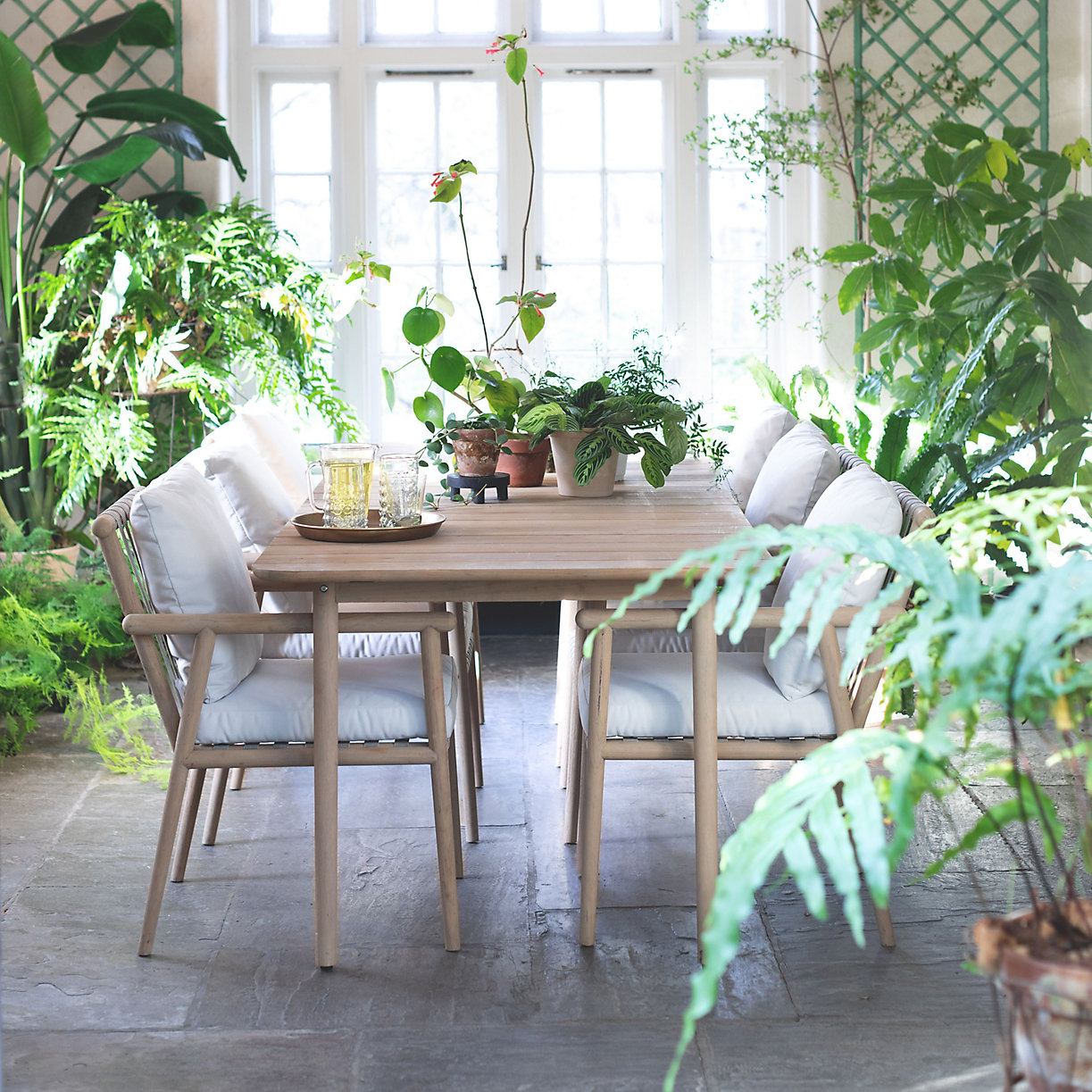 We hope today's post has shown you that you don't need a huge budget or a large interior to turn your home into a haven. Surround yourself with items that make you happy and soothe you. Enjoy the process and take a deep breath. Life will eventually calm down. Until then, you can always create a calm interior! Thanks for reading.
You're reading How to Make Your Home a Haven, originally posted on Decoist. If you enjoyed this post, be sure to follow Decoist on Twitter, Facebook and Pinterest.