There are a few homes where the walls end up stealing the spotlight and others where it is the majestic view outside that makes the biggest impact. Then there are apartments and urban residences where space-savvy design and detail leave you inspired. But it is not everyday that you come across a home that is filled with amazing array of custom décor pieces, iconic furniture tat stands the test of time and inimitable art creations made by international masters. That is why, we are so very exited to step into the gorgeous and inimitable Loft of the Collector in Salvador, Bahia, Brazil. Designed by TRPC Arquitectos, the interior of this apartments feels more like a sophisticated art gallery!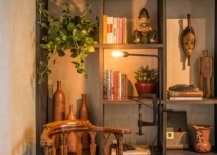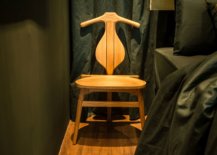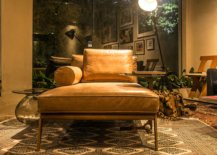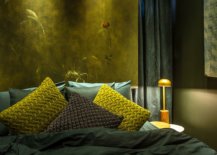 Inside the 60 square meter apartment, the design plan is kept simple with an open living area, small single-wall kitchen on one side and the bedroom on the other. A dining area with formal appeal sits at the heart of it all and can be used in more ways than one. The backdrop is both rich and neutral with white and concrete finishes being combined with a Coral Velvet effect that uses different hues. But more importantly, it is pieces like Palência Coffee Table by Víctor Angueira, Bo armchair by Giacomo Tomazzi and Frei Egídio chair by Lina Bo Bardi that end up stealing the spotlight in here.
No matter where you turn you will find a =n amazing work of art or a furniture piece that is iconic in more ways than one. Even in the tiny bedroom with deep green walls and dark gray textiles, thereis place for Valet Hans Wegner chair right next to the bed! Greenery outside and a polished ambiance achieved through curated lighting complete this modern Brazilian masterpiece. [Photography: Adalberto Vilela]
You're reading Loft of the Collector: Modern Apartment in Brazil with an Iconic Art Collection, originally posted on Decoist. If you enjoyed this post, be sure to follow Decoist on Twitter, Facebook and Pinterest.