There is something undeniably magenta about an abstract building with modern minimal design that draws you to it almost instantly. They feel like brilliant works of art; masterpieces that stand out from the crowd and light up a world dominate by simpler squares and rectangles. Nestled in the picturesque and majestic backdrop of Oppdal in central Norway, the Diamanten Cabin designed by A38 Arkitekter feels like one such exceptional home. The eye-catching cabin sits on snow-covered slopes and you can easily spot it even from a distance. Combining minimalism with traditional Nordic design, the cabin aims to revamp the idea of a traditional mountain home.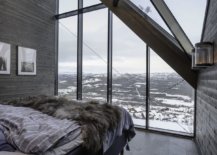 The exterior of the cabin has a certain geometric charm about it with dark wood, glass and metal shaping it. Even more impressive is the sturdy central column that supports the entire weight of the cabin and allows it to hover slightly above the ground. This not only gives the structure a futuristic appeal but also ensures that it is minimally intrusive and is eco-friendly. Leaving the lot largely untouched, the cabin seems to levitate when viewed from one of the mountain sides that conceals the supporting column.
On the inside things are equally contemporary and minimal with large windows and doors bringing the outdoors into the living space, bedroom and the kitchen. Captivating, creative and planet-friendly, this is a diamond in the mountains unlike anything else. [Photography: Martin Innerdal Dalen]
Right from the start, we were fascinated by the idea of creating a piece of modern architecture that could form a contrast with the age-old, beautiful wooden buildings as well as holding its own as a building.
You're reading Diamond in the Mountains: Minimalism Meets Nordic Simplicity in Central Norway, originally posted on Decoist. If you enjoyed this post, be sure to follow Decoist on Twitter, Facebook and Pinterest.