"Boxy and mysterious" villa nestles into forested valley in Indonesia
Dark-coloured concrete characterises Jae Haala, an angular holiday home that Java studio Wiyoga Nurdiansyah Architects has created in a forested valley in Indonesia. Designed by Wiyoga Nurdiansyah Architects in collaboration with architect Rizqui Muhammad Prastowo, the villa is intended as a retreat for couples visiting the Lembang area of West Bandung, which is popular with
The post "Boxy and mysterious" villa nestles into forested valley in Indonesia appeared first on Dezeen.
Dark-coloured concrete characterises Jae Haala, an angular holiday home that Java studio Wiyoga Nurdiansyah Architects has created in a forested valley in Indonesia.
Designed by Wiyoga Nurdiansyah Architects in collaboration with architect Rizqui Muhammad Prastowo, the villa is intended as a retreat for couples visiting the Lembang area of West Bandung, which is popular with tourists.
Positioned to one side of a similarly angular building, the one-bedroom home features corrugated black-concrete walls and is topped with a pitched roof punctuated with a circular skylight.A stepped landscape and a series of concrete walls are built into the site to help the holiday home sit comfortably in its surroundings, while the boxy form provides privacy to guests.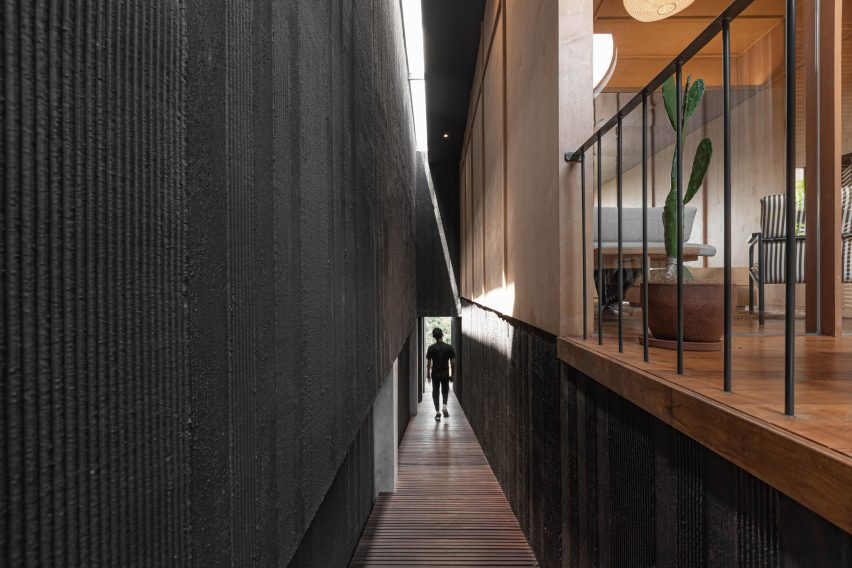 "The main aim of the design was to build an intimate atmosphere and a respite from the surroundings inside an enclosed, monolithic box-like design," studio founder Wiyoga Nurdiansyah told Dezeen."We used corrugated concrete with a dark finish for the outer walls to create that boxy and mysterious look from the outside while being light and warm on the inside."
Jae Haala's main entrance connects a front courtyard to the upper level of the home with a walkway, which is bordered on either side by tall black walls with timber accents.Located on one side of the home, the walkway extends along the length of the building and is gently sloped to connect its two levels.
Museum of Space Available opens in Bali to explore circular design On Jae Haala's upper level, the studio has created an open arrangement of living and dining spaces, which are linked to a covered terrace and a balcony on either end.Glass walls set in timber frames offer views of the surrounding valley from both ends, while a mirror on the ceiling gives the illusion of a larger space.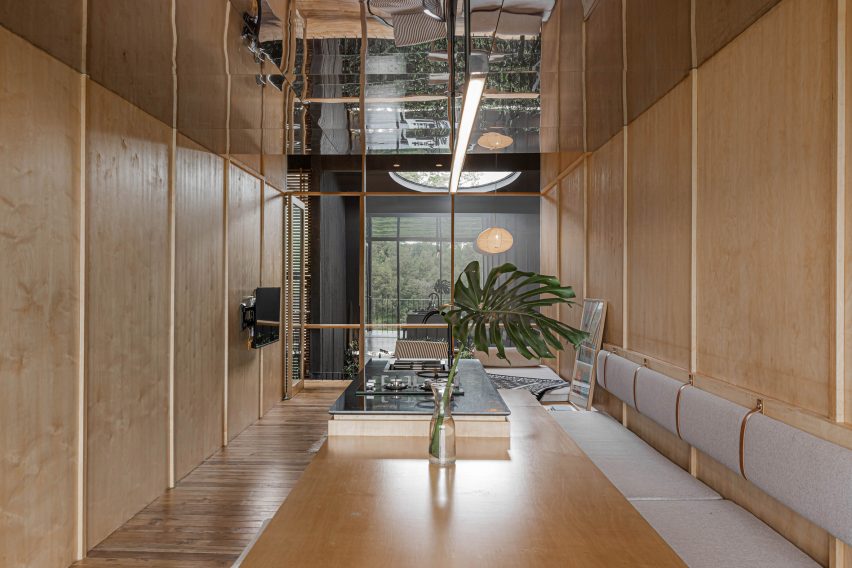 "We used a stainless steel mirror for the ceiling in the dining room to broaden the narrow interior," said Nurdiansyah.Overlooked by a seating area at one end of the living space is a covered garden, filled with plants and topped with a circular void that lets in natural light.
The lower level of the holiday home is designed to feel more private. It features a bedroom and bathroom that open onto outdoor spaces including a swimming pool and terrace.The bedroom features sliding doors that open directly onto a rectangular infinity pool and is lined with dark walls and a timber ceiling.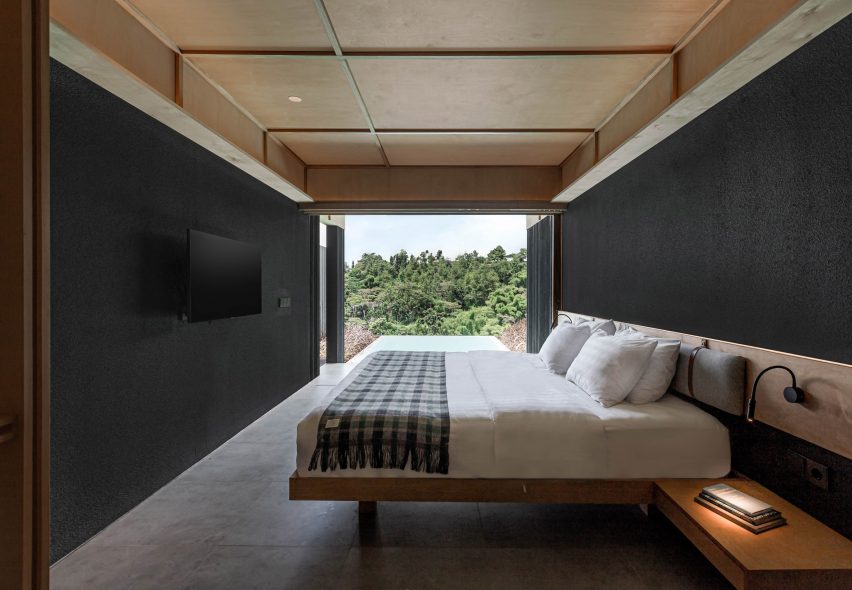 Across both levels of Jae Haala, Wiyoga Nurdiansyah Architects used timber surfaces and furnishings to create a sense of warmth and offer a contrast to the dark concrete walls."We want to create an intimate and warm ambience on the inside, which is why we chose birch plywood as the main material for the interior," said Nurdiansyah.Elsewhere in Indonesia, a facade made from recycled plastic bottles has been added to an existing building in Bali while RAW Architecture has completed a home and community space made almost entirely from bamboo.The photography is by Ashita Yulia.