Burning Man temple designed to show "deepest potential of architecture"
The design team for the temple at this year's annual Burning Man festival in Nevada has revealed renderings of the project as construction gets underway in the desert.
Called Temple of Heart, this year's official temple will be an all-wood design conceived by designers Ela Madej and Reed Finlay. Each year, a new design is chosen by festival organisers for the structure.
For Burning Man 2023, Madej and Finlay conceived of a temple with a twelve-pointed base that narrows as it reaches the zenith of the structure, which will be 40 feet tall. It will be topped by a spire that will protrude from the semi-enclosed structured reach 80 feet tall.
The structure is meant to resemble an "upside-down desert flower with a stem pointing up into the sky".
It will be clad in 640 porous wooden panels carved into a lace-like pattern by CNC machines. There will be 10 different flower patterns carved into the panels.
Finlay said that the structure was designed as a place for meditation and mourning and to bring people together, both before and after completion.
"It's astonishing to see so many people volunteering to create this building, for no monetary compensation – simply to be of purpose and to connect to something greater," he told Dezeen.
"For me, this project has revealed the deepest potential of architecture; to be a vehicle for healing and a way to bring us together as humans."
At the centre of the temple will be the Heart Chamber that will hold the central column. The column has been designed to be adorned with flowers, and Madej and Finlay have encouraged visitors, who will come from all over the world, to bring their own flowers to add to the "altar".
Around the temple itself will be an outer ring also arranged as a 12-pointed star with four gates that usher visitors into the courtyard area.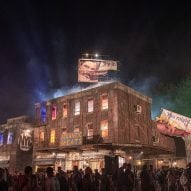 Large sections of the project are being constructed at the team's facilities in Oakland, California, and being transported to the Burning Man site – known as Black Rock City – in Nevada.
There, it will take more than two weeks for the onsite team of volunteers to construct the temple that will ultimately be burned at the end of the festival.
Since 1991, the festival has been running in the deep desert of Nevada and has become famous for its anti-commercial ethos and scale of projects. In 2022, more than 80,000 people ventured to the temporary city.
While the festival has a government and organising body, much of the art and design is funded and transported to the site through volunteering and fundraising.
Last year, Dezeen highlighted some of the large-scale installations created for the festival, including a massive bulbous structure by architects Bjarke Ingels and Jakob Lange.
The renderings are by Xabi Subijana Letamendia of Kimu Studio.