A Warm Swedish Home That's Full of Smart ideas!
Why, hello there! It's Friday, the sun's shining and we have the weekend stretched out in front of us, what's not to love! Before we all head off, I've got one final home tour I'd love to share with you. The apartment in Stockholm caught my eye for so many reasons – which I've pointed out during the tour. I hope you feel inspired by these and more!
Firstly, I love the subtle golden hue (attributed to the wall colour, and cabinets in the kitchen, bedroom and hall) it adds a warm and inviting touch to the entire living space!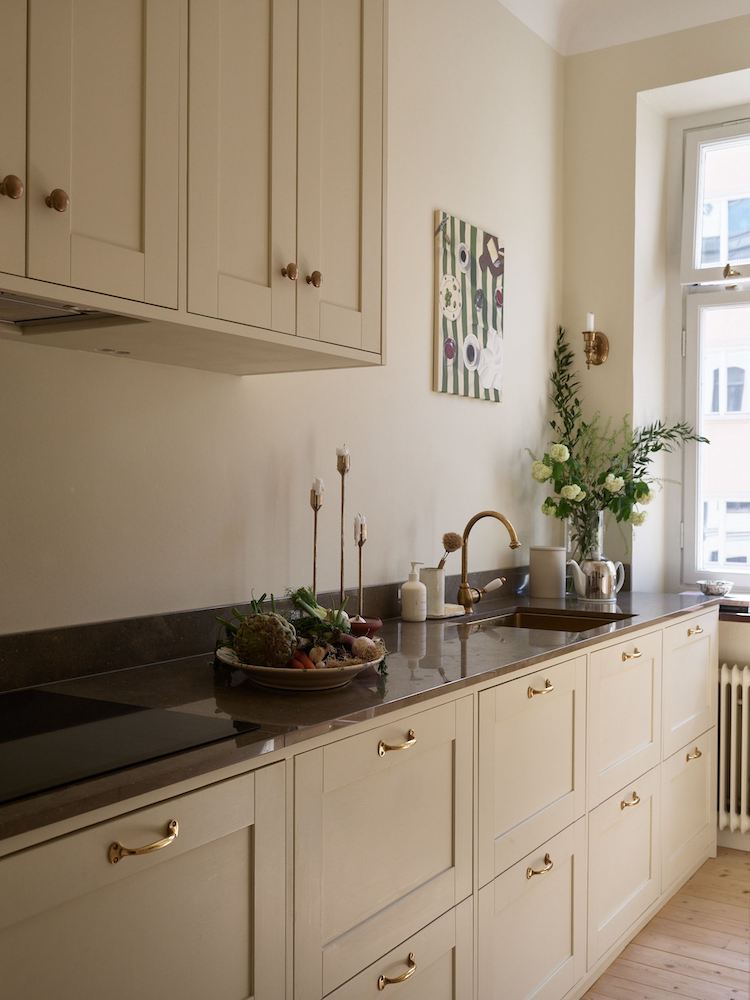 These days, it's really popular to leave part of the kitchen wall without cabinets, which then lends itself to a great place for art (or shelves). Candlesticks hint to a warm and relaxing evening bather in candlelight ahead too!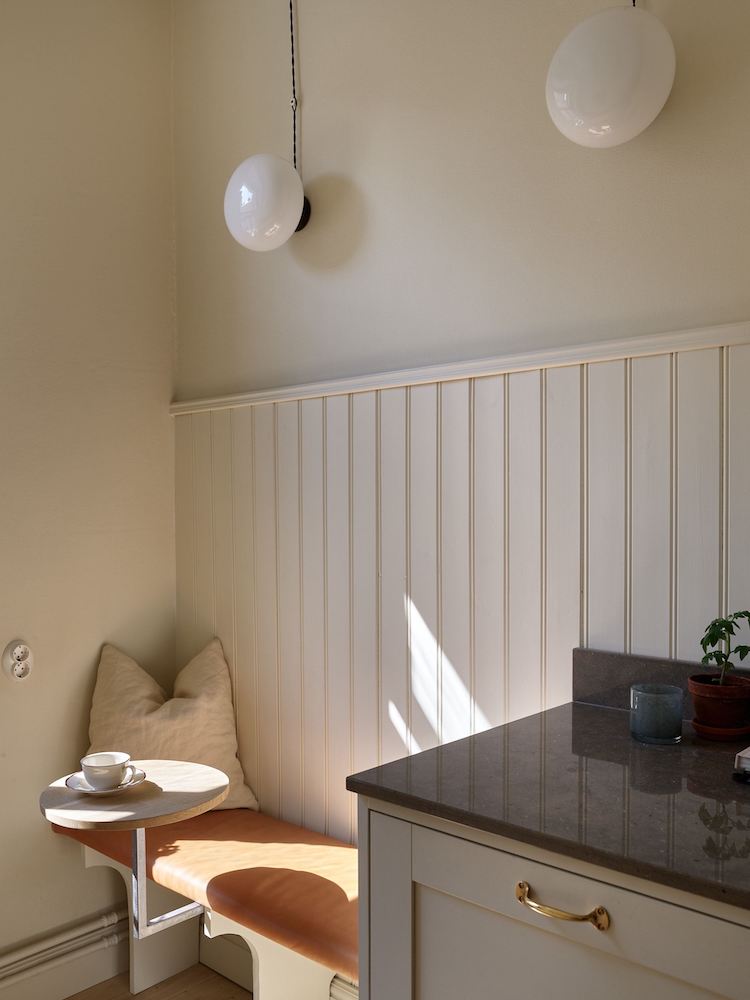 The kitchen maybe narrow, but built in seating with a simple round table attached means you can still enjoy a morning coffee in the sunshine! Such a smart solution, don't you think?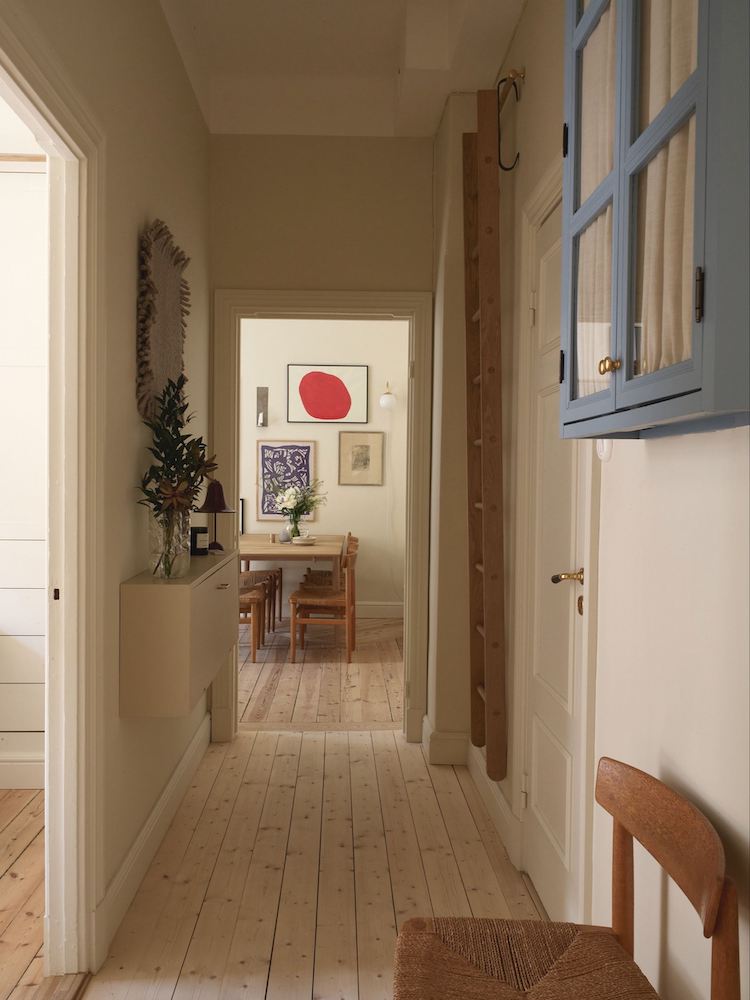 Wall mounted glass cabinets are huge right now – pick up a pine one in a vintage store and paint it in your own choice of colour, like they have done here!
A larger dining area occupies one side of the living room so that there's a place for more guests.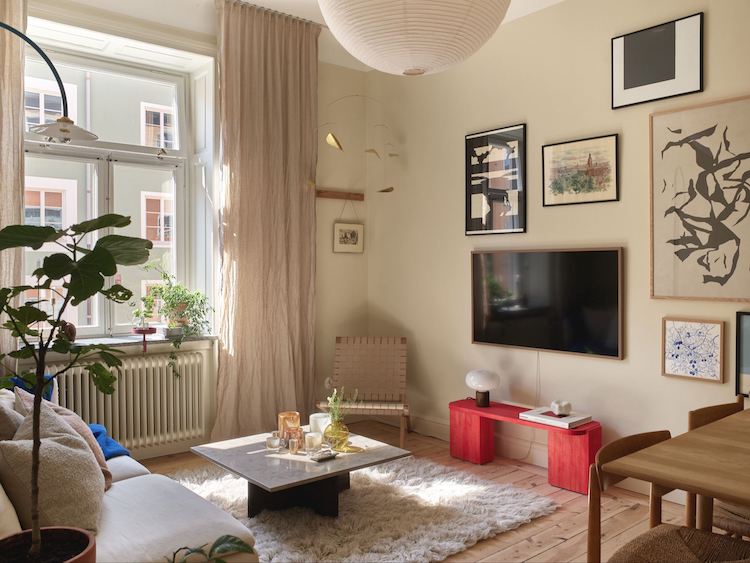 Cherry red and Klein blue are the colours of the season in Scandinavia. Adding two items in the same colour (like a blanket and Valerie Objects light) help to balance the look.
Striped bedding is also very popular and adds a contemporary touch to the bedroom. Source similar here.
In a small bedroom, storage that wraps around the headboard is a great use of space. I really like the way they have included a recess to serve as a bedside table!
The devil is in the detail – as they say. Why have an ugly door stopper when you can have a beautiful brass one? This brass doorstopper on Etsy* is similar.
Bespoke storage in the hallway ensures that every inch of the space is used. I really like the idea of a built in seat with shoe storage underneath. A ladder can be attached for items higher up (we had one built like this by a local carpenter for our cabin).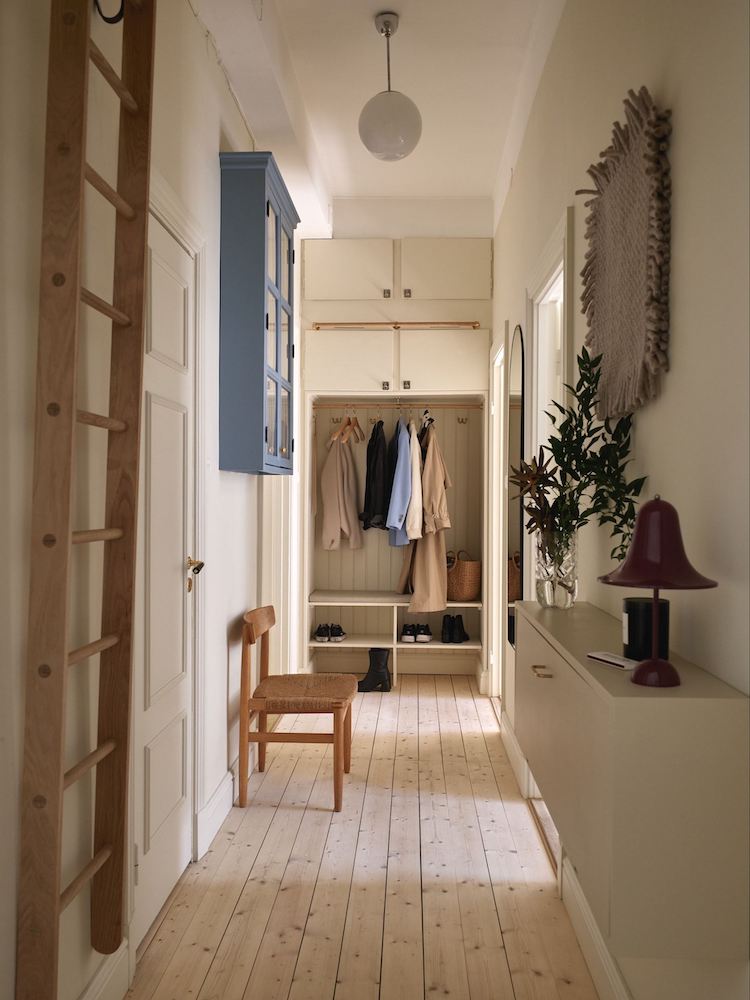 So many lovely ideas in one space!
Is there anything that stood out to you?
I hope you've enjoyed the tours this week, in case you missed them – check out Riikka's idyllic Finnish island hideaway (one of the cottages on the island is available to rent via Airbnb!) and a beautiful old rectory on the Swedish island of Gotland.
I hope you have a 'trevlig helg' (nice weekend!). See you Monday!
Kram!
Niki
Photography: Fredric Boukari for Historiska Hem.
FILED UNDER:
swedish home