Old terraced homes getting a new lease of life with a smart rear extension and a refurbished interior is nothing radically new in itself. But this beautiful and timeless residence in South West London goes a step further with a new basement level that matches the modern appeal of the redone levels above. It is Sketch Architects who were called in to maximize the space within the house while ensuring that the classic aura of it was left largely undisturbed. Exposed brick walls sections of the house have been preserved and enhanced and with a new rear extension that now holds the kitchen, dining area and a cool sitting space.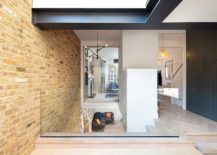 The rear extension moves into the garden and acts as an interface between the exterior and the existing home. Glass and metal play a vital role in shaping the new visual appeal of the house with white backgrounds, bold blue accents and delightful pops of yellow making their presence felt. It is a blue and white kitchen that becomes the heart of the new, revitalized house with glass walls, skylights and glazed doors bringing in ample natural light. A double height central living area adds to the sense of spaciousness even as the bedrooms also embrace the white and blue color palette.
RELATED: Brick, Steel and Glass: Gorgeous Conversion of London Home full of Textural Charm
The floor of the kitchen was lowered slightly to create a room-within-a-room and to give an identity of its own. Painted steel beams, brick sections and wooden floors combine to offer ample textural contrast as innovative storage ideas put final touches on a London home that embraces both its past and the present.
RELATED: An Indulgent Dip: This Terraced London Home Gets a Stunning Sunken Bath
You're reading Revamped Terraced Home in South West London in Brick, Steel and Glass, originally posted on Decoist. If you enjoyed this post, be sure to follow Decoist on Twitter, Facebook and Pinterest.