Bondi is a name that is renowned for sun, sand and surf, but there are other delights to explore here as well and many of them involve culinary delights that you can rarely experience elsewhere. Totti's Restaurant offers a perfect space for one such tasty evening out with textured walls and pops of color that make a big difference. Designed by Akin Atelier, this is a restaurant where neutral colors, a warm ambiance and loads of greenery play a major role in the overall shaping of the ambiance inside. This is extended outside with a courtyard dining area that adds to the overall eating experience and makes your evening here even more special.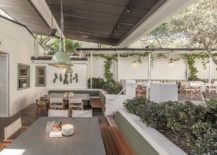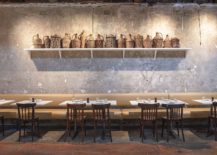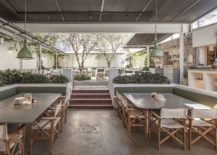 The 185-square meter restaurant was transformed using simple and elegant tones while the classic appeal of exposed wooden beams and ceiling makes it even better. Smart voids and other ventilation ducts bring in ample natural light whenever needed while the custom joinery, unique terrazzo benchtops and specially crafted tables complete the setting. A giant 50-year old olive tree in the courtyard and other plants turn this lovely little restaurant into a refreshing and seemingly casual hangout. [Photography: Murray Fredericks]
RELATED: Ingenious Cottage de Bordeaux Blends Textural Beauty with Quirky Decor
The cantina opens out to Totti's courtyard. The outdoor space adopts a peaceful palette of mostly whites & greens drenched in sunlight that filters through the two 50-year old olive trees planted during the rebuild to create privacy from the neighboring residential block.
RELATED: Rustic Finishes Intertwined with Gorgeous Green Spaces Inside An Phu House
You're reading Wood, White and Green Coupled with Textural Beauty Inside Totti's Restaurant, originally posted on Decoist. If you enjoyed this post, be sure to follow Decoist on Twitter, Facebook and Pinterest.