We visit AutoCamp's latest and greatest outpost in Yosemite, where Anacapa Architecture and Geremia Design have joined forces for an Airstream campground that's both rugged and refined.
Dwell has long been a fan of the iconic Airstream—some call it a mild obsession. So when AutoCamp reached out to give us a first look at their newest property, we hit the road for the three-hour journey from San Francisco to seek enlightenment at one of America's most beloved national parks: Yosemite.
Yosemite is hot—in temperature (my gum melted in my purse on our drive up) and in trend (you'll be hard-pressed to find a Californian who hasn't visited)—so it came as no surprise that AutoCamp chose this area for the third installment of their wildly popular outdoor hotels comprising decked-out Airstream suites, luxury tents, and cabins.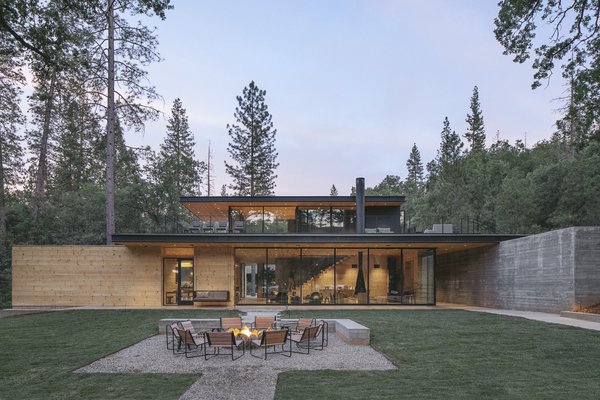 AutoCamp's design has a personal, familial vibe throughout the site, which is exactly what you want in a space like this. I have many fond memories of camping near the Sierras as a kid—swimming in a lake down the road from my family's campsite, buying ice cream and hot dogs at the cafe by the canoes, hiking up dusty trails under a canopy of pines—and if there was a ever a perfect, grown-up version of the motor lodges and tents I stayed in, this would be it.
From start to finish, AutoCamp Yosemite took a surprisingly short two years to complete. That's because they used the same dream team they worked with for their Russian River location—Anacapa Architecture and Geremia Design. Building on the desire to make the space homey and authentic, they took inspiration from the area and brought in local talent and hometown favorites every chance they got. Architect Dan Weber sourced the tents from a company based in his hometown; local designers contributed much of the site's wall art, decor, and building fabrication; and a vast majority of the furnishings and decor were designed or sourced from the designers' friends.
See the full story on Dwell.com: AutoCamp's Epic New Location Brings Upscale Airstream Lodging to Yosemite National Park
Related stories:
Airbnb Luxe Now Offers Mind-Blowing Estate Rentals for Bon Vivants
This Micro-Room Hotel in New York's Flower Market Channels a Decadent Garden of Eden
Barcelona's Hottest New Hotel Draws Inspiration From a Rebellious Female Author