Walter J. Hall was the master craftsman who built Frank Lloyd Wright's Fallingwater—but not before he built his own masterpiece.
Before Fallingwater, there was Lynn Hall. Built between 1934 and 1935, this early modernist structure was the creation of Walter J. Hall, who was later hired by Frank Lloyd Wright to build Fallingwater.
While Lynn Hall has lived many lives over the years—as a dance hall, restaurant, and office—it remains a classic example of the Prairie style that Wright made famous. Now, Walter's legacy—and that of his son, Raymond "Ray" Viner Hall—is receiving renewed attention as two friends set out on an epic quest to restore the historic landmark.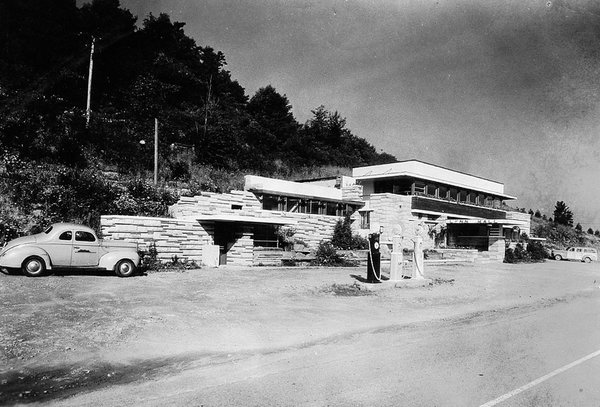 A self-taught stonemason and builder, Walter imagined carving a country inn out of the Pennsylvania hillside, letting the site topography guide his plans. Lynn Hall fulfilled this vision with an ingenious design that flows with the landscape inside and out—both figuratively and literally.
Walter integrated organic features in ways that went beyond aesthetics—from a rainwater collection system that ends in a waterfall, to an interior pond fed by a natural spring. Marks of the structure's Prairie style include strong horizontal lines showcasing broad stretches of glass, as well as varied ceiling heights and other uses of the expansion/compression technique.
At first, Lynn Hall was a restaurant and dance hall, with the early automobile age fueling its popularity as a roadside stop for locals and travelers alike. Declining business following World War II eventually led Walter to convert the building into an office for himself and his son, Ray, who had by that point started a design and building firm of his own.
While the property stood resolute for decades, it went mostly unused after Ray died in the early 1980s, and it slowly deteriorated as the natural world crept in.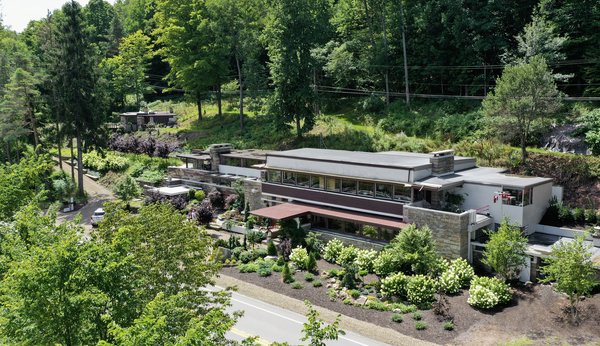 See the full story on Dwell.com: Before & After: The Epic Quest to Restore Walter J. Hall's Legendary Lynn Hall
Related stories:
Modern Shades and Draperies Integrate Seamlessly Into a Houston Renovation
A Timeworn Brownstone in Brooklyn Becomes a Growing Family's Sanctuary
A Classic Midcentury Home in Napa Gets a Kitchen That Complements its History