Offered at $98,000,000, 'Le Penthouse' spans over 19,000 square feet across five full floors.
Perched high above Midtown Manhattan, just a block away from the Empire State Building, is a five-story mega apartment known as 'Le Penthouse.' With a whopping asking price of $98,000,000, the 19,815-square-foot unit is also currently the most expensive property listed in New York City.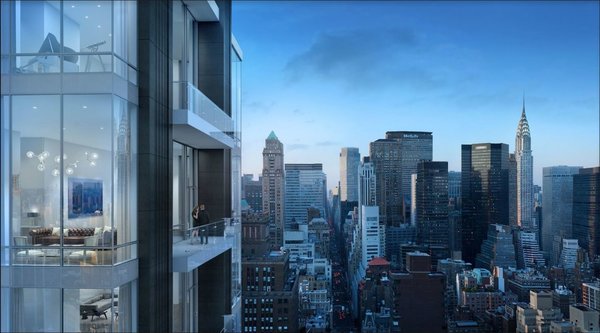 Featuring 11 bedrooms, 14 bathrooms, and 4,500-square-feet of outdoor space, the over-the-top penthouse sits atop a new luxury high-rise located at 172 Madison Avenue, also not far from Madison Square Park and the Flatiron District. Designed by the firm Fischer + Makooi Architects with interior design work by Shamir Shah Design, the 33-story skyscraper houses around 70 total apartments, including 'Le Penthouse.'
Principal Karl Fisher describes his design intention on the project's webpage: "My inspiration for this building was the glamour, not to mention the understated elegance of the mansions that lined Madison Avenue in the late 19th and early 20th centuries." The final design favors natural light from a curtain wall of glass along the facade, ensuring that each apartment comes with its own corner views. Glamor and views are no doubt in short order within the five-story residence featured here.
See the full story on Dwell.com: Peek Inside NYC's Most Expensive Home on the Market
Related stories:
Inspired by Multiple Styles of The American South, This Miami Home Lists For $1.78M
"Hunger Games" Star Josh Hutcherson Lists His Midcentury Tree House For $3.5M
A Stylishly Renovated 19th-Century Brooklyn Row House Lists For $3.2M