The nostalgic shape gets a modern update at a guesthouse in central Ohio.
Rick Hawkins grew up on a rented farm 25 miles east of Columbus, Ohio, growing corn, wheat, and soybeans with his parents and five siblings. When the farm was put up for sale in the late 1970s, Rick, by thena successful entrepreneur, purchased it so that his elderly parents could stay on the property and the family, most of whom still lived nearby, could continue to gather there.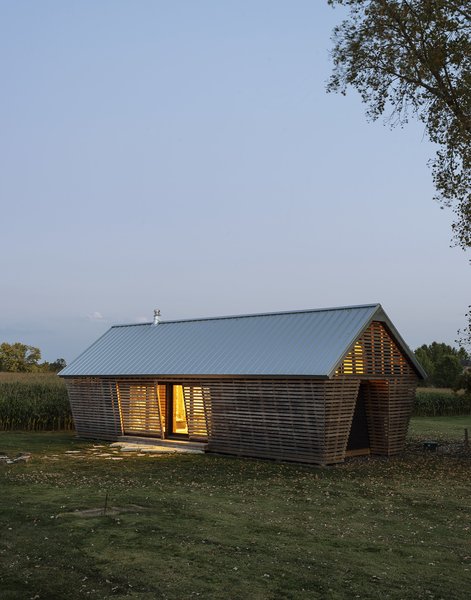 In 2008, he did a total renovation of the farmhouse and some outbuildings, but as their grandchildren multiplied, Rick and his wife, Karen, who live in Austin most of the time, realized there was a need for more space. That's when the idea was born to resurrect an iconic structure from Rick's agrarian upbringing: the corn crib.
The keystone corn cribs of the 19th and early-20th century were masterpieces of functional Midwestern design. The walls were slanted out in a V-shape to keep rain off and slatted to circulate air, so the shucked ears of corn stored inside would dry. The floor was elevated to keep vermin at bay. The form was long and low to allow loading by wagon, while the V-shape helped to funnel the corn downward.
By the 1950s, combines were shelling corn in the field and other machines were doing the drying. Corn cribs began to disappear. To Rick, re-creating one of these familiar forms and tucking a guesthouse inside seemed like the perfect way to blend the old with the new.
See the full story on Dwell.com: This Corn Crib Guesthouse Honors Agrarian Architecture
Related stories:
This Palm Springs Prefab Is a "Living Lab" for its Designer Residents
This Cor-Ten Steel Cabin Is a Woodland Escape for the Generations
Two Architects Build a Chalet-Style Getaway Near California's Famed Lake Tahoe