If there is one room in the house that we obsess about when it comes to decorating and redesign, then it is undoubtedly the kitchen. It is a space that is increasingly becoming the social hub of the house that brings entire family together. The idea of a perfect kitchen is one that often involves light colors, a neutral backdrop and pops of trendy colors like blue and yellow. But that is not the only option available and there are times when darker themes work better than their lighter counterparts when used right. This largely depends on style, theme chosen and the overall space on offer. Today, we delve into the world of kitchens in black and the best ones around.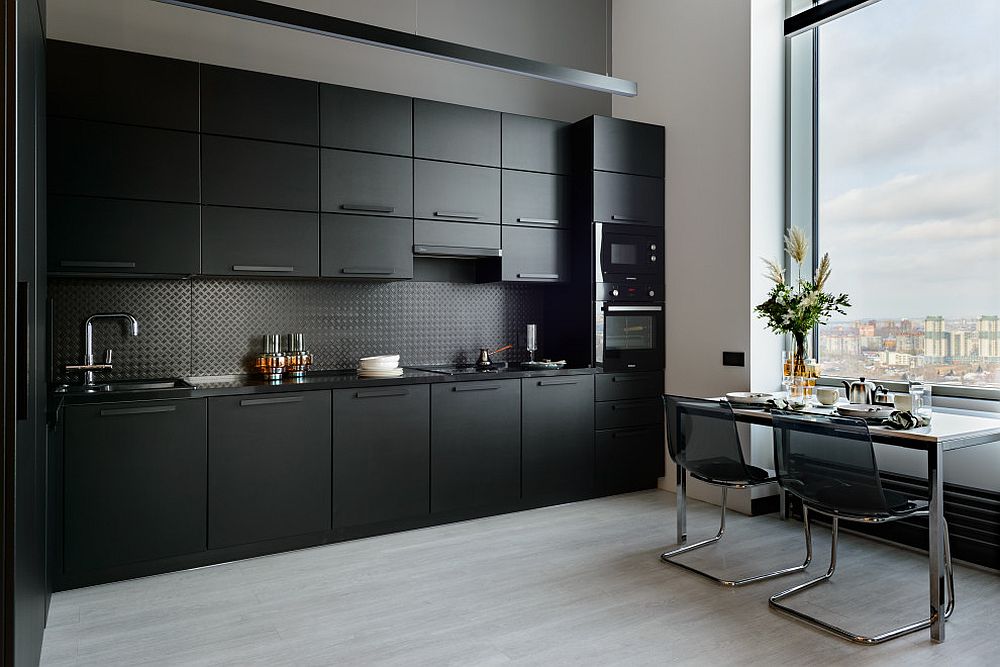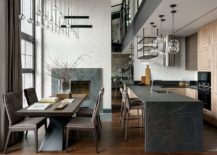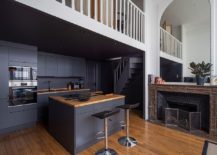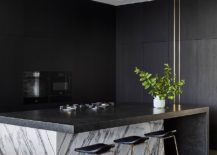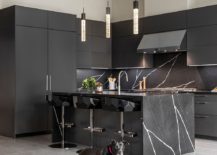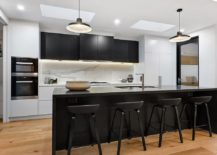 Best black kitchens are ones that combine a sense of sophistication with functionality and do so without moving away from the chosen style. Be it contemporary style, minimal or transitional, kitchens in black work even better when thing are polished and urban in the kitchen. But they can be equally impressive in industrial, rustic or other more traditional-themed kitchens. Cutting across themes and styles, this is a look at the 20 best black kitchens to kick-start the New Year –
A Striking Black Backdrop
Creating a dark backdrop in black in the kitchen is not all that hard if you are willing to give the kitchen black shelves and cabinets that extend from floor to ceiling. Dark metallic sheets and finishes are currently a popular trend in the kitchen and these finishes also usher in textural contrast wherever necessary. Couple this with a black backsplash in stone or tile and you have a kitchen that is even more monochromatic and dashing! If you wish to create contrast without altering the color scheme drastically, the countertops in wood can do the trick with ease.
RELATED: Black And White Kitchens: A Timeless Trend That Serves Every Style!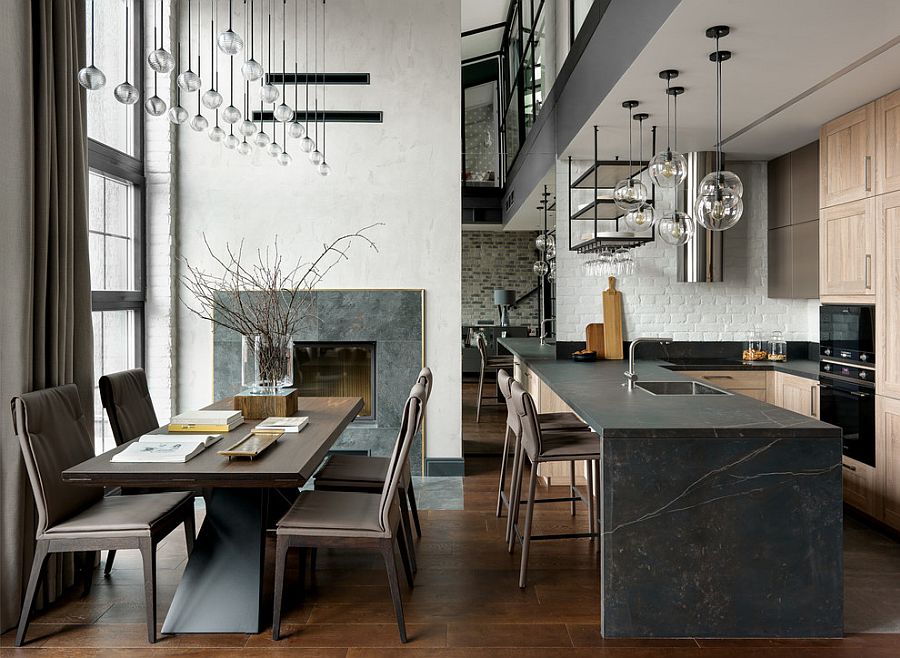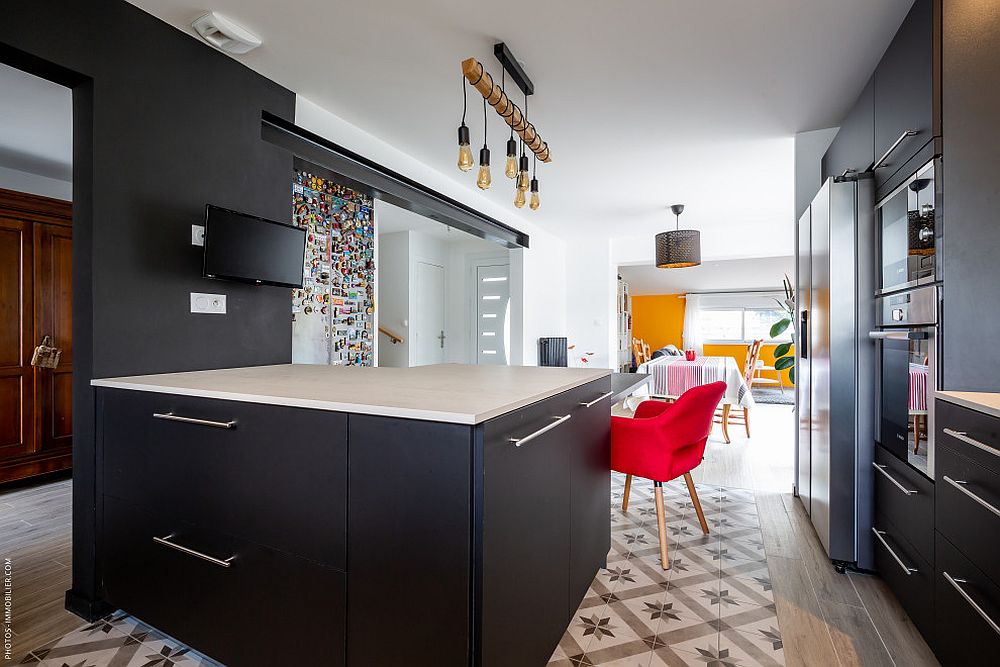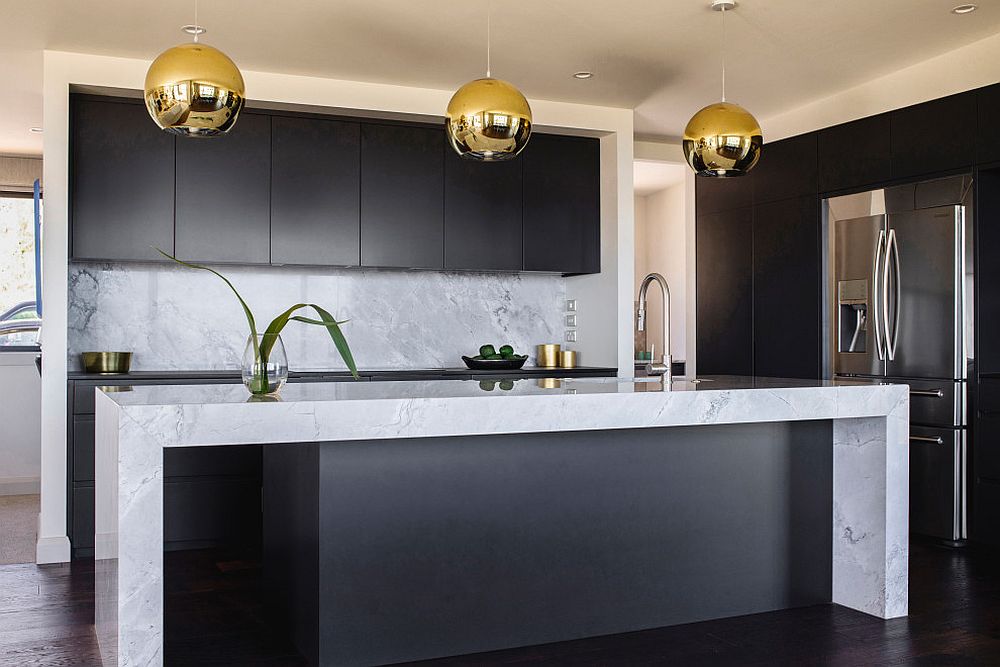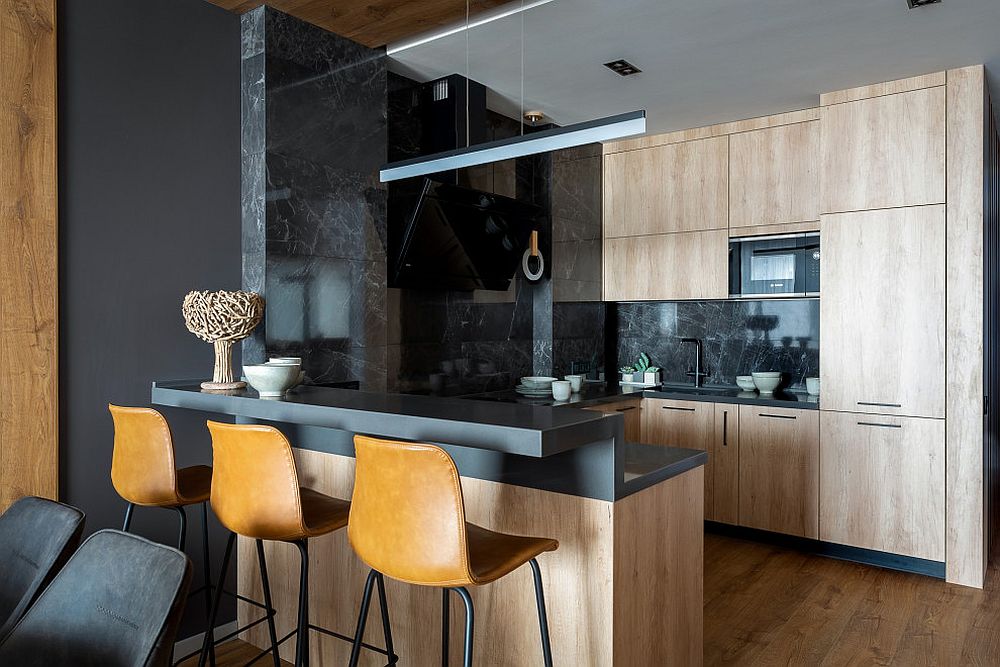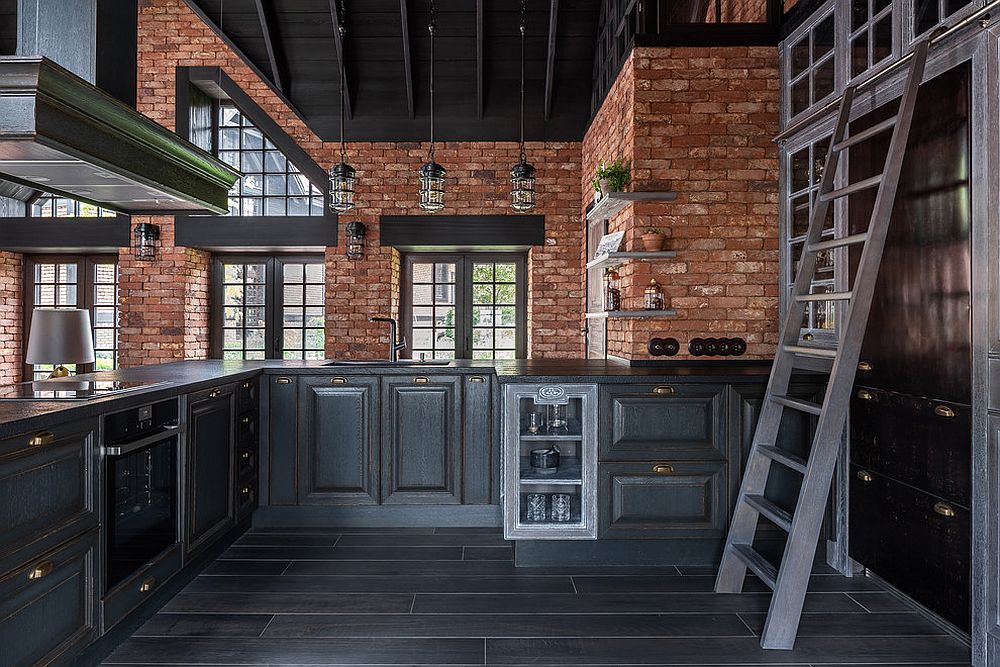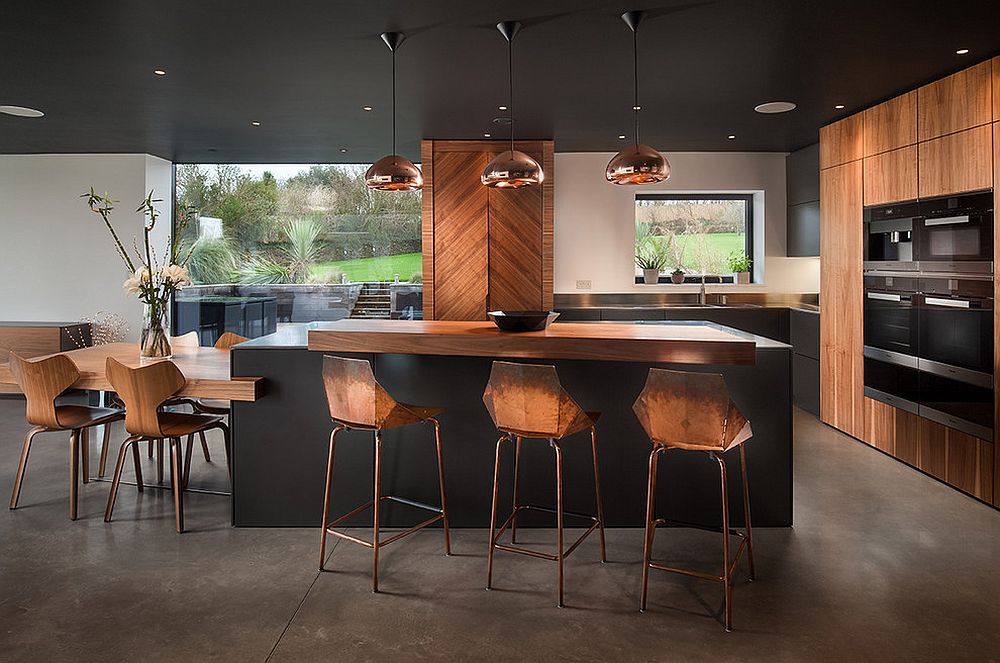 Décor that Ushers in Dark Beauty
If you are no happy with creating a black backdrop that is monochromatic or wish to try out just a hint of black in the kitchen before committing to it fully, then accents are the perfect choice. A kitchen island in black in a white kitchen makes a dashing statement while bar stools and chairs are the next best option. A black backsplash in the kitchen using tiles or stone can also make a big impact when you keep rest of the room as neutral as possible. Start out modest before embracing the dark magic of black!
RELATED: 25 Trendy New Bar Stool Ideas for your Dream Kitchen: Top Colors and Styles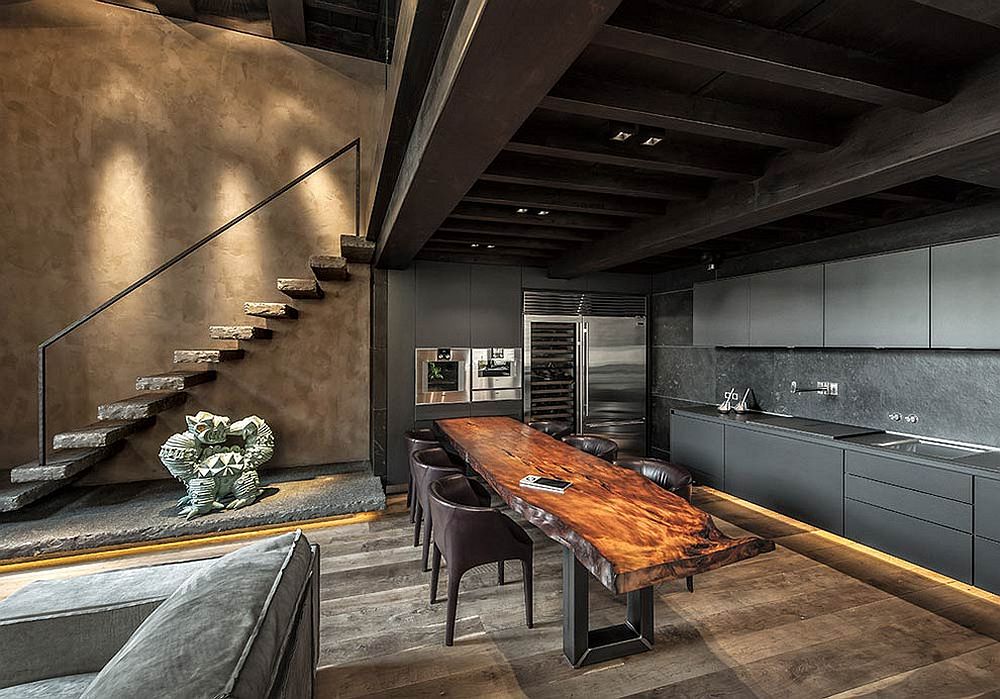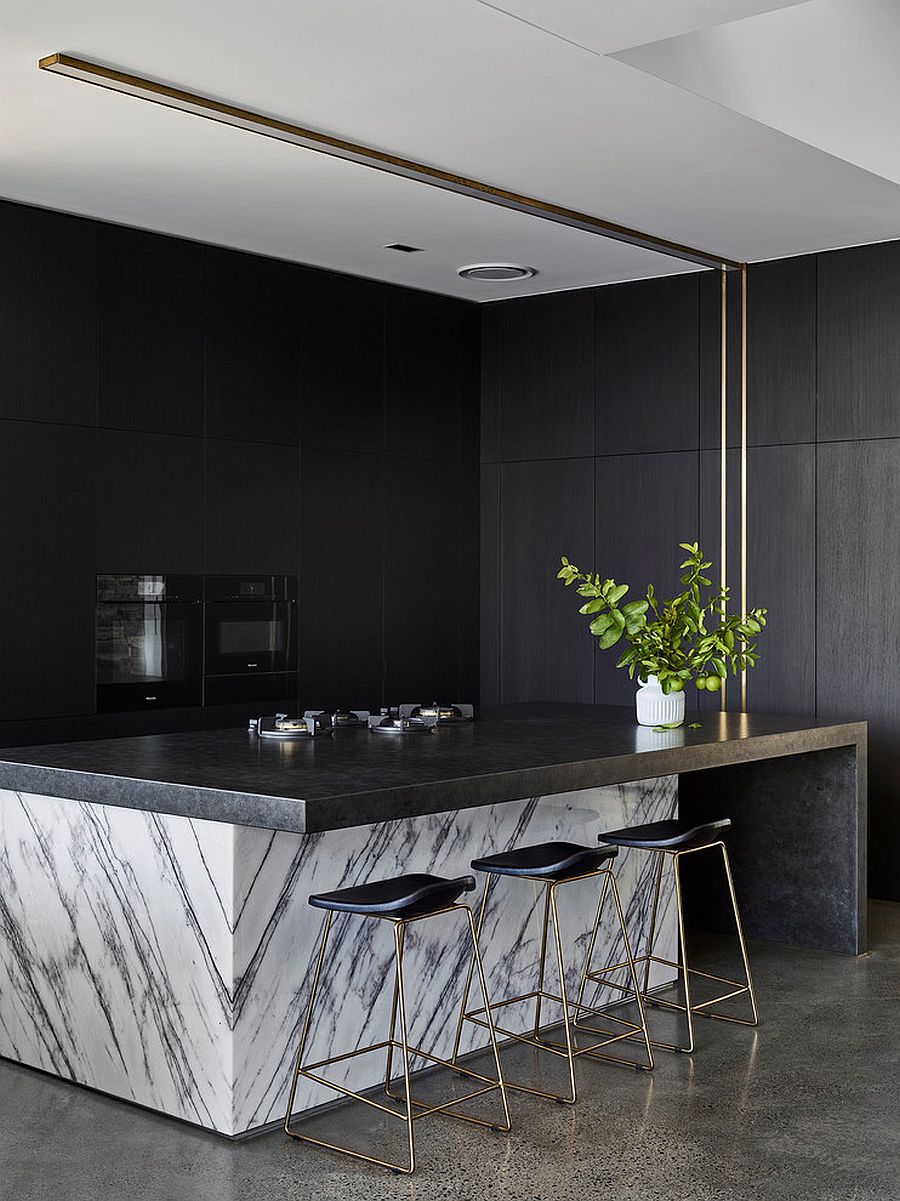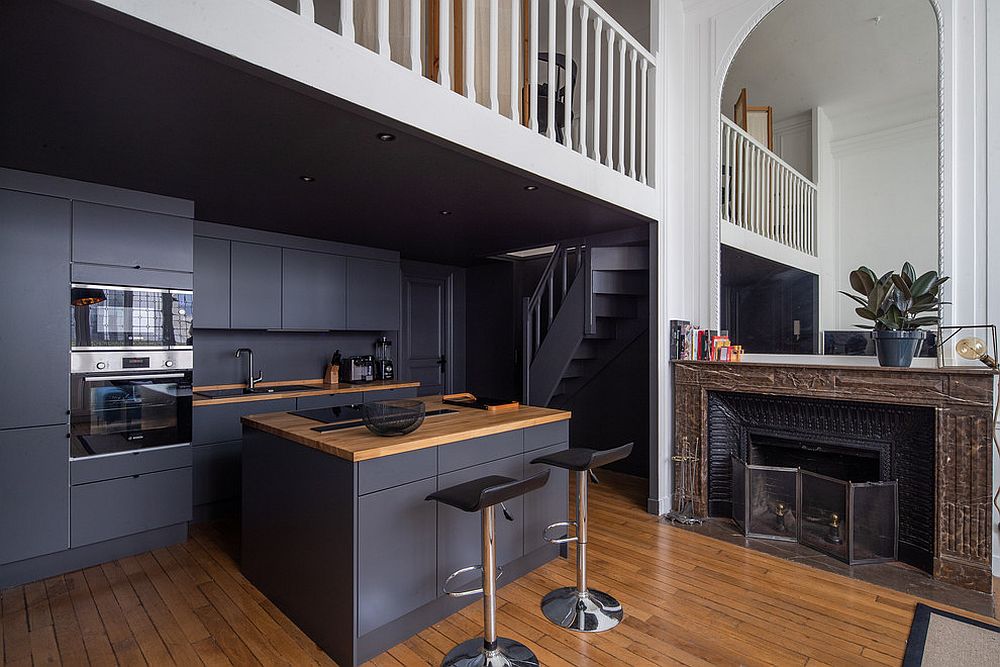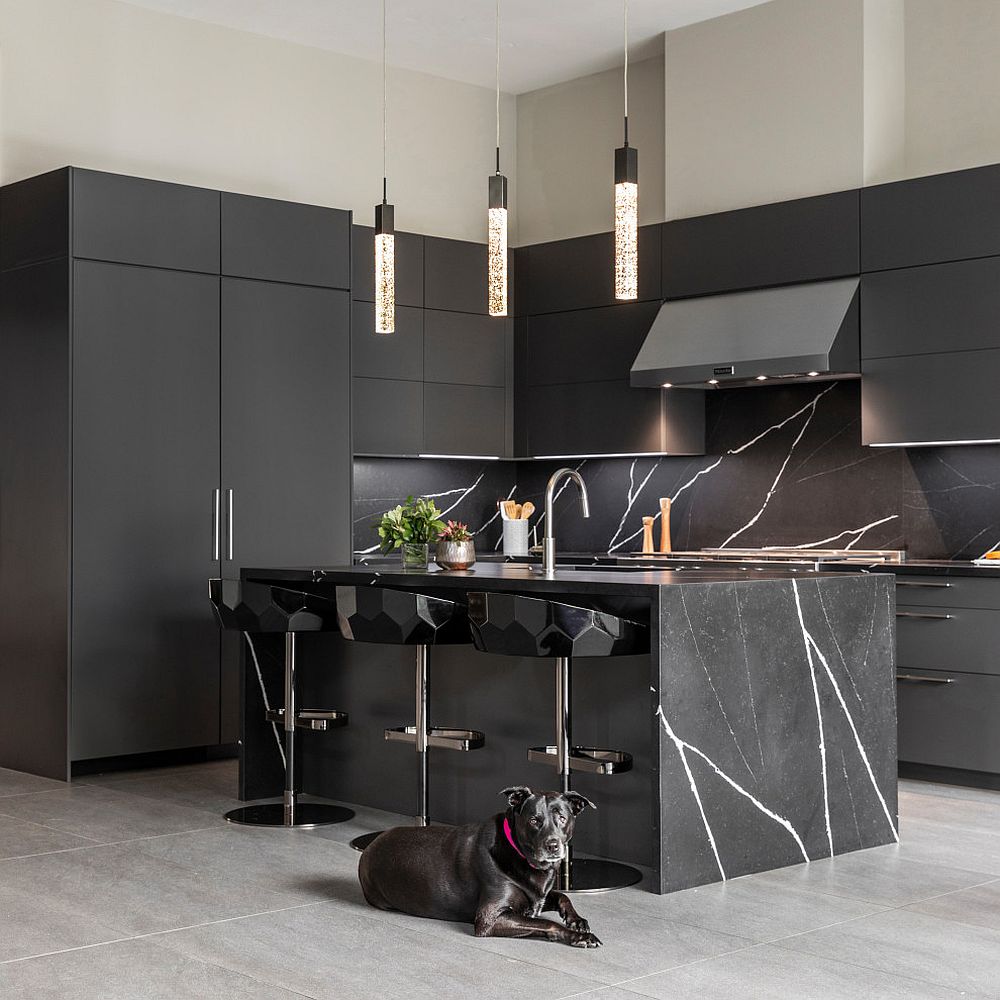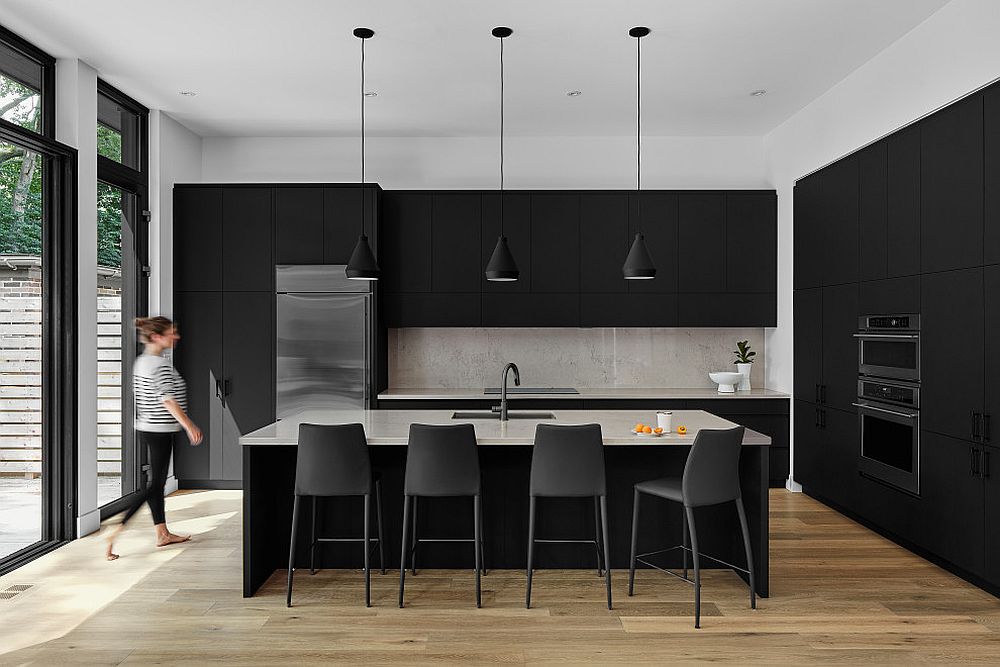 Balance between Light and Dark Elements
Another smart approach to working with black in the kitchen is to combine it with white so that you have a modern black and white kitchen. You can veer more towards black here instead of white, giving the kitchen a distinctly darker appeal. Even if the walls of the kitchen remain white, a black backsplash, or ceiling in black can create contrast and usher in something different with ease. Make sure that you have an even lighting throughout the kitchen so that there are no dark corners around.
RELATED: 50 Trendy and Timeless Kitchens with Beautiful Brick Walls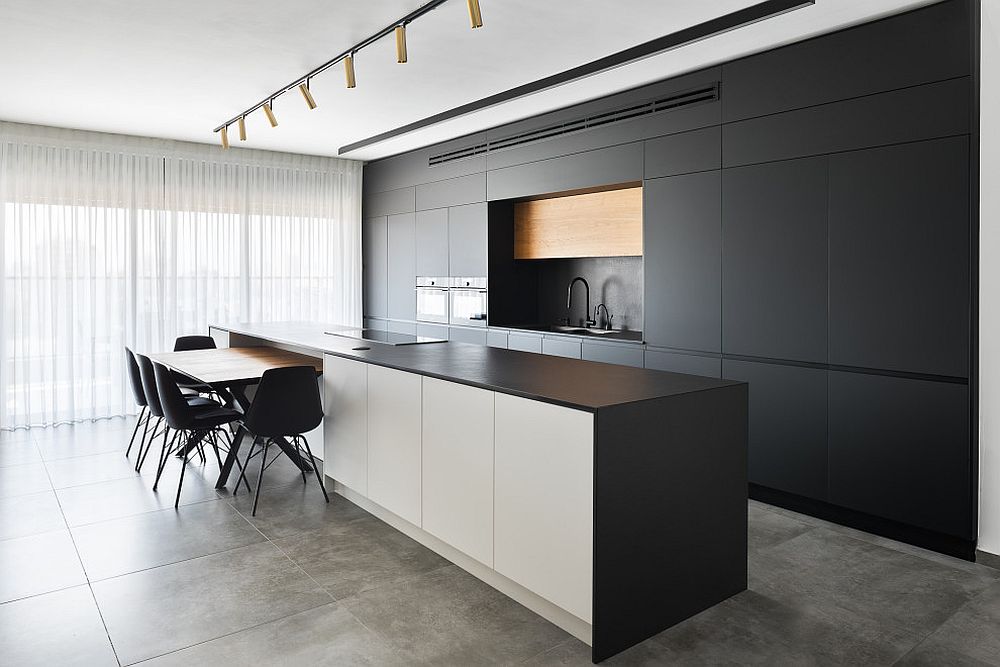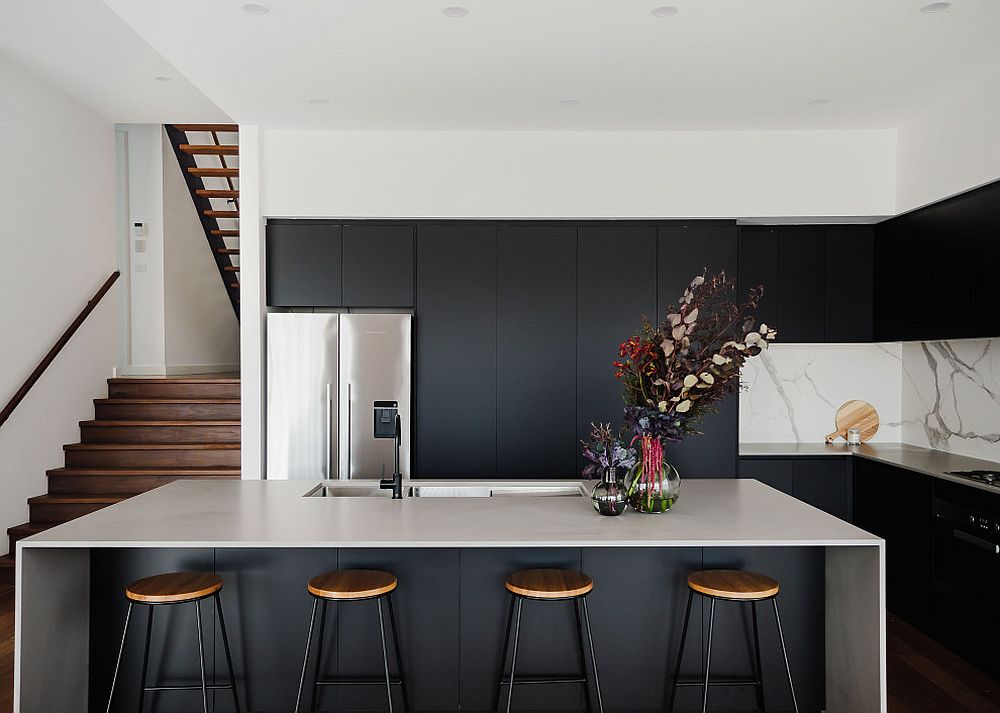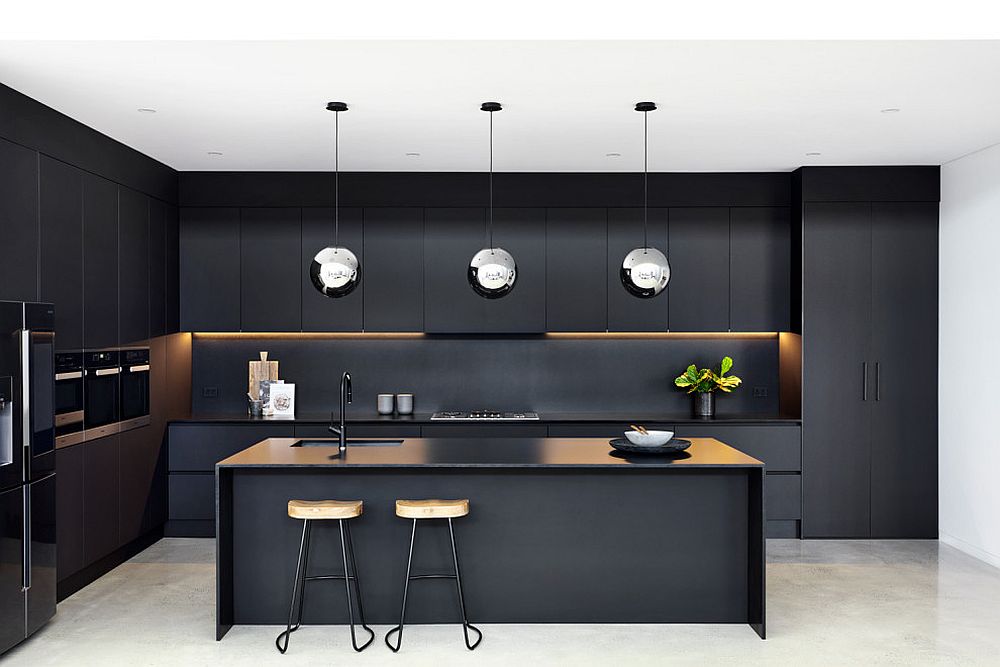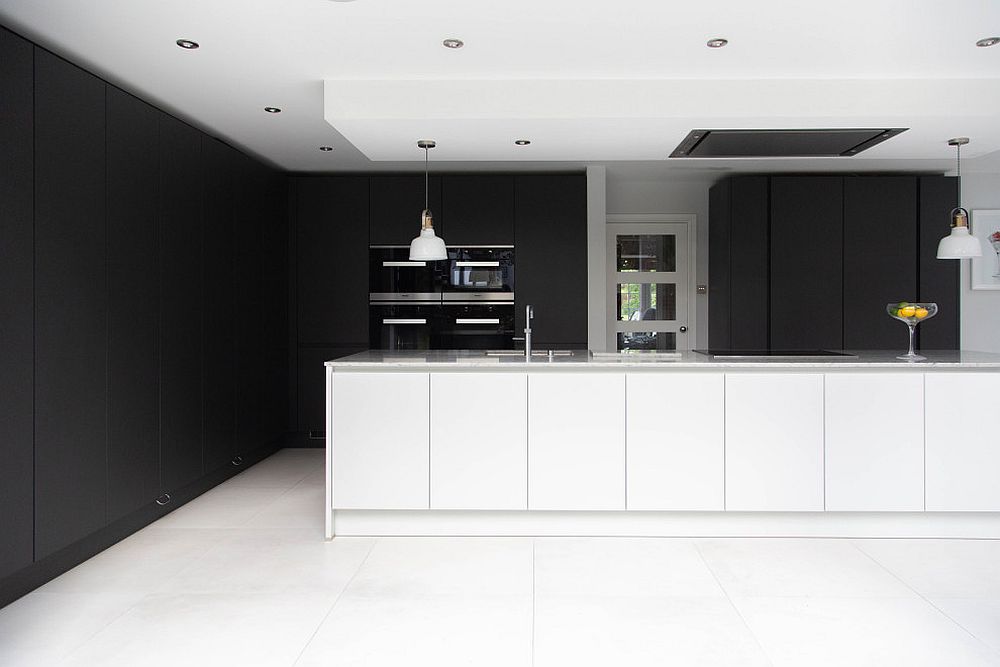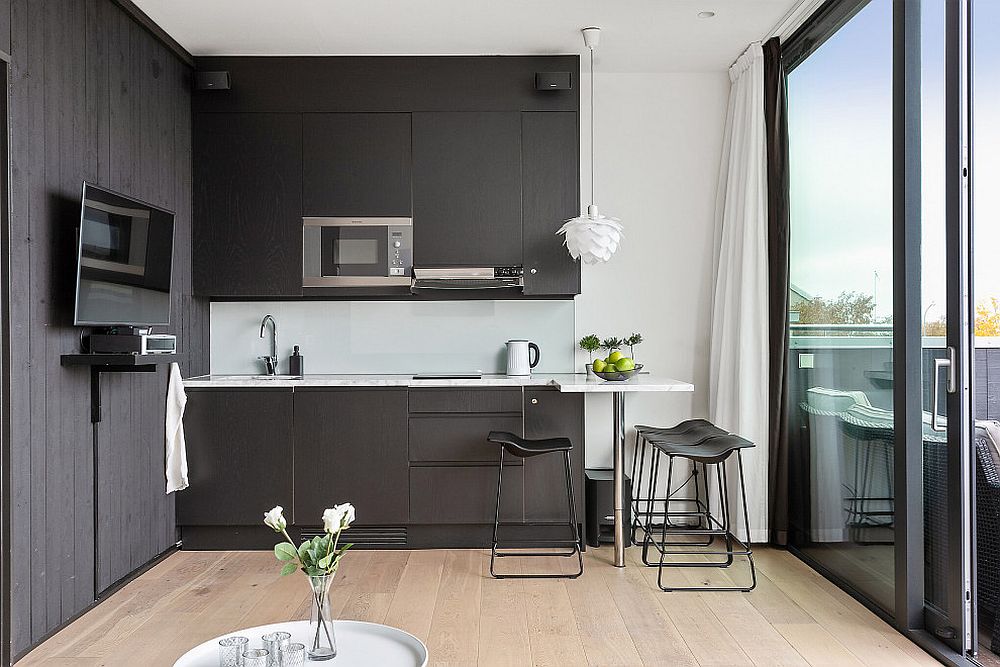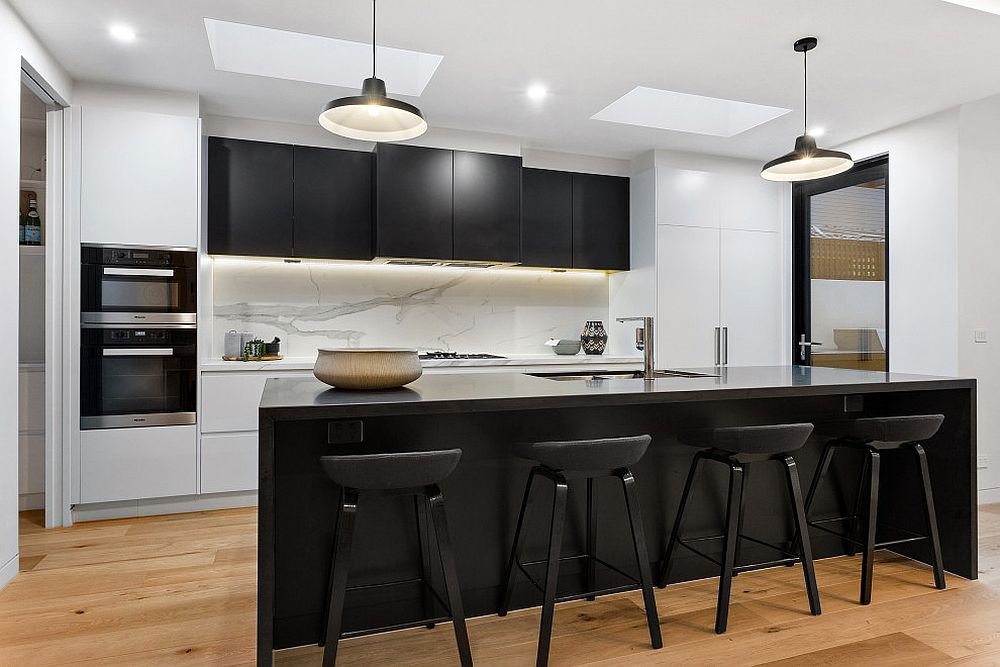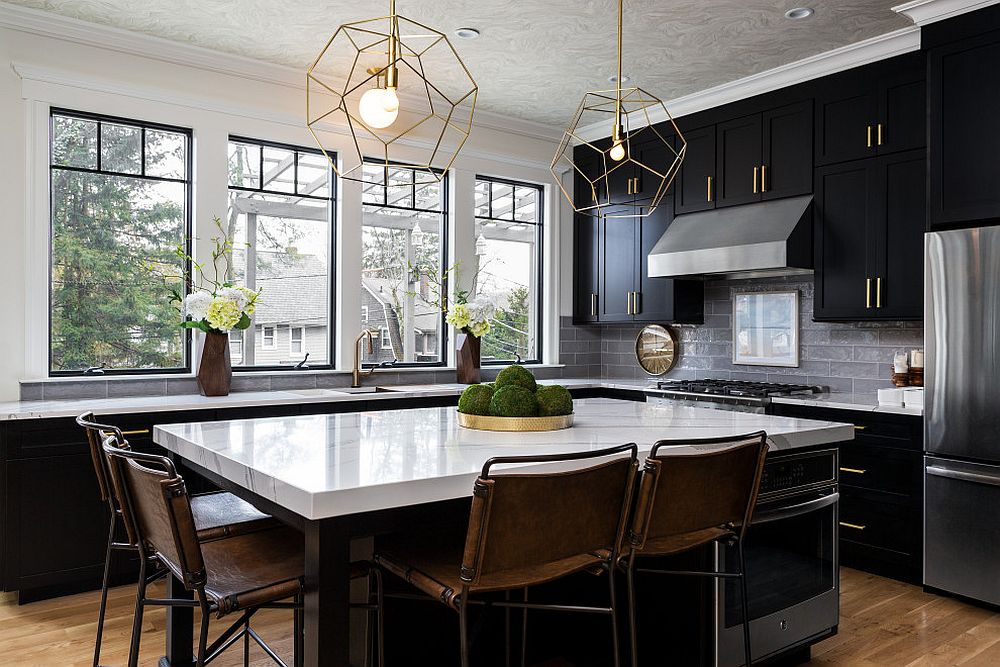 You're reading Beautiful Black Kitchens: 20 Exquisite Ideas and Inspirations Cutting Across Styles, originally posted on Decoist. If you enjoyed this post, be sure to follow Decoist on Twitter, Facebook and Pinterest.