While many people favor sweeping open floor plans and sleek, modern finishes in their homes today, there will always be a place for rustic decor in the design world. Rustic elements, featuring materials like wood and metal, bring in a cozy and familiar flair that can stand on its own or complement other styles. Whether in a mountain home filled with wooden timbers to a contemporary urban loft, these rustic vanities can bring a touch of charm, comfort, and style to any bathroom.
For the ultimate in rustic bathroom vanities, look no further than a live edge wood countertop. This eye-catching and organic counter brings nature indoors and works with a wide variety of styles. The bathroom here is charming and cozy with its stained wooden walls and elaborately-carved sliding doors. Several different types of counters would have worked well in this room, but the unfinished look of the live edge countertop brings everything together into a welcoming space that guests will feel comfortable spending time in while they're visiting.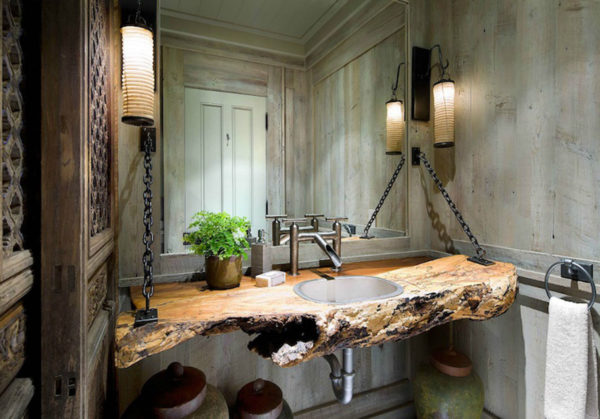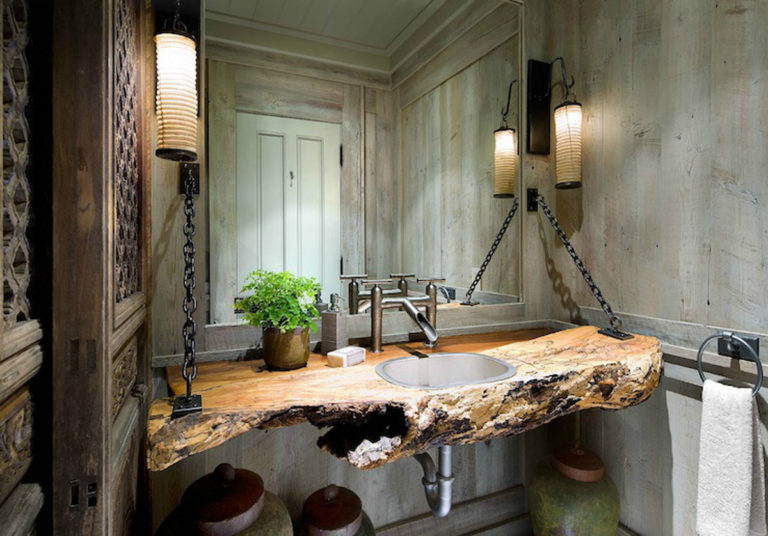 This bathroom is a bit more modern and is flooded with a lot of natural light. Timeless white subway tile adorns the walls and although the bathtub and other fixtures are contemporary, they were designed with a nod to vintage styles. This old-meets-new fusion makes the rustic antique cabinetry a perfect choice for the room. A large fiddle-leaf fig plant adds a splash of color while the dark slate tile brings warmth to the room.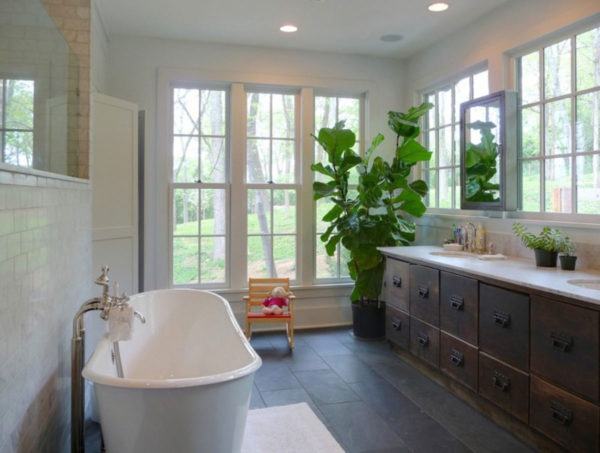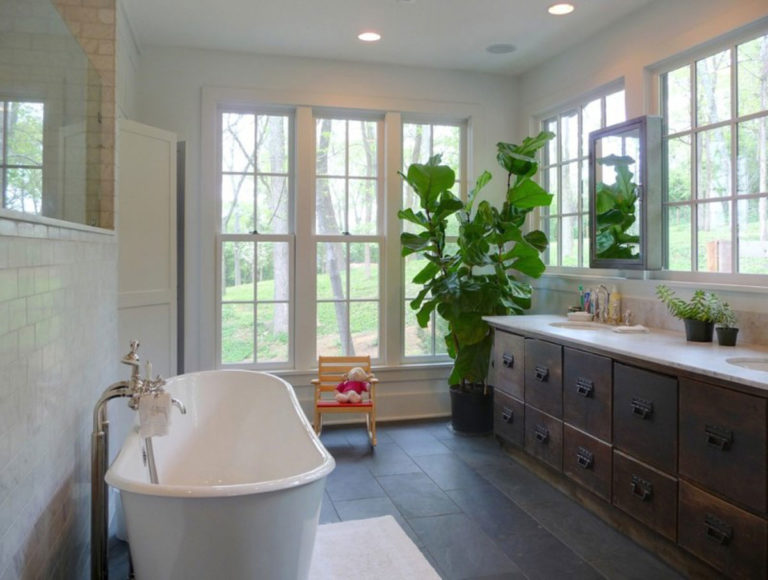 Perfect for a mountain home, the all-wood decor in this rustic yet sophisticated bathroom is updated with hammered metal sinks and a uniquely modern mirror hanging above the elevated vanity. Under-cabinet lighting keeps the room from being too dark yet doesn't intrude on the warm and cozy feel.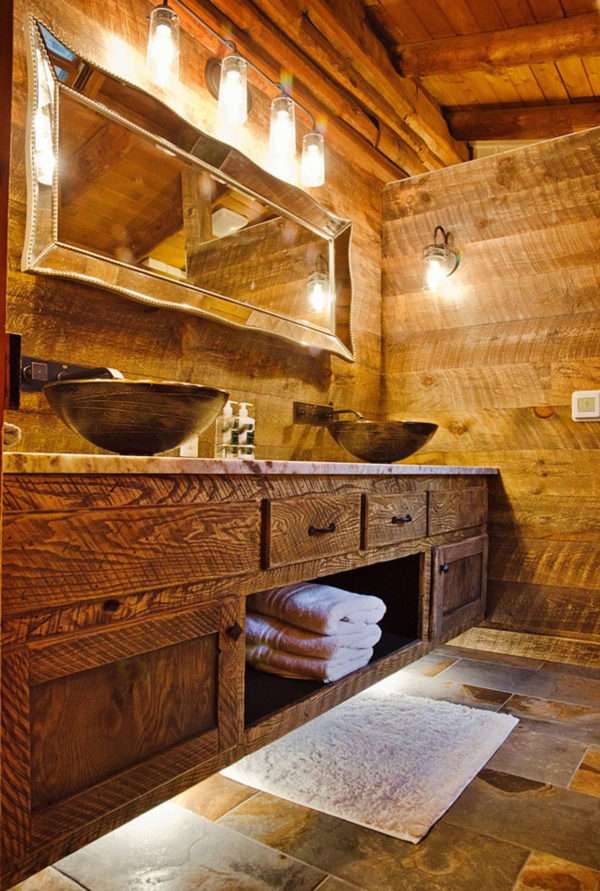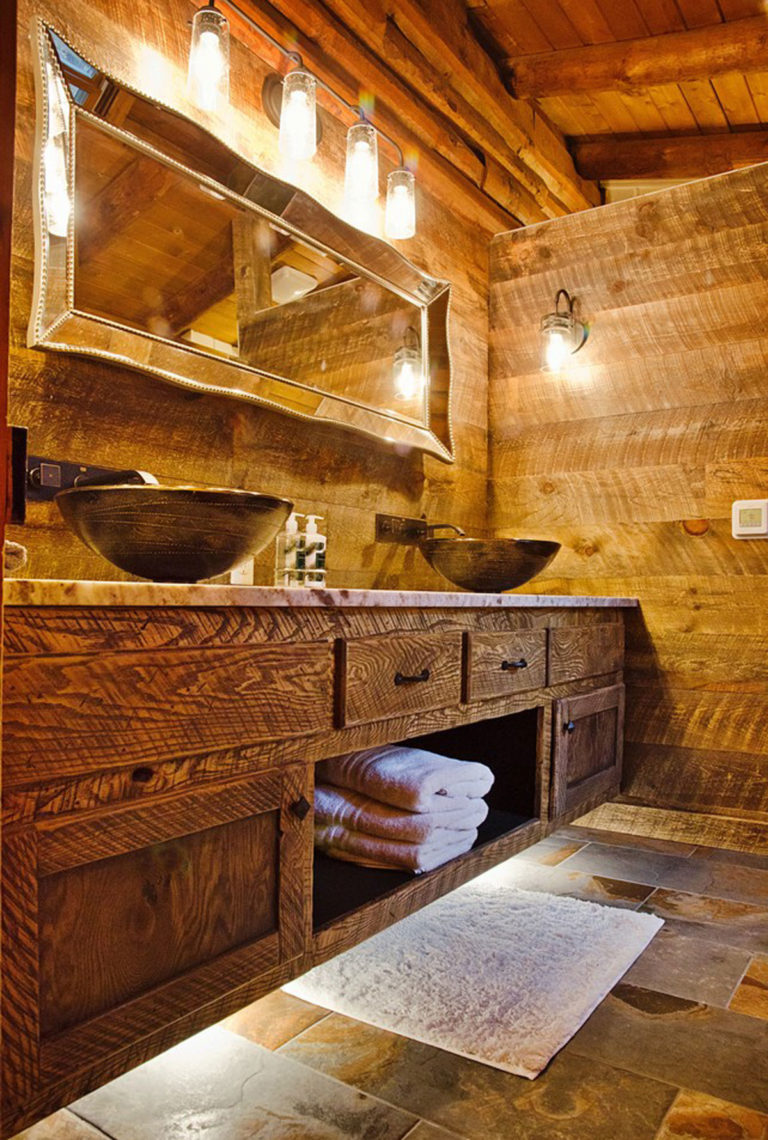 These dark, stained wood walls and rustic vanity could have quickly become overwhelming in this small bathroom. A modern glass basin, good lighting, and a beveled glass mirror, as well as the lighter wood in the floors, stop that from happening. Instead, the bathroom is cozy and inviting while retaining a rustic charm.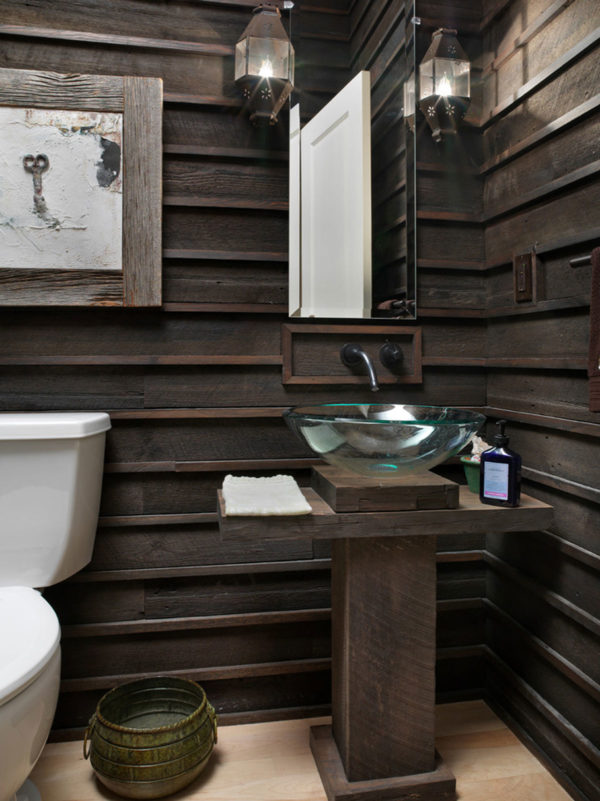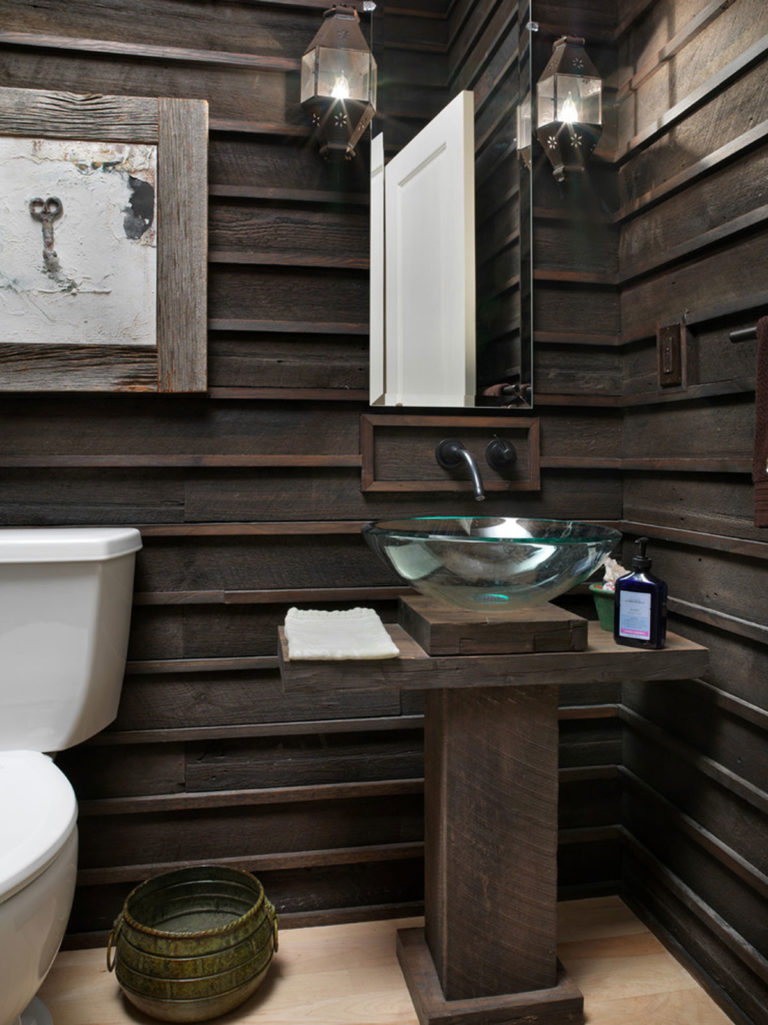 Typically when we think of a "rustic" bathroom vanity, wood is the material that comes to mind but metal is another option for those looking to add a homey flair to their decor. This large repurposed metal piece serves as a spacious vanity with a roomy sink and plenty of counter space. A shabby-chic mirror, charming lanterns, and original wood flooring all tie in nicely in this rustic yet comfortable bathroom.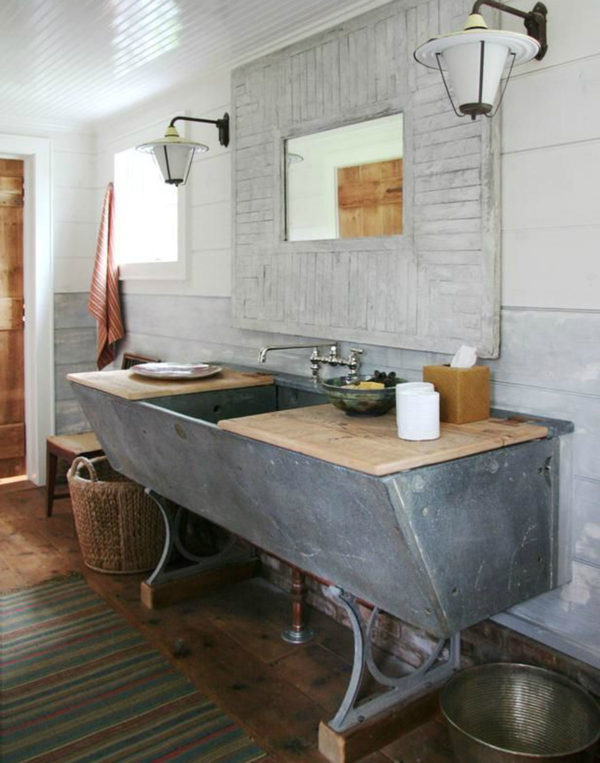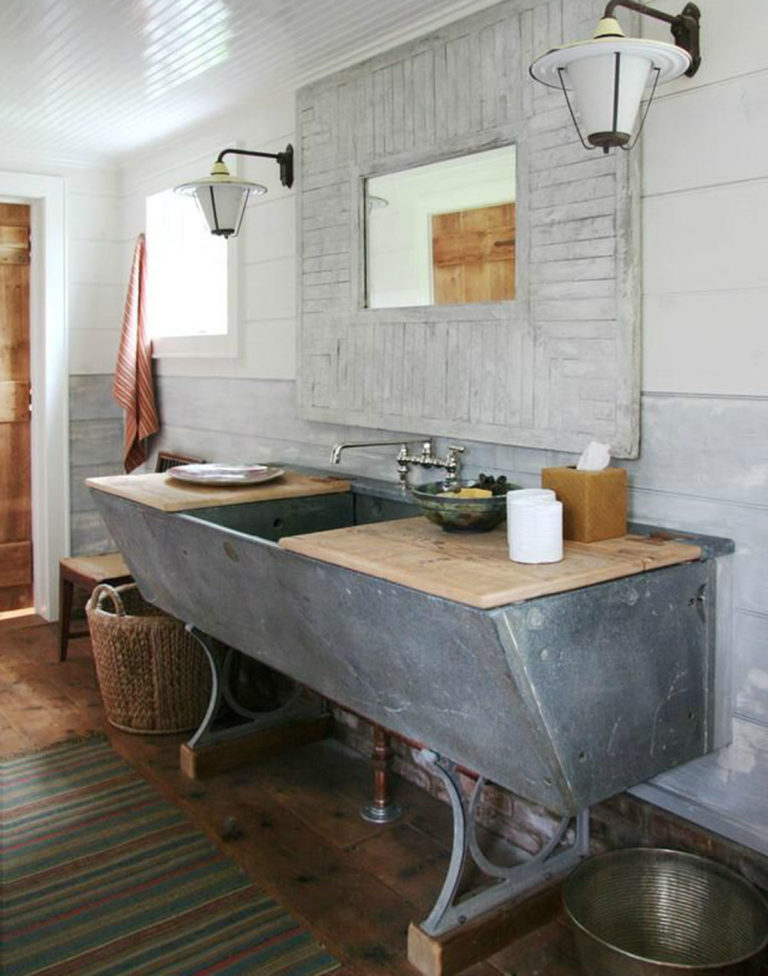 Although this large vanity has a distressed finish, it's far from shabby and instead coordinates well in this modern bathroom. The deep wood in the cabinets and over-the-sink mirrors ties in nicely with the concrete tub and other modern materials in the room to create an eclectic look and feel.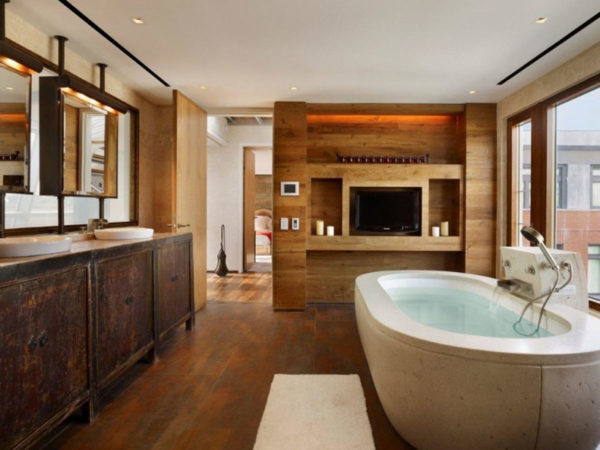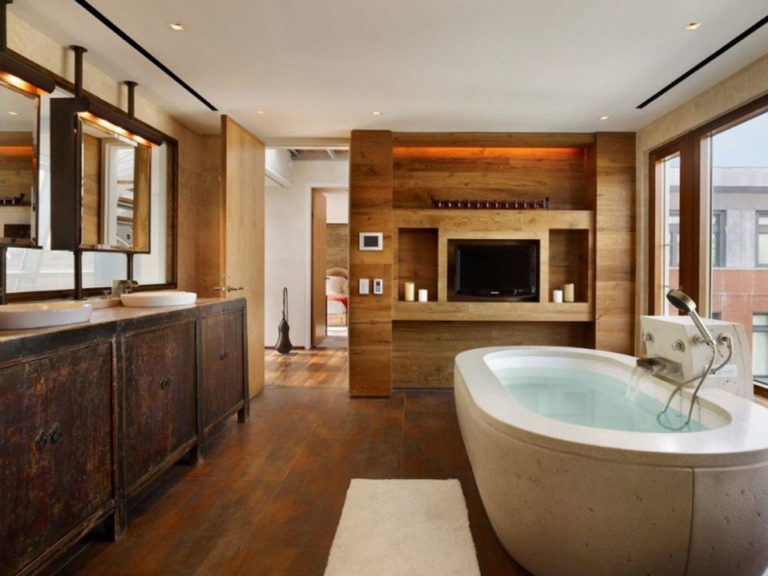 For DIYers who are looking to install their own vanities, there are many places to purchase them online. Strong Oak Wood Shop offers several choices such as this double vanity style made from reclaimed wood. The natural chestnut is accented with wrought iron hardware, making this a piece that would look eye-catching in a variety of bathrooms.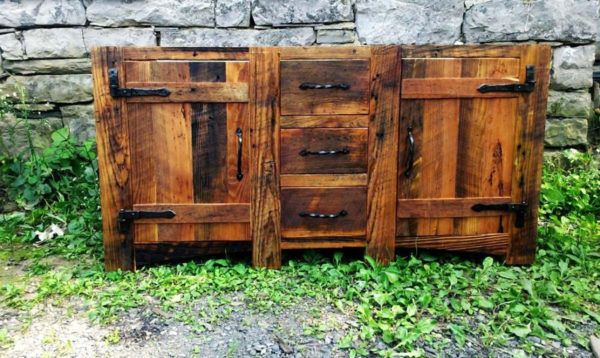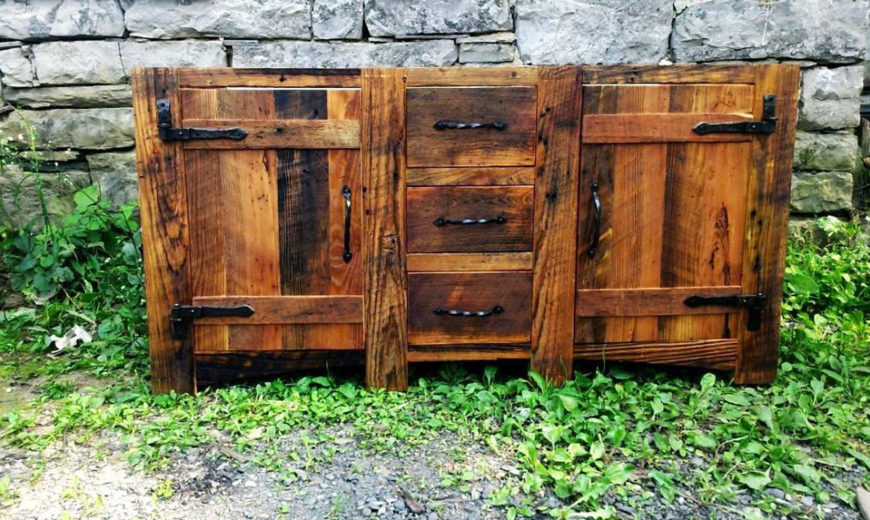 You're reading Rustic Vanities That Will Add Charm To Any Bathroom, originally posted on Decoist. If you enjoyed this post, be sure to follow Decoist on Twitter, Facebook and Pinterest.