Designed by award-winning firm Alterstudio Architecture, this riverside house has a central courtyard that gives it an accordion shape.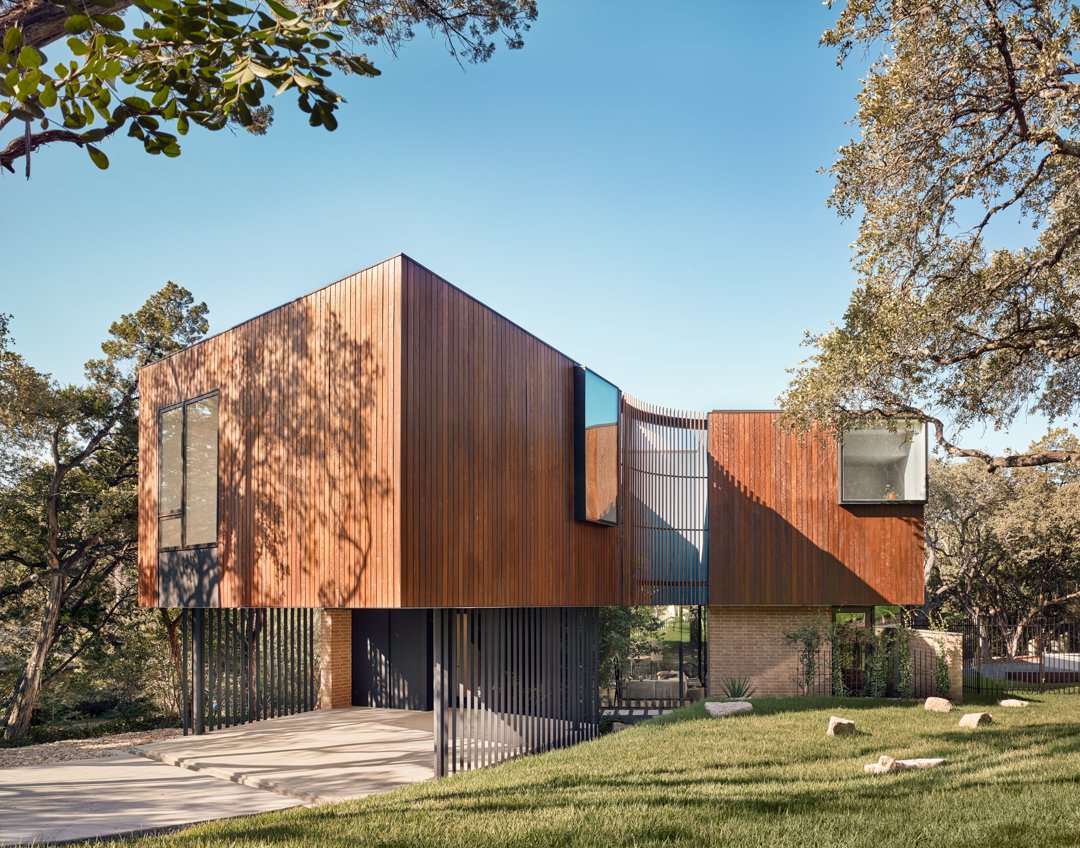 Alterstudio Architecture recently completed another residential project in their home base of Austin, Texas. The firm, which racked up over a dozen industry awards in 2019 alone, is well-known for highly crafted, organic designs—such as this 1920s bungalow revamp; this abstract, adobe-style home; and this residence built around a magnificent live oak.
One of their latest projects is a contemporary residence located west of downtown Austin along Stratford Drive, which snakes above the Colorado River. The home, completed in 2019, is a boxy, wood-clad structure set on top of an airy, glass-walled lower level. As with most other Alterstudio homes, deliberate manipulation of natural light and carefully selected materials create warm, open spaces for everyday living.
Offering nearly 3,000 square feet of living space, the three-bedroom, three-bath home features white oak flooring and clean, white surfaces throughout. The main living areas are surrounded on two sides by floor-to-ceiling glass walls that look out onto an entry courtyard and lush backyard. Keep scrolling for a tour of this contemporary city retreat, currently listed for $1,949,000.
See the full story on Dwell.com: This Slick Austin Home Offered at $1.95M Stretches Like an Accordion
Related stories:
An Airy Brooklyn Loft With 19th-Century Charm Hits the Market at $2.6M
Take a Peek Inside Actor Jennifer Lawrence's Dazzling Manhattan Penthouse
How Would You Use This Historic Substation in L.A. That's Listed for $3.75M?