If you love design and you're searching for girls' room decor inspiration, you'll be happy to know that trends in this space are a reflection of today's larger design trends. For all ages! As you can see from the photo below, geometric wall shelves, garlands and interesting lighting are a few of the game changers when it comes to decorating kids' rooms. And that's just the tip of the iceberg. Keep reading for a roundup of beautifully decorated spaces, organized by top trend. Don't forget that creativity makes all the difference in the world of girls' room decor… [image below featuring Pillowfort bedding from Target]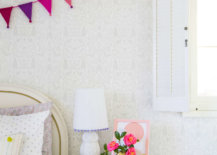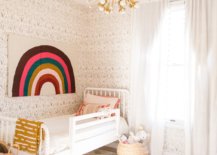 Wallpaper
Wallpaper was once a thing of the past. Now it's a must-have design element, thanks to a new wave of beautifully designed patterns. In this bedroom featured at Emily Henderson, a subtle wallpaper pattern by Hygge & West provides the perfect backdrop to colorful elements such as a berry-toned flag banner:
A similar palette can be found on wallpaper designed by Lulie Wallace, featured in this next bedroom. Once again, we see how more subtle tones set the stage for bright pops of color, especially when a vibrant rainbow rug doubles as a wall hanging. You can check out all of the design details at A Beautiful Mess (blogger/founder Elsie designed this space for her daughter):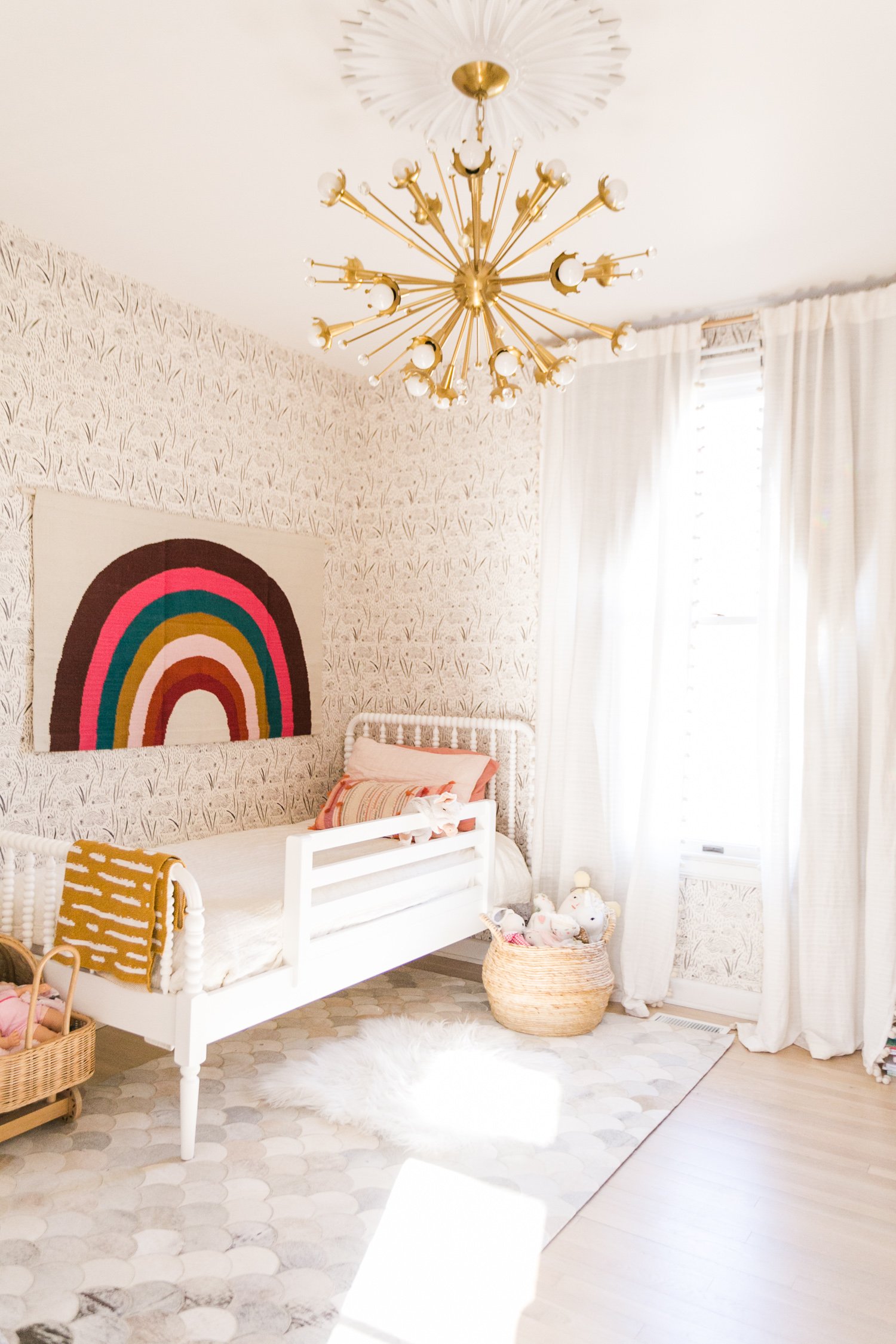 If you love the idea of a wall pattern but you don't want to cover each and every inch, consider a wall mural. Below we see a dreamy mural designed by Camille Javal for Anthropologie. Six panels are easily installed (and removed), thanks to SureStrip backing. The result is airy design at its most ethereal: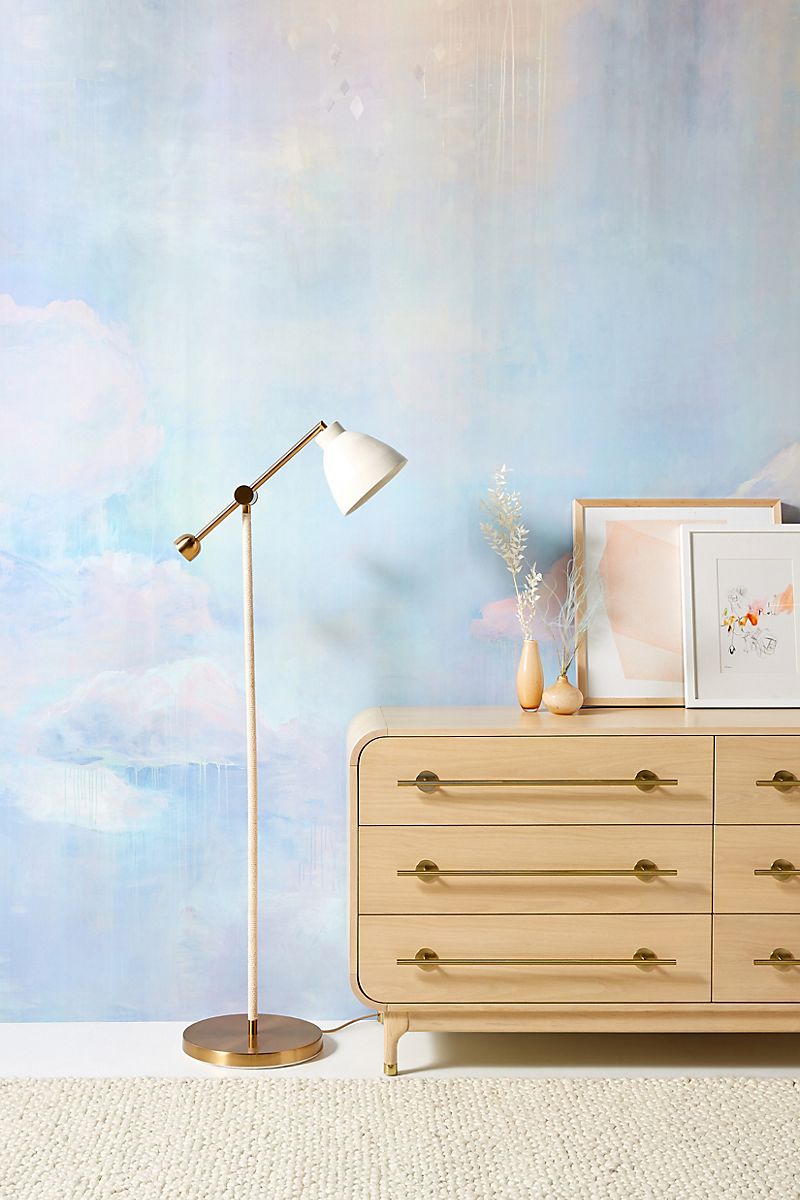 Wall Hangings
If wallpaper is a top girls' room backdrop, then wall hangings are definitely a leading trend in wall decor. No statement is too small. Once again, we get a peek at a bedroom designed by Emily Henderson, complete with a dreamcatcher featuring tassels in pink and white (pictured at the right of the teepee).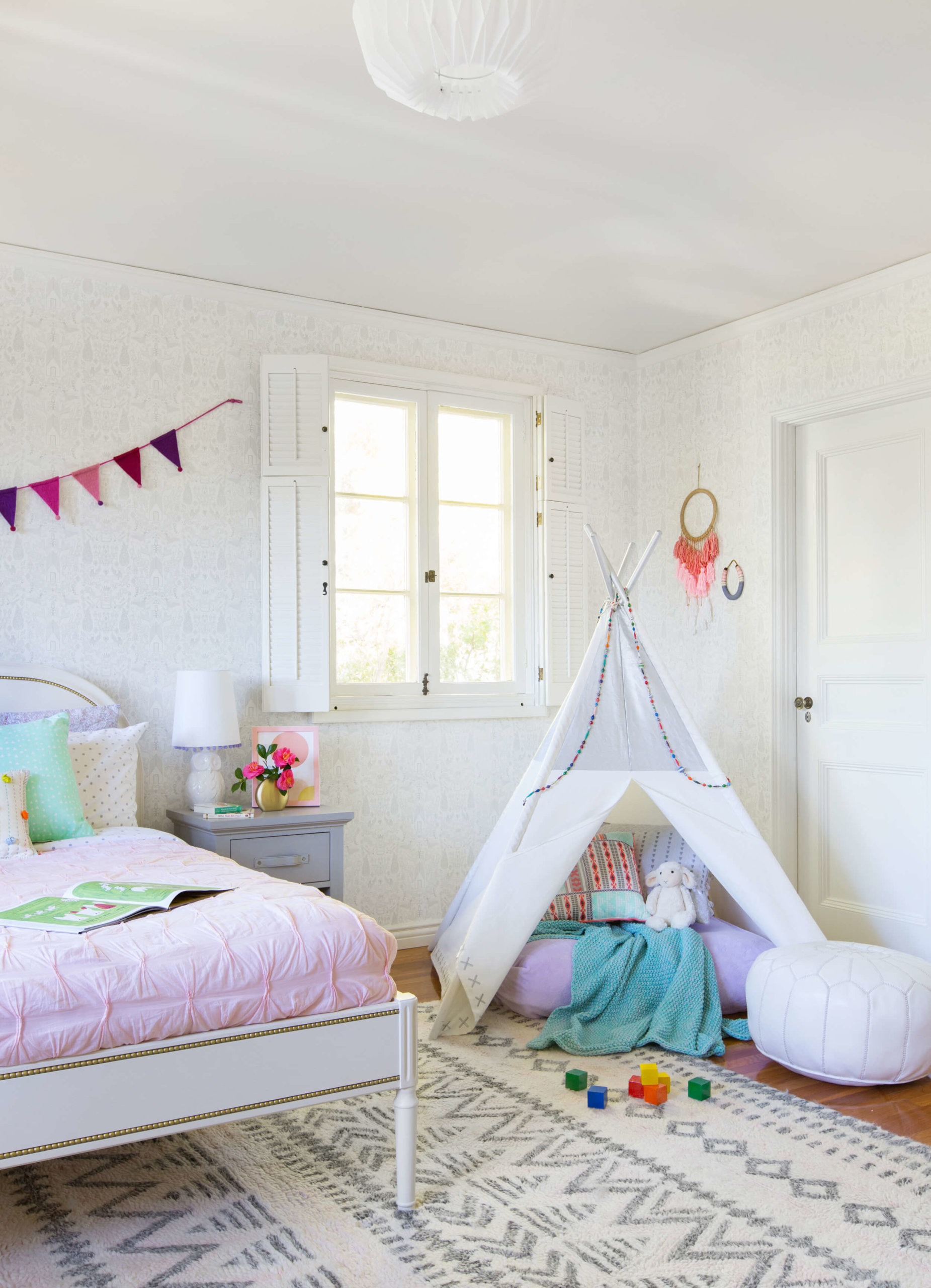 Rainbows are a top motif in the realm of wall hangings, and Anthropologie's Rainbow Wall Hanging is a pastel dream come true. A wooden dowel with a string for hanging creates a banner effect. Pastel fringe hangs from the bottom edge of the piece:
If you love a good rainbow wall hanging, you should be familiar with the work of Mandi Smethells. Her Etsy shop is filled with fiber art treasures crafted from yarn, rope and pom poms. A range of sizes and color palettes are available, including the soft hues of the Pastel Fiber Rainbow shown at the top of the photo below:
Pattern Play
When it comes to girls' room decor, don't be afraid to mix and match patterns. Below we see how Pillowfort bedding from Target includes a mixture of solids, stripes and dots in vibrant tones: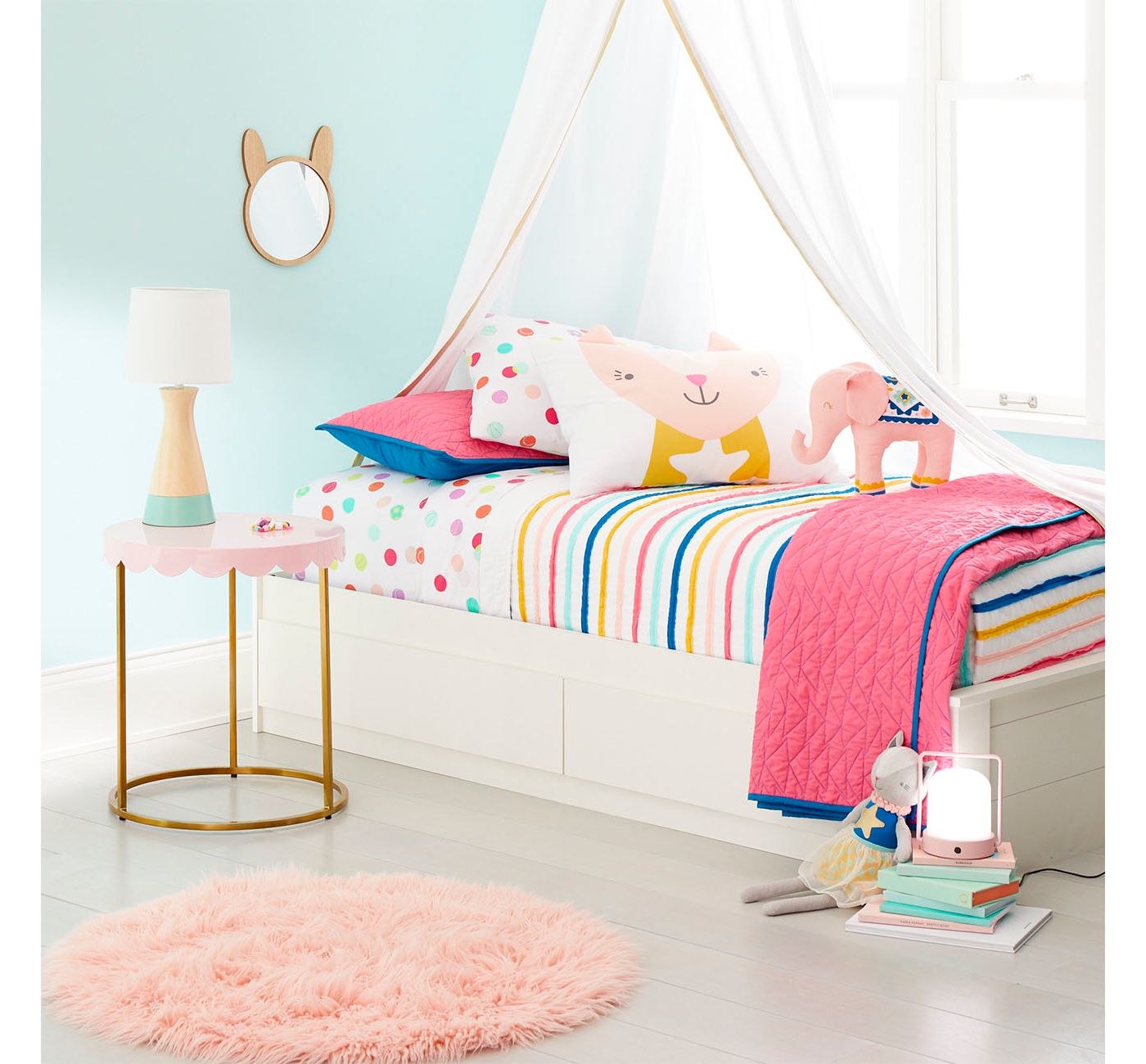 Jungalow founder Justina Blakeney didn't shy away from mixing patterns when it was time to design a boho chic bedroom for her daughter. In addition to combining a variety of textiles on pillow, bedspread and curtain, she wallpapered the white strip on the room's IKEA bed, adding even more visual interest. Check out all of the design details and sources here.
For a more minimalist take on mixing patterns, check out this beautifully curated space from ferm LIVING. When mixing textiles, combining large and small patterns is a strategy that works well. Using similar palettes or vibrancies of color is also effective, along with adding graphic elements such as pillows with one large image, as shown below:
Cozy Spaces
Tents and canopies are a girls' room decor essential, and there's no limit to the design possibilities. From gauzy, dreamy draperies to dip-dyed borders with an ombre effect, the key is choosing a design that beautifully complements your space. The Pillowfort canopy below features tassels in bright colors. Use it to designate a cozy sleeping area or a reading nook that doubles as a restful haven!
Don't be afraid to go big with a tent or a teepee! Great for shared spaces where privacy is needed, these popular design elements can also be used to add pattern and whimsy. Below we see another Pillowfort find from Target, accented with a cactus throw pillow.
Special Touches
When designing a room for your little girl, don't forget about the fun touches that make the space special. Can you count the amazing accents in the room below, designed by Sugar & Cloth?! From the painted stripes on the wall to the custom roof (built to accommodate the house toddler bed), there are SO many delicious details. We're also loving the rattan mirrors that hang to left of the bed:
One of the biggest kids' room trends among today's design bloggers: the colorful closet! Studio DIY knocked it out of the park with the closet below, complete with DIY sunburst doors that transform ordinary folding doors into a design dream. Let's not forget the power of wallpaper and amazing storage baskets. Check out all of the design details here.
Speaking of storage baskets, Anthropologie's Tasseled Kids Storage Bin packs a lot of radiance into its petite frame. A textured floral pattern on the sides of the basket is another design highlight. Storage baskets are a top design trend for all ages, and they're a great way to feature decor that is both functional and stylish.
Don't forget that no special touch is too small to enjoy, and don't be afraid to think outside of the box. Would you ever hang a rug on a wall? ferm LIVING offers a tufted wall/floor seahorse that can serve as a rug or as wall decor, shown below. Special accents such as this fabulous find have the power to take a room to the next level.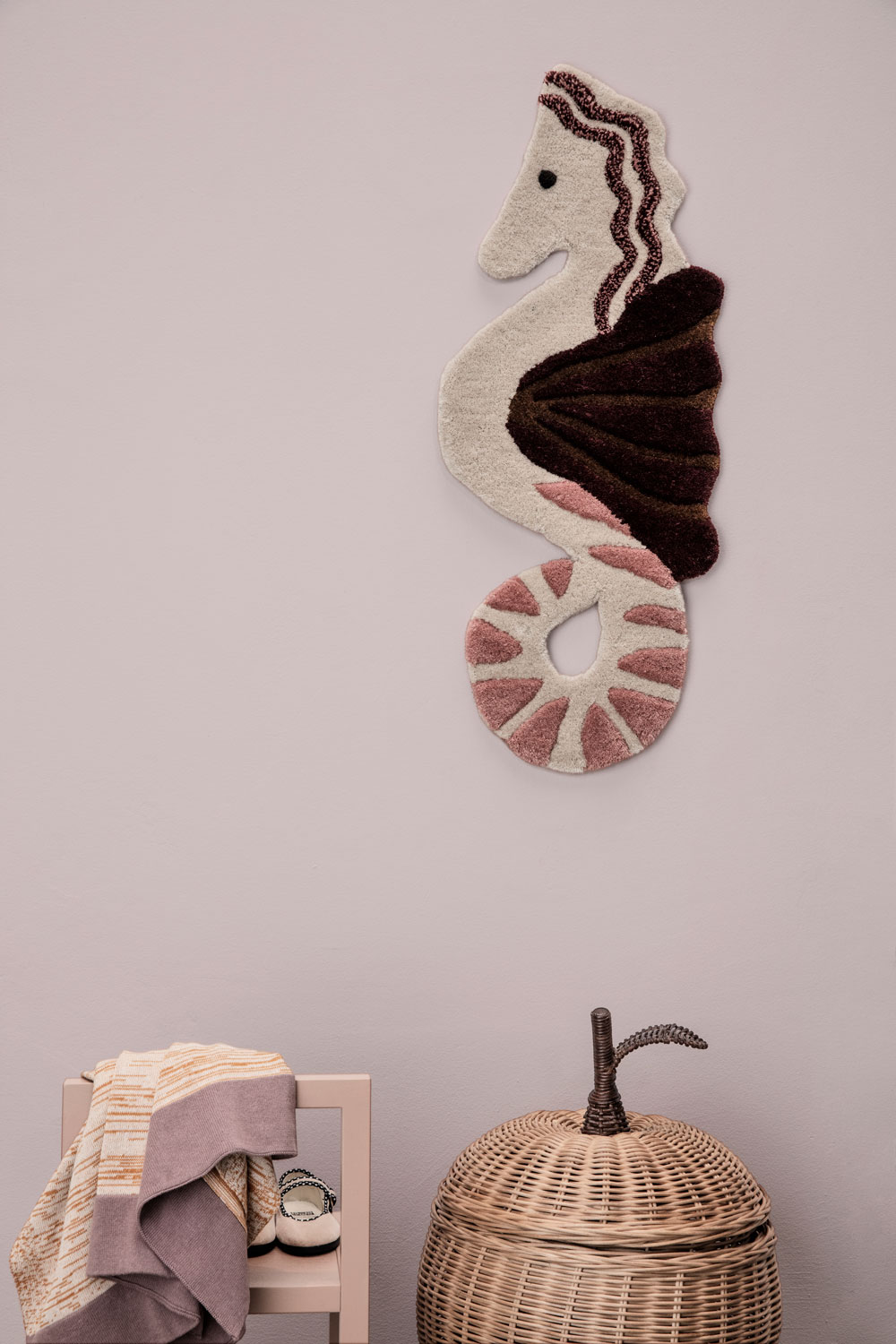 We hope today's post has inspired you as you gather design inspiration and girls' room decor ideas. Whether you're planning a room renovation or you're searching for a small item to serve as a focal point, many thoughtfully designed and creative options await you. Happy decorating!
You're reading The Top Trends in Girls' Room Decor, originally posted on Decoist. If you enjoyed this post, be sure to follow Decoist on Twitter, Facebook and Pinterest.