We are always looking to save space around our home; even if we do not happen to live in a small or modest residence. The general tendency among us is to fill up the empty space around us with decorative and furniture pieces as time passes by. Sure, de-cluttering and decorating discipline helps. But you still need a few pace-savvy and nifty decor items once in a while that go beyond the mundane and add a different dimension to your home. This is truer in the kitchen where all the appliances and kitchenware can take up too much space. An idea like the cart-style open island comes in mighty handy in here.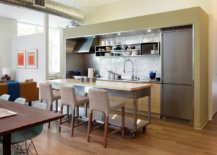 The perception among homeowners these days is that every kitchen, no matter how small or large it is, needs a smart central island at its heart. And this is definitely NOT true. Not every kitchen needs an island and there are times when the traditional island filled with closed cabinets and drawers actually ends up creating a more visually cluttered area. To free up space around the worktops and to add a more open, airy appeal to the kitchen consider adding a cart-style open island instead. The kitchen carts that serve as smart islands come with a wide range of advantages. And today we take at the very best of them!
Create More Space
In the small kitchen, a conventional kitchen island can disturb the overall flow of the space visually. A smart open island not only frees up space, but it also gives the small room an airier appeal by allowing for better passage of light. Sure, you will not have the additional storage options that an island with drawers and cabinets brings. But you can tuck away those bar stools, small chairs and everything else underneath this cart-style island, if and when needed. Sometimes, the perception of space is much more important than actual availability of it and that is what you get with these adaptable islands.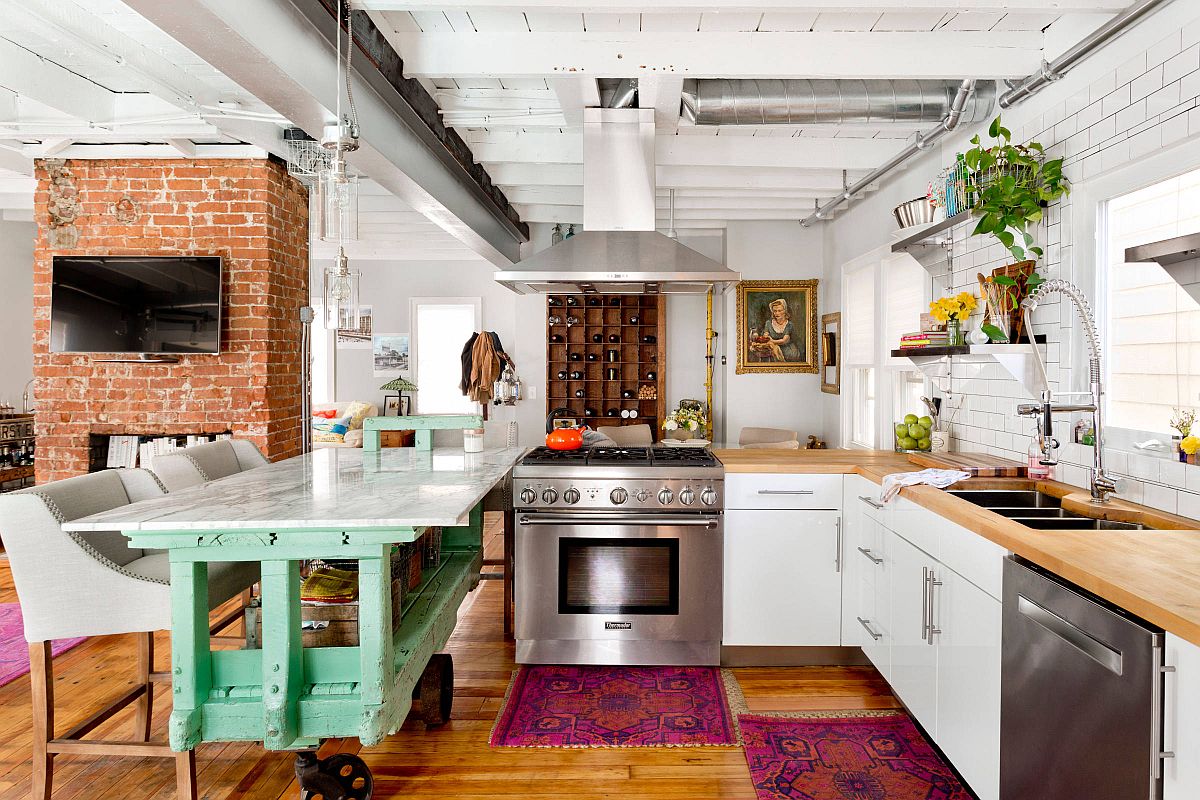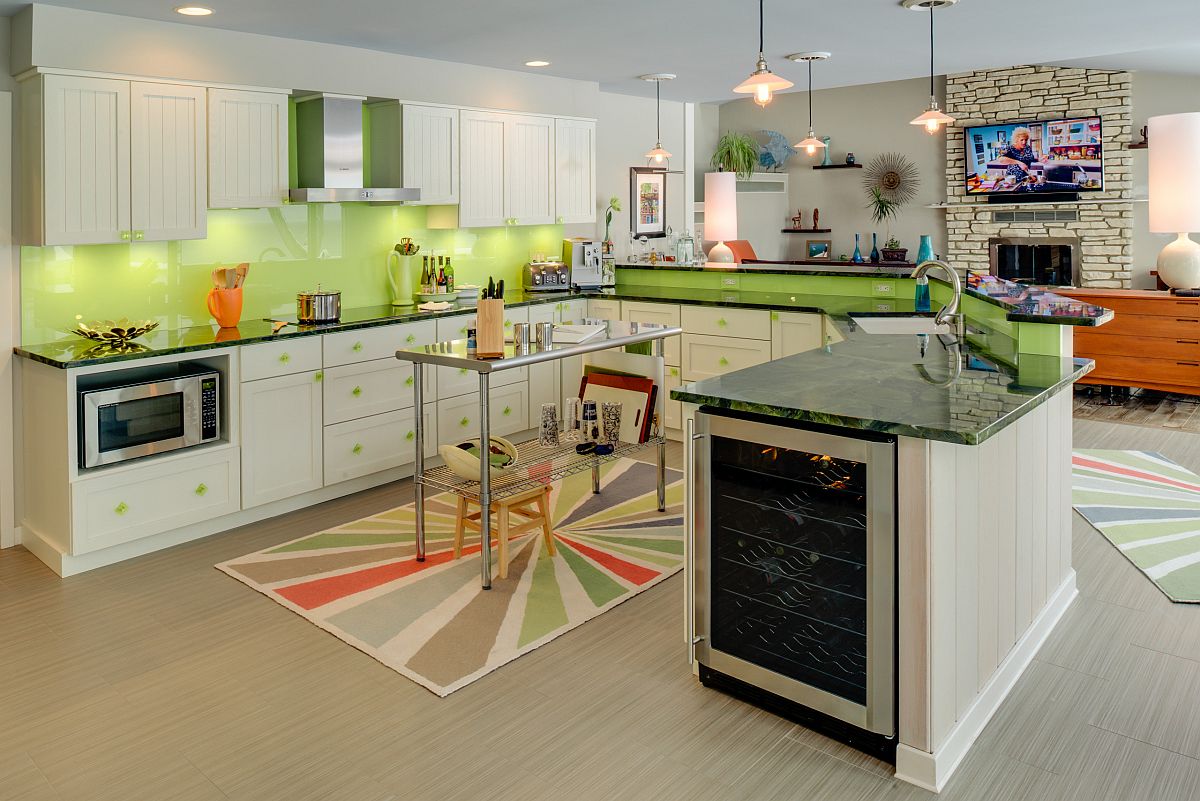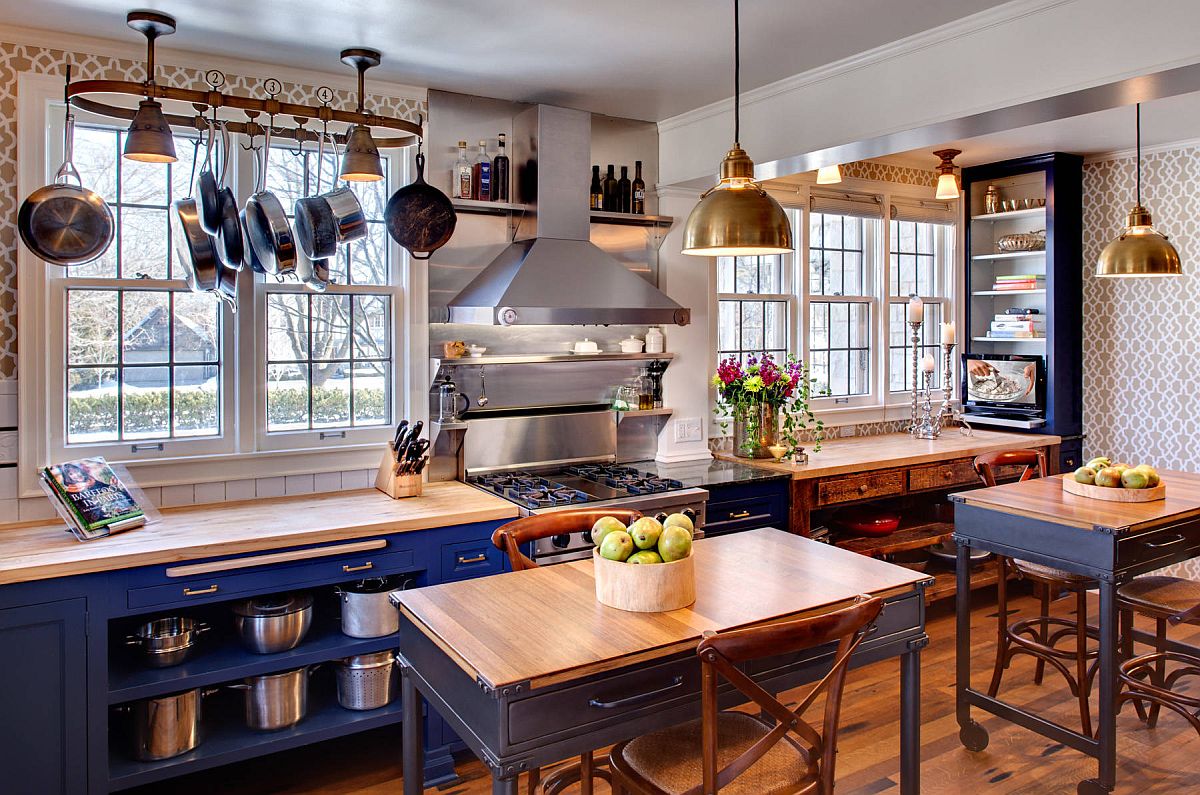 Add Just What You Need
There are times when homeowners feel compelled to add an island to their kitchen because 'everyone else has one'. Doing this without actually considering your regular culinary needs and the space between the kitchen island and the countertops can lead to a congested, inconvenient and tiresome kitchen. There is no point in having a kitchen where people who regularly cook have to tiptoe around things! The open, cart-style kitchen island is often a smaller, sleeker solution and if you have an island on wheels, then you have even more ergonomic flexibility. You can move the cart around to create more space wherever needed and also to extend the prep zone for making a larger meal.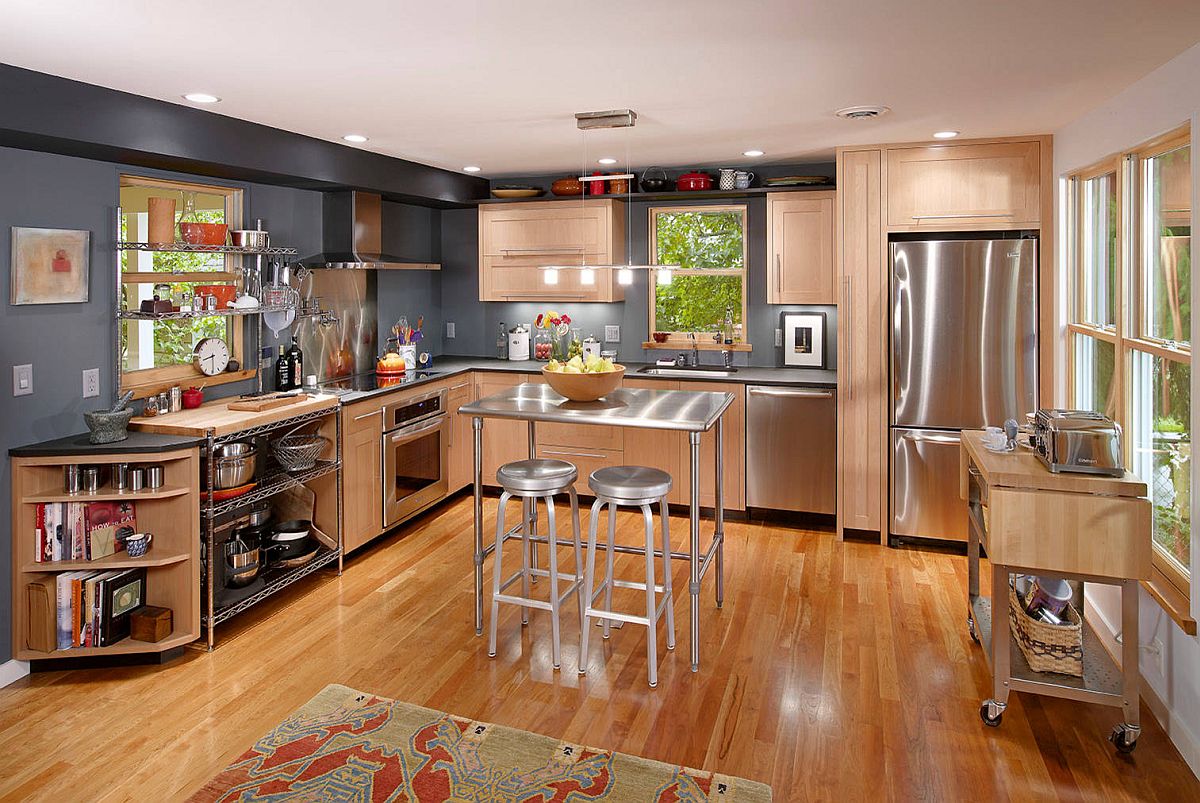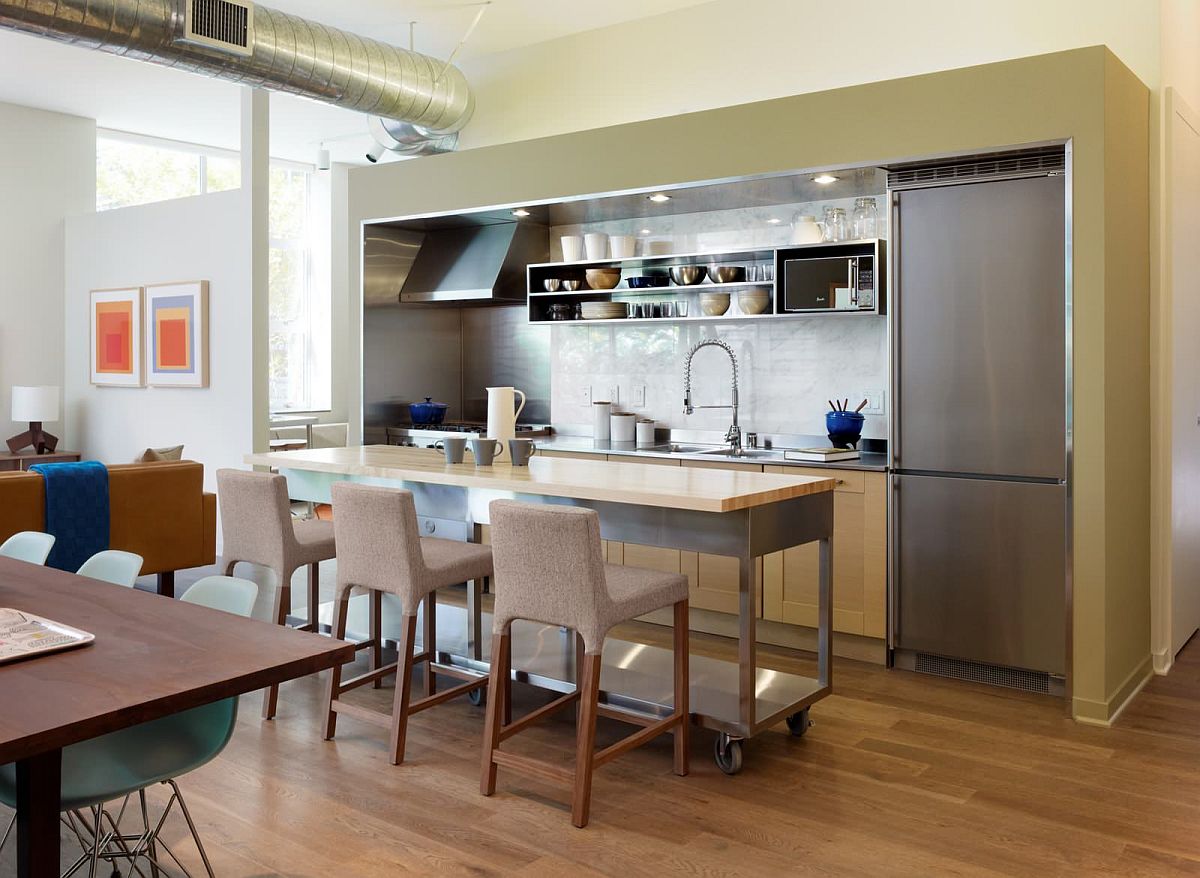 Styles with the Open Cart
Thinking about what style works best with the open cart-style kitchen island? Since many of these islands come in metal, modern, Scandinavian and industrial styles are your best bet. Of course, a custom open kitchen island in wood will allow you to easily adopt styles like farmhouse, Mediterranean, traditional and shabby chic with ease. The material of the island and its overall silhouette are only a small part of the overall kitchen narrative and it is what you do with everything else around it that makes the bigger impact. In small kitchens where every square feet matters, these fabulous islands can transform the ambiance in an instant.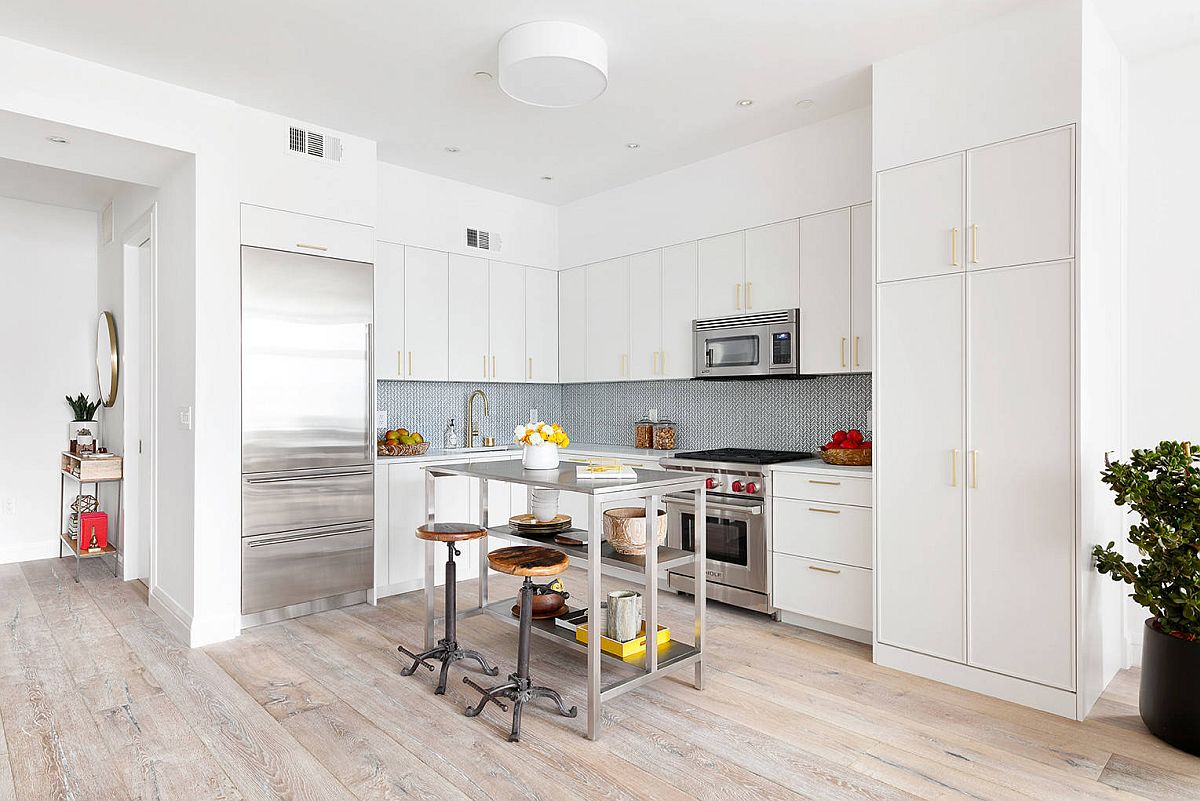 You're reading Best Cart-Style Open Islands for the Small Kitchen: Smart Space Savers, originally posted on Decoist. If you enjoyed this post, be sure to follow Decoist on Twitter, Facebook and Pinterest.