Villeta means 'little village' and while this remote location in Columbia might be away from big city lights and constant rush, it is by no means little. It is here that one finds the spectacular VO House – a captivating weekend residence that sits atop a lot overlooking the valley created by Rivers Villeta and Tobia. The holiday home was designed for a large family and its owners wanted a single-level residence which could be easily accessible for the elderly. With five different bedrooms that can hold five large families creating the private wing towards the west and a spectacular open plan living area, kitchen and dining space set in the east wing, life here is as exciting and luxurious as it is relaxing and nature-centric!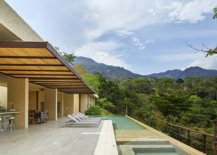 Designed by Baquerizo Arquitectos, the home was crafted make the most of the amazing landscape outside with expansive decks, a large pool area and courtyard offering breathtaking views of the valley and beyond. The 'fire and water' experience comes from the access to the pool area that contains two walls which perfectly frame the view of a sizzling fire pit that sits next to the luxurious pool and creates an almost 'hypnotic visual experience. Stone excavated during the construction of the house along with modern finishes and glass shape this dream Columbian vacation home. [Photography: Andrés Valbuena]
The virtue of this project is to be able to solve an extensive architectural program in a simple way relating with nature and the place, providing continuous and serene spaces that can be easily customized with the inclusion of the owners' furniture, accessories, objects and works of art.
You're reading Fire, Water and an Air of Luxury: Dream Weekend Home with Enchanting Views, originally posted on Decoist. If you enjoyed this post, be sure to follow Decoist on Twitter, Facebook and Pinterest.