Mattaforma considers "plants as clients" for Public Records outdoor space
Local design studio Mattaforma has created a plant nursery and community space for Public Records, a music venue and restaurant space in Brooklyn.
The Nursery at Public Records sits in an outdoor space adjacent to the Gowanus institution's other programming, a vegan cafe, club and listening lounge. It serves as a nursery for plants and as an outdoor music venue.
The team at Public Records wanted to turn the adjacent, empty lot into a functioning space.
To do so while limiting new construction, the team took advantage of several storage units already on the site, positioning them as both separators and inhabitable spaces for both humans and plants.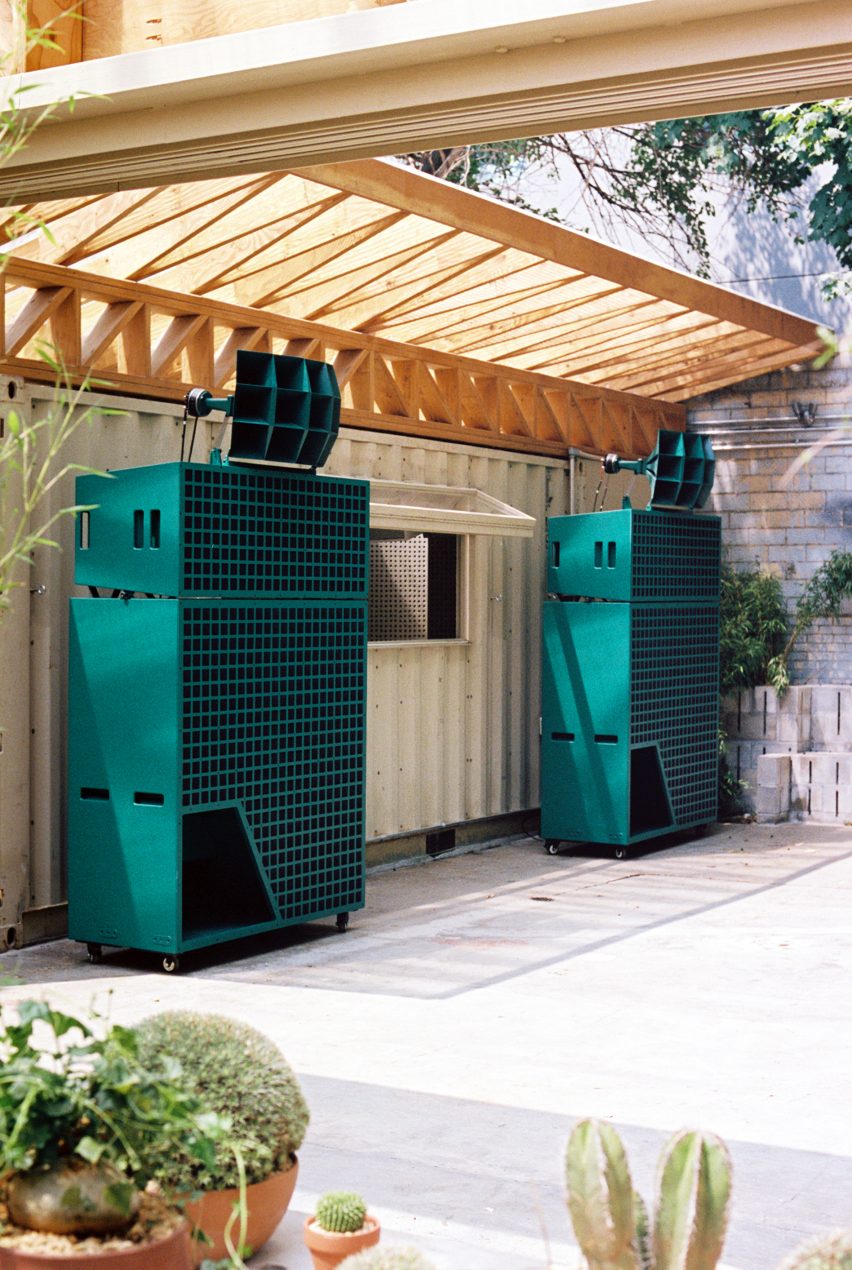 "The brief was an over winter nursery for their garden plant collection, as well as a community space that people could enjoy and learn about plants," Mattaforma co-founder Lindsey Wilkstrom told Dezeen.
"With this in mind, we focused first on designing a space that relied solely on passive heating in the winter, treating the plants as our clients first, then adapting a plant-oriented space towards humans as our secondary clients."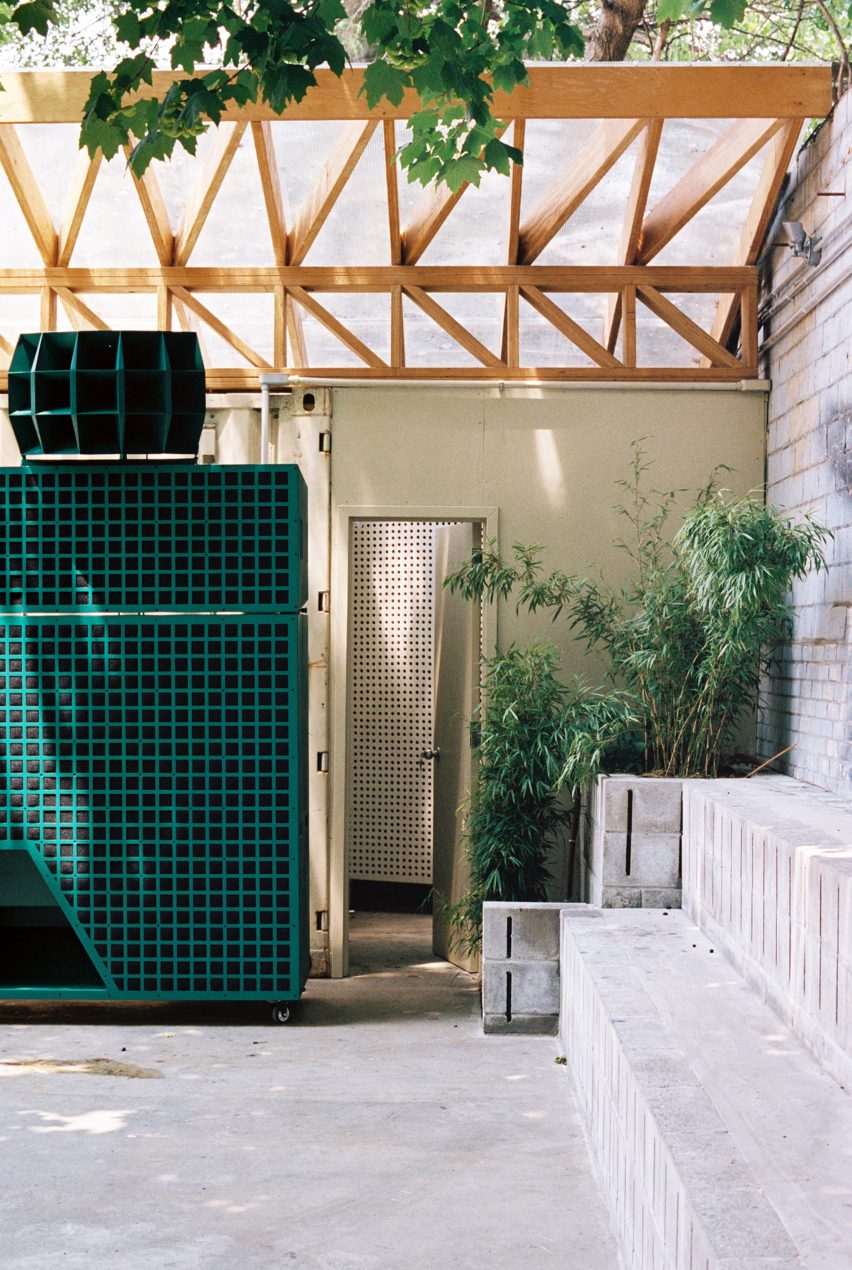 To house the plants, Mattaforma installed wooden pratt trusses lined with polycarbonate panels.
The trusses were made on-site out of Microllam R laminated-veneer lumber (LVL), a manufactured wood that combines micro-layers of different kinds of woods like fir and larch.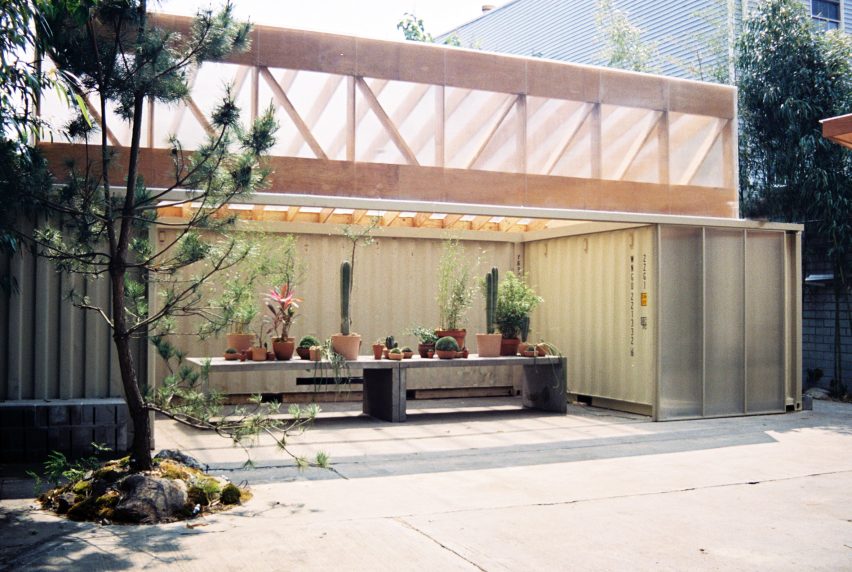 According to Wilkstrom, the material was chosen for its durability and also its manufacturer, Weyerhaeuser.
"[It's] the first American timber company to call for regenerative forest stewardship over 100 years ago and who still maintains today some of the highest ethical standards in their replanting initiatives, meeting SFI certification and transparency in their evolving ESG performance metrics," said Wilkstrom of the company.
Vents were included in the trusses to allow for passive cooling during the summer months. The trusses also extend out over the sound system and DJ booth to celebrate the DJ booth "like an altar".
RSDA repurposes shipping containers to form home on Indian farm
Public Records also created the sound system for The Nursery, working with audio engineer Devon Ojas and manufacturer NNNN to develop a custom system that includes two blue-green and black speakers.
In addition, the team brought in engineering firm Arup to advise on the acoustics of the space and New York-based Cactus Store to supply additional vegetation for the site.
Besides the plants within the containers, trees and a grove of bamboo were installed around the concrete dance floor.
"The Nursery is intended to be an ecological/urban intervention that serves to bring people and plants together, in reaction to the challenge of re-imagining an asphalt parking lot," said Public Records, which was founded by Shane Davis and Francis Harris and has existed on the north end of Brooklyn's Gowanus Canal since 2017.
The once-industrial areas of Brooklyn have seen a variety of art and culture institutions moving in past years. Recently, a derelict powerplant, once known for its graffiti culture, was renovated by Swiss architecture studio Herzog & de Meuron into an arts centre.
Elsewhere in the borough, Ennead Architects and Rockwell Group converted a 19th-century train warehouse into a headquarters for a charitable organisation.
The photography is by Adrianna Glaviano.