Sculptural blocks intersect to form barn-like house in Switzerland
Rough textures and a blocky interior define Residential Barn in a Hamlet Zone, a home that Swiss studio BE Architektur has completed in a small agricultural town near Zurich. The timber-clad home is intended to pay homage to the town's history through the inclusion of features that resemble traditional barns nearby. To achieve this, BE
The post Sculptural blocks intersect to form barn-like house in Switzerland appeared first on Dezeen.
Rough textures and a blocky interior define Residential Barn in a Hamlet Zone, a home that Swiss studio BE Architektur has completed in a small agricultural town near Zurich.
The timber-clad home is intended to pay homage to the town's history through the inclusion of features that resemble traditional barns nearby.To achieve this, BE Architektur clad the building in spruce wood and topped it with a tiled pitched roof.
"The new home enters into a thematic dialogue with the surrounding agricultural buildings for a unique interpretation of the vernacular barn typology," studio founder Boris Egli told Dezeen."It reinterprets the simple, unadorned nature of a traditional barn through its choice of materials," Egli continued.Inside, the rooms are organised in a staggered arrangement that draws on the idea of a barn as a storage unit. Concrete floors are left exposed and complemented by textured light-grey plaster on the walls for a raw, unfinished look.
"A barn is typically used for storage and as a workroom for agricultural production, and although this new building is not a depository, its rooms are 'stored' within it as closed volumes and are figuratively stacked on top of one another," said Egli."This 'stacking' creates a sculptural interior, a positive spatial volume within the building."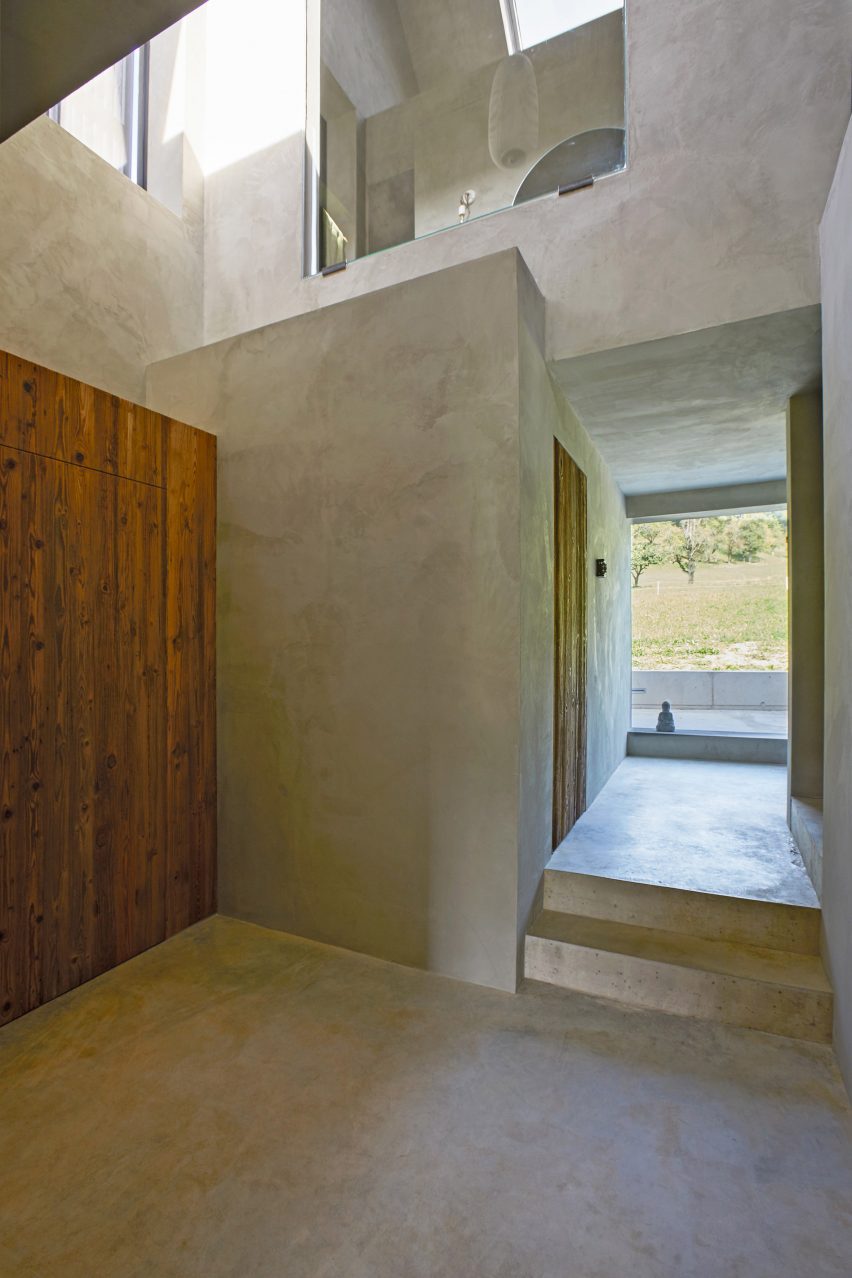 On the ground floor, the rooms are set on different levels to create a floor that steps up and down in response to the topography of the site below."Building on a slope usually requires excavation behind the building and backfilling in front," the studio explained. "This approach was deliberately rejected. Instead, the ground floor is arranged in a series of levels at different heights to follow the existing slope," it continued.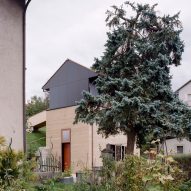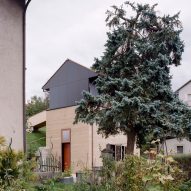 Madeleine Architects converts pigsty into The Recipe house in Switzerland Roughly plastered blocks arranged across the ground floor contain hidden spaces, including storage rooms, a mechanical room and a bathroom,A series of interconnected, open living spaces wrap around these staggered blocks, helping to connect the rooms of the home.
To the right of the entrance, a kitchen and dining space features timber joinery that has been set into the concrete walls. It is overlooked by a balcony and illuminated by a large hanging light.Accessed by a pair of steps, the living room is nestled among other blocky volumes on the lower level. It features earth-toned furnishings and timber shutters that span a large glazed opening.
On the first floor, intersecting volumes and plastered walls create uniquely shaped spaces, including two bedrooms, bathrooms, and an office.The attic contains multipurpose space and a storage room, as well as a cosy reading area that features a low, sloping ceiling and angular walls.
In addition to the main home, the studio added a freestanding two-car garage that features the same timber structure as the main home.Other Swiss homes recently featured on Dezeen include a lime- and hemp-clad home transformed from a pigsty and a stone micro-home converted from an old wood store.The photography is by Vito Stallone.