ZGF and James Corner Field Operations complete phase one of Amazon HQ2
Architecture studio ZGF has completed phase one of Amazon's HQ2 in Arlington, Virginia that includes a park designed by James Corner Field Operations.
The Metropolitan Park campus completes the first phase of online retail firm Amazon's headquarters located in Arlington's National Landing neighbourhood, a 20-minute drive to downtown Washington, D.C.
The new 2.1 million square feet (185, 800 square metre) campus contains two 22-storey office buildings with retail space surrounding a central public green space.
For the design, Amazon "envisioned a second headquarters that would integrate into and enhance an existing neighbourhood," according to the company.
ZGF Architects placed the headquarters' two towers, called Merlin and Jasper, perpendicular to one another on the corner of a 6.2-acre (2.5 hectare) site with a public park located in front.
Merlin and Jasper are similar in form, although Merlin features metal fins painted in "colour-shifting pearlescent hues" and Jasper was clad in iridescent dichroic glass.
"As the sun and clouds move overhead, the color and luminosity of these materials shift and change, creating a design that is dynamic and ever-evolving, no matter the angle," said ZGF principal Brian Earle.
"Sometimes prominent, sometimes subdued, never the same. This design intent is reflective of Amazon's identity and constantly evolving quest to innovate."
Both buildings were made using a series of interconnected rectangular volumes.
Copper-coloured louvres were placed on smaller volumes that contain the buildings' amenities zones for employees.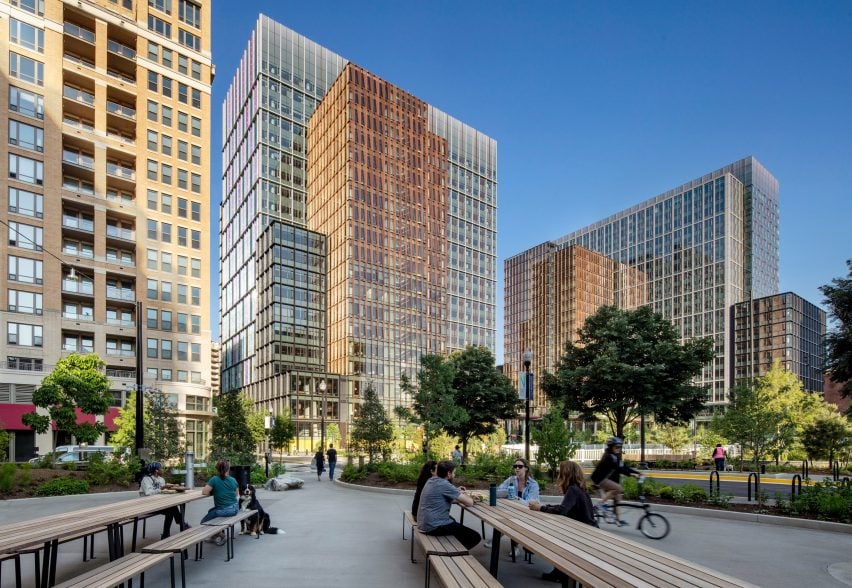 Employee offices were placed in the remaining volumes, which differ in height. They were placed in different arrangements on the individual buildings to form a "U" shaped setback where they meet.
The buildings were placed atop ground-level volumes that were topped with charcoal-coloured terracotta in reference to the site's prior use as a brickyard.
"The stepped form of the terracotta cradle responds to the surrounding context with each step aligning with neighbouring building heights," said Earle.
"The deep setbacks allow light and air to filter throughout the space and into the surrounding park, while also providing over an acre of rooftop landscaped area for building occupants."
They contain the buildings' double-height lobbies, which are open to the public and feature a coffee shop and seating areas.
The lobbies will "usher thousands of Amazon staff to work each day" and were modelled after a bird's nest using geometric wooden ceiling tiles.
"Drawing inspiration from the concept of a bird's nest, the lobbies elicit playful curiosity and a sense of belonging," said the studio. "Their textured ceilings evoke the geometries of a perfectly thatched aerie while echoing the corrugated cardboard packaging recognizable to all Prime shoppers."
Large ceiling fans and operable garage doors open towards the central park and were used to create a more gradual transition between Arlington's hot, humid weather and the interior of the buildings.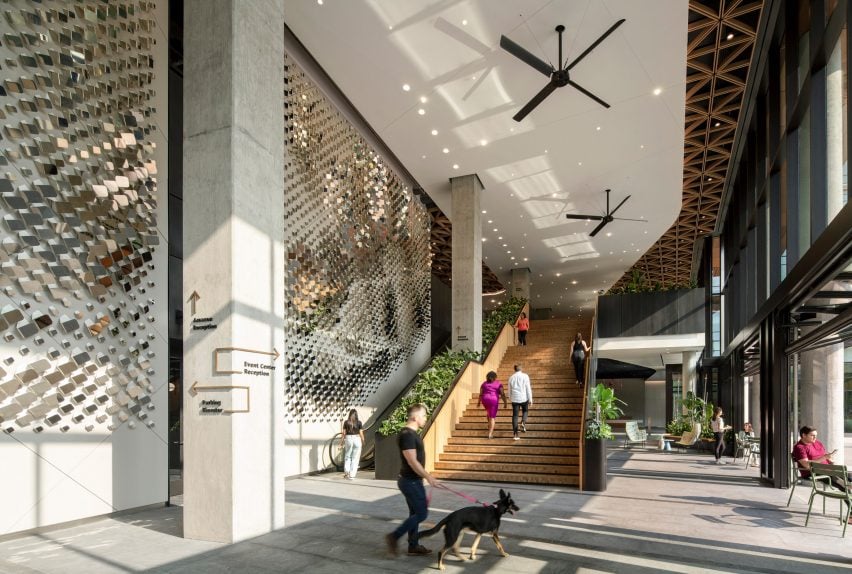 A mirrored sculpture indicative of bird wings by Los Angeles-based artist Rob Ley was installed on the lobbies' wall. A hanging pink light installation by Kristen Hassenfeld placed above the reception desks calls to a cherry soda once made in the area.
"Both lobbies are studded with whimsical moments, provoking those who pass through to shift their perspectives and adopt a creative mindset," said the team.
The ground-level spaces will eventually contain additional retail spaces, eateries and a daycare.
An event centre located on the second floor of Merlin was created using ten 70-foot-long (21 metre) glued-laminated timber beams.
Metal screens cut with geometric patterns called Kintec were installed in the space to follow the path of the sun, while overhead skylights provide diffused light.
The space will be used by employees and the public alike.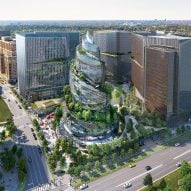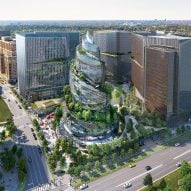 NBBJ reveals spiralling glass tower topped by outdoor hiking trail as Amazon HQ2
Through electricity powered by a solar farm in southern Virginia, which electrifies the building HVAC and water heaters, the buildings are powered by 100 per cent renewable energy.
Green roofs, thermal transitions, energy-efficient facades, timber construction and specialized low-carbon concrete further decrease environmental impact.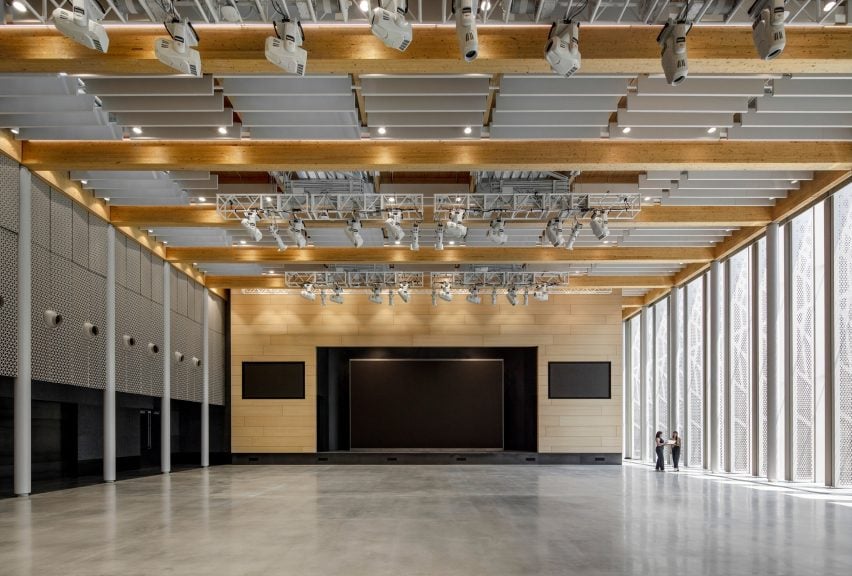 James Corner Field Operations designed several terraces throughout the buildings, eight of which as accessible to employees to provide "moments of reprieve away from their desks,".
The terraces were outfitted with curvilinear benches, seating areas, and barbeques.
In front of the two buildings, Field Operations renovated the existing Metropolitan Park to include dog runs, a children's playground, a community garden, an open lawn and permanent art pieces by Iñigo Manglano-Ovall and Aurora Robson amidst curving pathways.
At the centre of the park, a brick tower artwork by DC-based artist Nekisha Durrett pays homage to Queen City, a thriving, Black neighbourhood that was razed during the Pentagon's construction, which lies nearby.
The landscape studio also designed protected bikeways and intersections around the 2.5 acre park.
Over 50,000 plants were used, including 160 native species.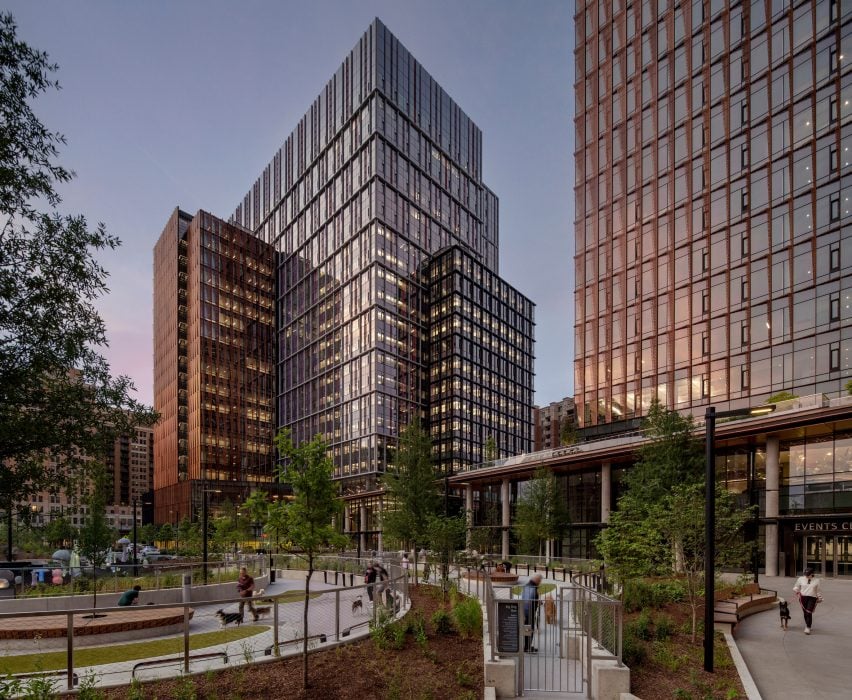 The Metropolitan Park development concludes the first phase of Amazon's HQ2 after a contested race for the headquarters' home city in 2018.
After Arlington was chosen, NBBJ studio designed a spiralling glass tower likened to the poop emoji for phase two of the project called "Pen Place".
As of March of 2023, construction on Pen Place has been stalled indefinitely.
The photography is by Magda Biernat.