ELLE DECOR A-List 2023: Los Angeles
In the sprawling urban landscape of Los Angeles, where creativity thrives and innovation reigns supreme, a group of visionary designers has emerged as the shining stars of the design industry. These 17 exceptional talents have been bestowed with the prestigious ELLE DECOR A-LIST 2023 accolade, solidifying their positions as the city's foremost architectural luminaries. This prestigious recognition not only celebrates their extraordinary talent but also underscores the city's status as a vibrant design metropolis.
See also: TRANSFORM YOUR LIVING ROOM: EXPERT TIPS FOR STYLISH DÉCOR
From captivating residential sanctuaries to groundbreaking commercial spaces, the diverse group of ELLE DECOR A-LIST winners hailing from Los Angeles represents the epitome of design excellence. Each designer brings their unique vision, expertise, and signature style to the table, ensuring a rich tapestry of creativity within this dynamic cohort.
Commune is a renowned design studio based in Los Angeles, known for its comprehensive work in the fields of architecture, interior design, graphic design, and product design. The studio has gained a global reputation for its expertise in designing residential, commercial, and hospitality projects. They have also created a diverse range of home and lifestyle products and have developed graphic and branding concepts for industries such as fashion, arts, and entertainment.One of the core values of Commune is the belief in the power of collective creativity. They firmly believe that true innovation and authentic creativity emerge through collaboration. The studio emphasizes collaboration not only with their clients but also with other professionals in the community. Throughout their journey, Commune has worked closely with numerous artists, artisans, craftsmen, and consultants from around the world. This collaborative approach is integral to their work and allows them to deliver exceptional results.Commune places great importance on environmental considerations in their design process. They consciously select materials that align with their environmental sympathies. Their appreciation for original architecture and its elements is reflected in their work, showcasing their respect for the history and context of each project.At the helm of Commune are principals Roman Alonso and Steven Johanknecht. Roman, originally from Caracas, Venezuela, immigrated to Miami and later graduated from Boston University with a Bachelor of Arts degree in film and art history. He gained valuable experience in publishing at Connoisseur and Mirabella Magazine before assuming roles such as Director of Corporate PR at Barneys New York and Vice President and Image Director at Isaac Mizrahi & Co. Roman co-founded Greybull Press, an art publishing company, before eventually settling in Los Angeles.Steven Johanknecht grew up in upstate New York and earned an Associates Degree in Communication Design from Rochester Institute of Technology. He continued his studies at Tyler School of Art in Philadelphia, focusing on painting and art history. Following a year in Rome with Temple University, he graduated with a Bachelor of Fine Arts. Steven's career took him to New York City, where he served as the Vice President of Display and Store Design for Barneys New York during a period of significant influence for the store. He later held positions such as Vice President of Retail Design for Donna Karan, Design Director for Studio Sofield, and Retail Image Director for Banana Republic.Commune's exceptional work has garnered them significant recognition in the design industry. They have consistently been included in the prestigious AD 100 and Elle Decor A-List. Additionally, they have received several awards, including the Cooper Hewitt National Design Award for Interior Design, further cementing their position as leaders in the field.
David Netto is an accomplished interior designer and writer based in Los Angeles. Growing up in New York City, David was exposed to a world of taste and discussions about it due to his father's ownership of the fabric house, Cowtan & Tout. His early interests in architecture, furniture, cars, and their histories shaped his passion for design.After leaving Harvard Architecture School, David founded his studio in New York in 2000, focusing on residential decoration with no particular style preference. His work is often recognized for infusing modernism with warmth and personality, as well as injecting traditionalism with youthful energy and a hint of the exotic. David believes that successful projects involve not only getting the architecture right but also creating a decoration that reflects the personality of the homeowner. His projects have been featured in prestigious publications such as Vogue, Elle Decor, Architectural Digest, House Beautiful, House & Garden, Town & Country, Veranda, and several books.In 2002, David launched NettoCollection, a groundbreaking line of modern children's furniture inspired by the style and beauty of pieces from the 1930s and 1950s. The collection elevated the aesthetics of the entire industry.David's passion for design extends to his writing career. From 2010 to 2012, he served as a contributing design editor for the Wall Street Journal. He continued his role as a writer for T, the New York Times Style Magazine, and currently authors the Case Studies column for Town & Country. He has also authored a monograph on the work of Francois Catroux, published by Rizzoli, and is currently working on writing the text for an upcoming book by Stephen Sills.David Netto Design LLC is now actively working in Los Angeles, with projects spanning the east and west coasts. David resides in a captivating Neutra house in Silverlake, where he has raised his two daughters. He welcomes inquiries and interest in his work.
With roots deeply intertwined in Southern California, the designer's journey began and continued within the vibrant landscapes of the region. Following in the footsteps of previous generations, they were born and raised in Southern California, instilling a sense of connection and familiarity with the local culture and design sensibilities.In 2001, the designer embarked on a new chapter by relocating to New York. Having previously worked in the entertainment industry, he sought to bring his creative vision to life through interior design. Establishing his own design business, he swiftly gained recognition and success in the industry.Today, the designer operates design offices in both Los Angeles and New York, reflecting their enduring presence and commitment to serving clients on both coasts. Their multifaceted expertise spans residential, commercial, and hospitality projects, allowing them to bring their creative vision to diverse settings and environments.In his personal life, the designer resides in Los Angeles alongside their boyfriend, Nathan Turner, who is also a prominent figure in the design world. Their home is shared with their beloved dog, Nacho, completing the picture of a warm and loving household.With a deep understanding of California's design heritage and a successful career spanning both coasts, the designer continues to create inspiring spaces and enrich the lives of their clients through their unique vision and passion for interior design.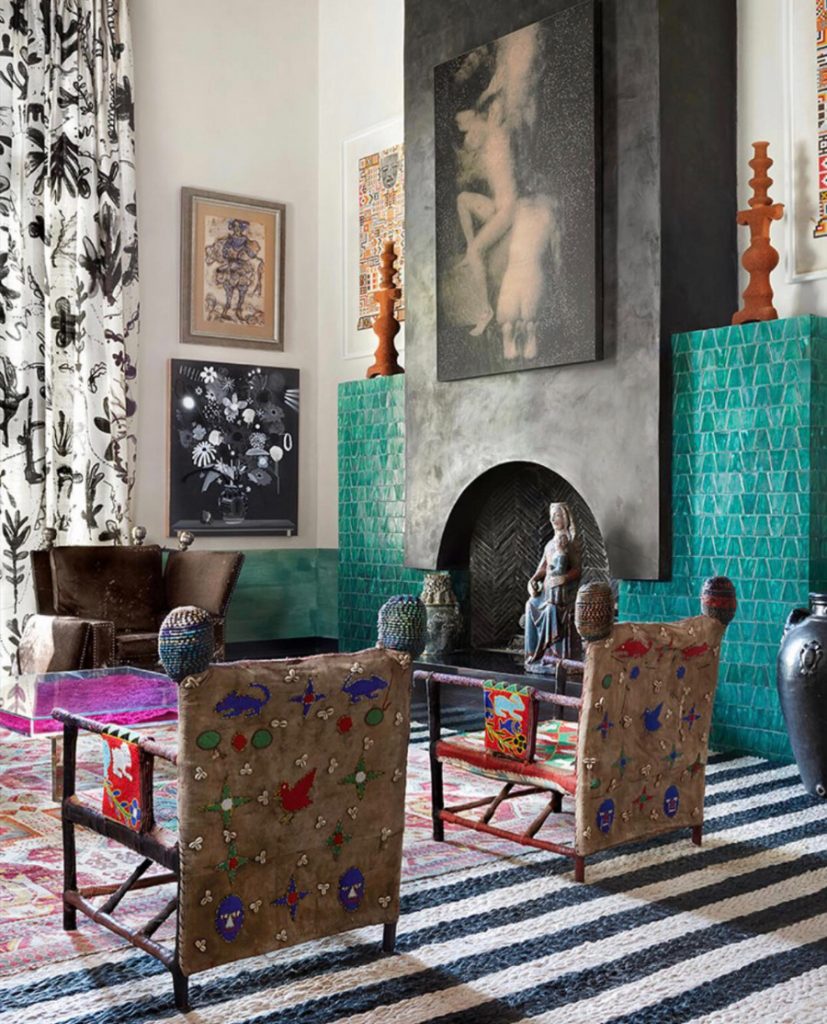 Garrett Hunter Studio is a globally acclaimed design firm known for their ability to create layered, original, and personalized environments. Defying the constraints of a specific aesthetic, Garrett Hunter's design language transcends traditional and modern boundaries, resulting in captivating juxtapositions of disparate objects and unexpected material combinations. The studio's portfolio encompasses a wide range of disciplines, including interiors, architecture, furniture, lighting, and product design.In 2020, Garrett Hunter received significant recognition from Architectural Digest, being named one of the 9 New American Voices in design. This accolade further highlights their innovative and influential contributions to the field. As a testament to their impact, their work has been prominently featured in prestigious publications such as Architectural Digest, ELLE Decor, Vogue, Wallpaper, and Dwell, among others.Beyond their studio practice, Garrett Hunter is also the co-director of Tienda X Gallery, located in Los Angeles. This collaborative space is shared with architect Michael T. Landrum, further showcasing their dedication to fostering creativity and supporting the arts.Garrett Hunter Studio's exceptional designs, celebrated for their harmonious blend of contrasting elements, continue to captivate audiences and leave a lasting impression on the design industry. Their ability to create beautiful friction and their commitment to pushing the boundaries of design make them a prominent and influential force in the field.
Kathryn Ireland, a renowned interior and textile designer, was born in England and spent her formative years in London and Scotland. In 1986, she made her way to Los Angeles, California, where she would establish herself as a creative force in the design industry. Prior to embarking on her successful interior design career in the early 1990s, Kathryn explored various artistic endeavors, including acting, clothing design, and filmmaking.With her diverse background and a rich tapestry of experiences, Kathryn Ireland has emerged as one of the most influential figures in the world of interior and textile design. Her unique aesthetic and creative approach have garnered widespread acclaim and earned her a dedicated following.Known for her distinctive style that blends various influences, textures, and colors, Kathryn's designs are characterized by a sense of comfort, sophistication, and an effortless blend of old and new. Her impeccable taste and ability to create inviting and livable spaces have made her a sought-after designer for clients around the globe.In addition to her interior design work, Kathryn has made a significant impact in the realm of textiles. She has developed her own line of fabrics, wallpapers, and home furnishings, which reflect her signature style and showcase her passion for timeless design and exceptional craftsmanship.Throughout her career, Kathryn Ireland has been featured in prominent design publications and media outlets, further solidifying her reputation as a design authority. Her work has been showcased in magazines such as Architectural Digest, Elle Decor, House Beautiful, and Veranda, among others.With her boundless creativity, keen eye for detail, and a deep understanding of design principles, Kathryn Ireland continues to inspire and shape the world of interior design with her distinct aesthetic and unwavering dedication to her craft.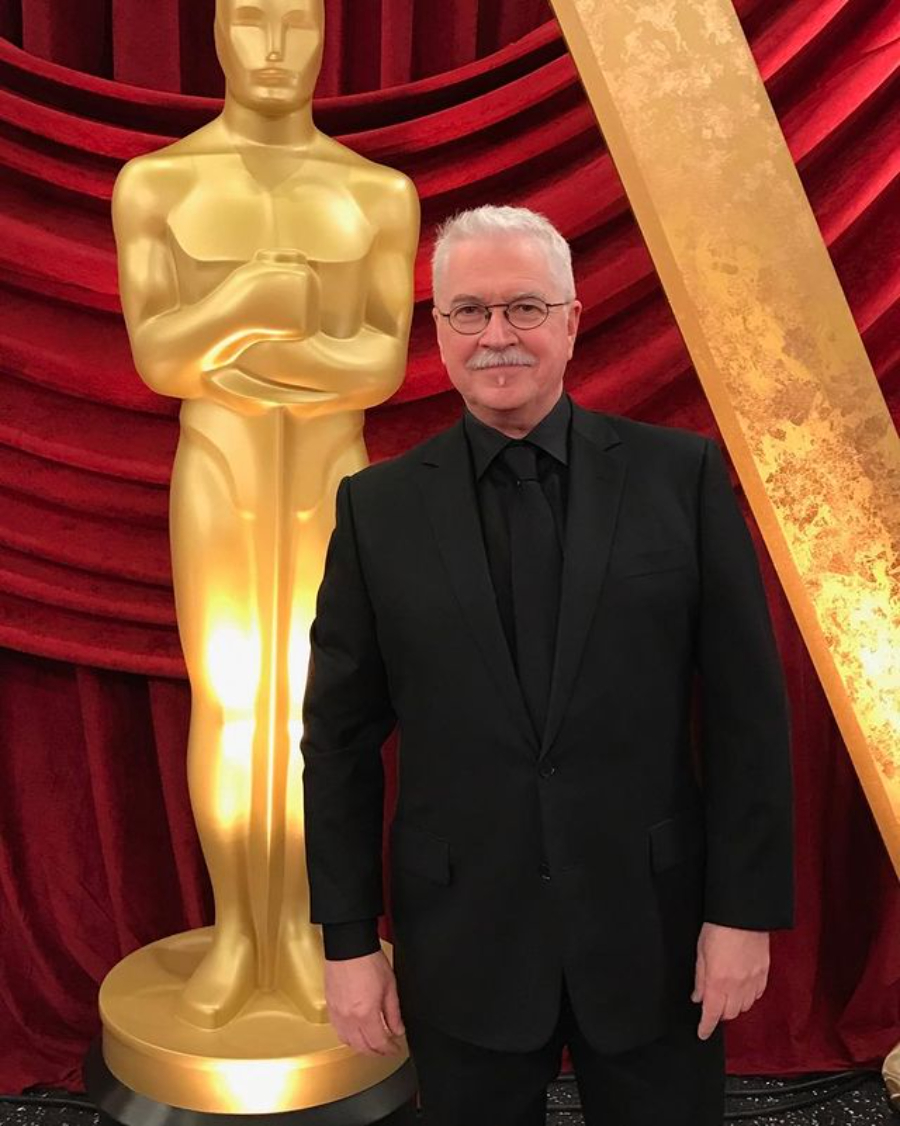 Kerry Joyce Associates, a prominent Los Angeles-based design firm, has gained widespread acclaim for their exceptional interiors and architecture. Led by the esteemed designer Kerry Joyce, the firm's portfolio exemplifies a profound passion for timeless design and meticulous execution. With an unmatched design sensibility, Kerry Joyce Associates seamlessly combines fine materials, clean lines, and sophisticated textures with a touch of glamour, resulting in remarkable and refined spaces.Throughout his illustrious career, Kerry Joyce has received numerous awards and honors from highly regarded organizations in the design and entertainment industries. He has been consistently recognized as one of America's best interior designers by House Beautiful, earning the distinction of being one of their Design Stars. In addition, he has been honored with the Star of Design by the Pacific Design Center and received an award for Residential Interior Design from Interiors magazine. Notably, Kerry Joyce also received an Emmy Award for his outstanding set decoration work.Continuing his trail of accolades, Kerry Joyce has been the recipient of several prestigious awards in recent years. He was honored with the coveted 1stDibs 50 award, recognizing his exceptional talent and contributions to the design world. He has also been included in the Elle Decor A-list, acknowledging him as one of the best designers in America. The Hollywood Reporter further acknowledged his remarkable achievements by inducting him into the Interior Design Hall of Fame. Additionally, California Home & Design Magazine bestowed upon him the esteemed Master of Design Award. Kerry Joyce's passion for textiles has not gone unnoticed either, as his eponymous fabric company received the American Design Award for Textiles by Elle Decor.With an outstanding track record of accolades, Kerry Joyce and his firm, Kerry Joyce Associates, continue to leave an indelible mark on the design industry. Their imaginative, refined, and exquisite approach to design sets them apart, and their dedication to creating extraordinary spaces is evident in every project they undertake.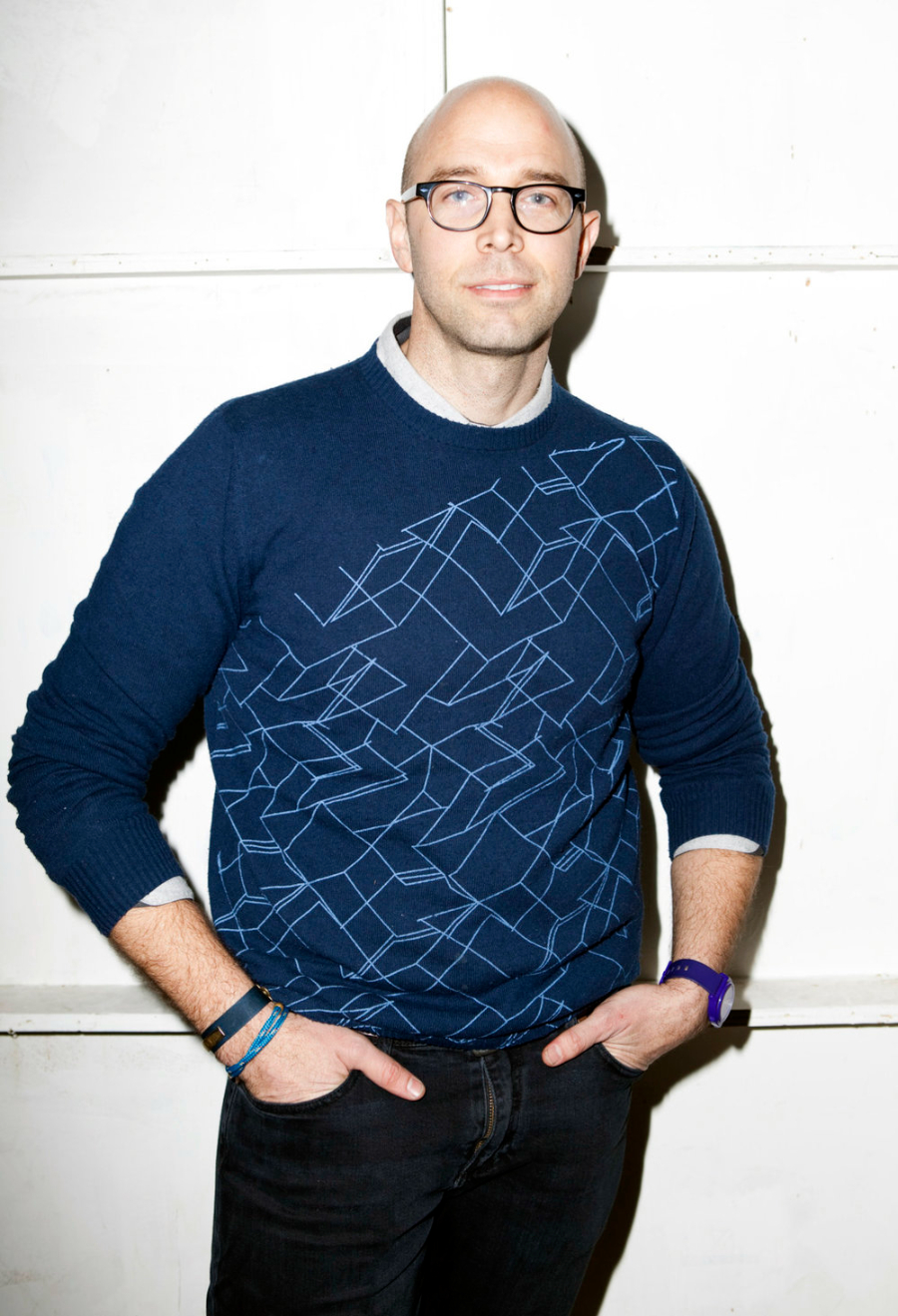 Luis is a highly accomplished hybrid-creative professional with a deep passion for creating meaningful experiences through design. He is widely recognized for his signature design style characterized by clean minimalism, functional and futuristic modernism, which consistently delivers timeless, balanced, and elegant results. This design aesthetic, known as TECH+TAILORED, reflects Luis's ability to create spaces that align with the client's lifestyle and functional needs.With a rich background as a creative director, architect, and fashion designer, Luis possesses a diverse skill set and extensive experience in building brands that cater to the consumer of the future. His focus lies in creating holistic brand experiences encompassing image, space, innovation, content, and experiences.Luis thrives on the multi-disciplinary nature of his work, operating through his own creative design agency, @LUISFERN5. Within this agency, he offers consulting services in creative direction, strategy, and design, collaborating on various projects ranging from branding and retail/residential architectural design to experiential activations and NFT/Metaverse projects.Having grown up in Miami and studied architecture at Cornell University, Luis began his career as an architect at the renowned design firm Kohn Pedersen Fox (KPF) in New York City. Subsequently, he joined Jeffrey Hutchison + Associates (JHA) as the Project Architect for the iconic Barneys New York flagship stores in San Francisco and Las Vegas. Transitioning into the realm of fashion and creative direction, Luis co-founded NUMBER:Lab, a groundbreaking brand that introduced a TECH+TAILORED design sensibility, blending athletic performance with tailored sportswear, which would later become a mainstream trend known as 'ATHLEISURE.' As the Creative Director of CRAFT ATLANTIC, a prestigious men's designer brand, Luis achieved notable press recognition while establishing a core business. He played a pivotal role in shaping the brand's ethos and artistic direction, while designing and curating its concept store and experiential activations in the vibrant West Village of New York City.Luis's outstanding contributions to the fashion industry led to his induction into the Council of Fashion Designers of America (CFDA) in 2011. His designs have received wide acclaim, with features in prominent publications such as The New York Times, NBC, Esquire, GQ, ELLE Decor, and Departures Magazine.Balancing his time between Los Angeles and New York City, Luis continues to inspire and innovate within the realms of design, leaving a lasting impact through his unique approach and unwavering commitment to creating exceptional experiences for his clients and the future consumer.
Mark D. Sikes is a highly esteemed interior designer and tastemaker, renowned for his exceptional work on projects both within the United States and internationally. With an impressive portfolio that includes prestigious locations such as the White House and Blair House, Mark has established himself as a leading figure in the design industry.Mark's design philosophy revolves around all-American sensibilities, infusing classical aesthetics with a fresh and contemporary approach. He possesses a remarkable talent for creating interiors that are not only beautiful and timeless but also embrace the indoor/outdoor lifestyle.His exceptional work has garnered widespread recognition, with his rooms being celebrated and featured in numerous design magazines and show houses. Mark's expertise has earned him a place on the prestigious AD100 list and Elle Decor's A-List for both 2021 and 2022, solidifying his status as a top-tier designer.In addition to his interior design projects, Mark engages in several ongoing product collaborations. He has partnered with renowned brands such as Anthropologie for décor, Schumacher for fabric, Chaddock for furniture, and Hudson Valley Lighting for lighting. Excitingly, he has upcoming collaborations with Samuel & Sons, Perennials, Chesney's, and Modern Matter.Mark is also a successful author, with his first book, "Beautiful," becoming a New York Times bestseller. This was followed by "More Beautiful," which made its debut in 2020. Currently, Mark is working on his third book with Rizzoli, featuring inspiring interiors from across the country. His highly anticipated fourth book will document the journey of building his new home, Orange Hill Farm, in Ojai, California—an intimate project that will serve as a backdrop for his brand and firm.Driven by his passion for creating beautiful interiors, Mark's ultimate goal extends beyond design. He aspires to contribute to a more beautiful world, recognizing that beauty is present in every aspect of our daily lives—all we need to do is open our eyes and appreciate it.
Martyn Lawrence Bullard is a highly acclaimed Los Angeles-based interior designer, known for his exceptional versatility and ability to create eclectic yet sophisticated and inviting interiors. With a multitude of awards and recognitions, Martyn has established himself as one of the world's top interior designers.Consistently featured in Architectural Digest's prestigious list of the world's 100 top interior designers, Martyn's work has also earned him a permanent spot on Elle Decor's A-List. Additionally, he has been recognized as one of the top 25 designers by The Hollywood Reporter. Martyn's talent and expertise have extended to television, where he has starred in the popular Bravo series, "Million Dollar Decorators," and hosted Channel 4's "Hollywood Me" in the UK, along with various design programs broadcasted in over 65 countries.Martyn's mastery of a wide range of styles, meticulous attention to detail, and unwavering commitment to quality have garnered him international acclaim. His work has graced the pages of more than 4,000 publications worldwide, including Architectural Digest, ELLE Decor, House & Garden, Vogue, House Beautiful, Harper's Bazaar, Departures, The New York Times, The Wall Street Journal, and The Los Angeles Times, among others. Notably, the Architectural Digest cover featuring the celebrity homes of Khloe and Kourtney Kardashian, designed by Martyn, became one of the magazine's best-selling issues of all time. Rizzoli has published two monographs showcasing Martyn's work: "Live, Love, & Decorate" and the recent "Design & Decoration," offering a glimpse into his glamorous world of interiors in exquisite detail.Martyn's client roster boasts an impressive list of A-list celebrities, including Kylie Jenner, Khloe Kardashian, Kourtney Kardashian, Tommy Hilfiger, Cher, Ellen Pompeo, and Eva Mendes, among others. Beyond his remarkable residential projects, Martyn has overseen the design of several premier hospitality properties worldwide, including Prospect in Hollywood, the iconic Colony Palms Hotel in Palm Springs, The Sands in Indian Wells, Hotel Californian in Santa Barbara, Chateau Gütsch in Lucerne, Switzerland, Chef Rick Bayless's flagship Red O restaurant, and The Residences at Seafire in the Cayman Islands. Currently, he is involved in hotel design projects in Istanbul and Miami Beach, as well as the Four Seasons Residences in Los Angeles.In addition to his design studio, Martyn has created his own collection of exterior and interior fabrics, wallpaper, furniture, and home accessories available through his firm. He has also collaborated with renowned brands such as Schumacher, Ann Sacks, The Rug Company, Haviland Limoges, Christofle, and Daum, further showcasing his creative prowess and expertise in various design disciplines.Martyn Lawrence Bullard's exceptional talent, international recognition, and extensive portfolio exemplify his status as a visionary in the world of interior design, continually pushing boundaries and captivating audiences with his captivating creations.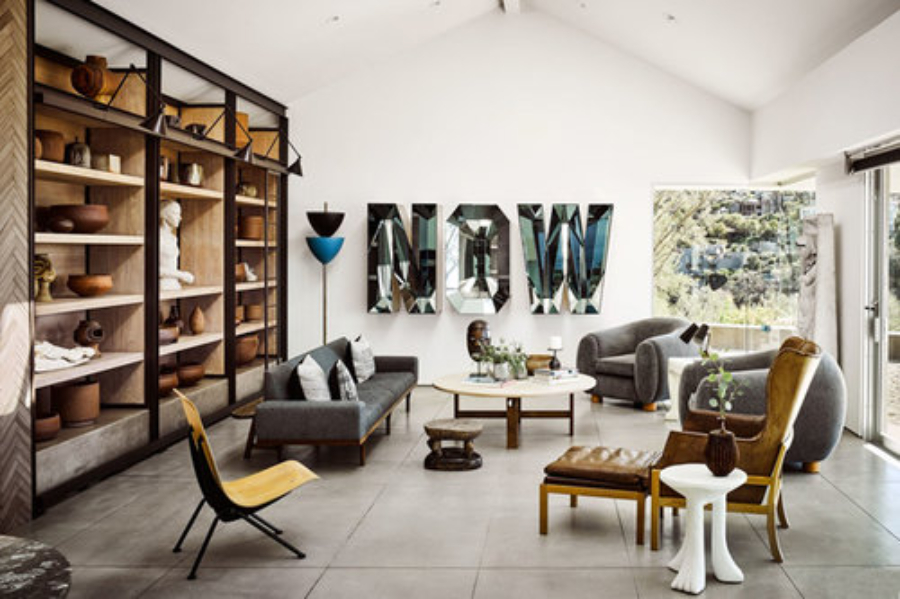 Cliff Fong, a New York native with a diverse international background, has made significant contributions to Los Angeles' thriving design community for over two decades. With a career spanning interior design, fashion, and entrepreneurship, Cliff has established himself as a multifaceted creative force.With experience as a fashion buyer, stylist, and designer, Cliff collaborated with renowned retailers and luxury brands, including Ron Herman and Maxfield. During this time, he also co-founded Chatav Ectabit, an artisanal unisex collection, in 2004, showcasing his passion for fashion and design.Transitioning into interior design, Cliff's unique approach focuses on crafting distinctive and personalized environments that often defy expectations. While his primary focus lies in residential design, he has also made a mark in the commercial sector with notable projects such as Michael Voltaggio's Ink restaurant, demonstrating his versatility and ability to create captivating spaces.In 2009, Cliff, along with his partners, launched Galerie Half, a sprawling emporium that showcases an extensive collection of 20th-century design, European antiques, architectural elements, and art. This venture further solidified his reputation as a tastemaker and curator of exceptional design pieces.Throughout his career, Cliff Fong has consistently demonstrated his talent for blending various inspirations and influences to create compelling and unexpected design solutions. His work reflects a keen understanding of individuality and a commitment to delivering unique and personalized experiences to his clients.With his diverse background and unwavering dedication to design, Cliff continues to push boundaries and shape the creative landscape of Los Angeles and beyond.

Todd Nickey and Amy Kehoe embarked on their design partnership in Manhattan back in 2004. Their shared curiosity, collaborative spirit, and penchant for uncovering extraordinary beauty brought their unique vision to life, captivating and inspiring homeowners.Inspired by the allure of California's golden light, Todd and Amy established a design studio and boutique in Los Angeles. Their aim was to provide a new level of luxury to a discerning clientele. Through their studio, they offer bespoke furniture and meticulously sourced home accessories that embody their distinctive blend of subtle elegance, precise design principles, keen attention to detail, and a profound understanding of how objects harmonize within a space.Todd and Amy's design philosophy revolves around creating environments that exude a sense of balance, refinement, and a touch of unexpected charm. Their ability to curate and design spaces reflects their deep understanding of what makes an object or piece of furniture truly belong and shine within its surroundings.Together, Todd Nickey and Amy Kehoe have cultivated a reputation for their distinctive aesthetic, which seamlessly merges timeless sophistication with a contemporary sensibility. Their design sensibilities have earned them the trust and admiration of clients who appreciate their ability to transform spaces into havens of beauty and harmony.Through their ongoing collaboration, Todd and Amy continue to explore new design frontiers and delight in the discovery of remarkable pieces that enhance and elevate the homes they touch. Their shared passion for design, coupled with their meticulous approach, ensures that their work remains an enduring source of inspiration for those seeking a touch of refined luxury in their living spaces.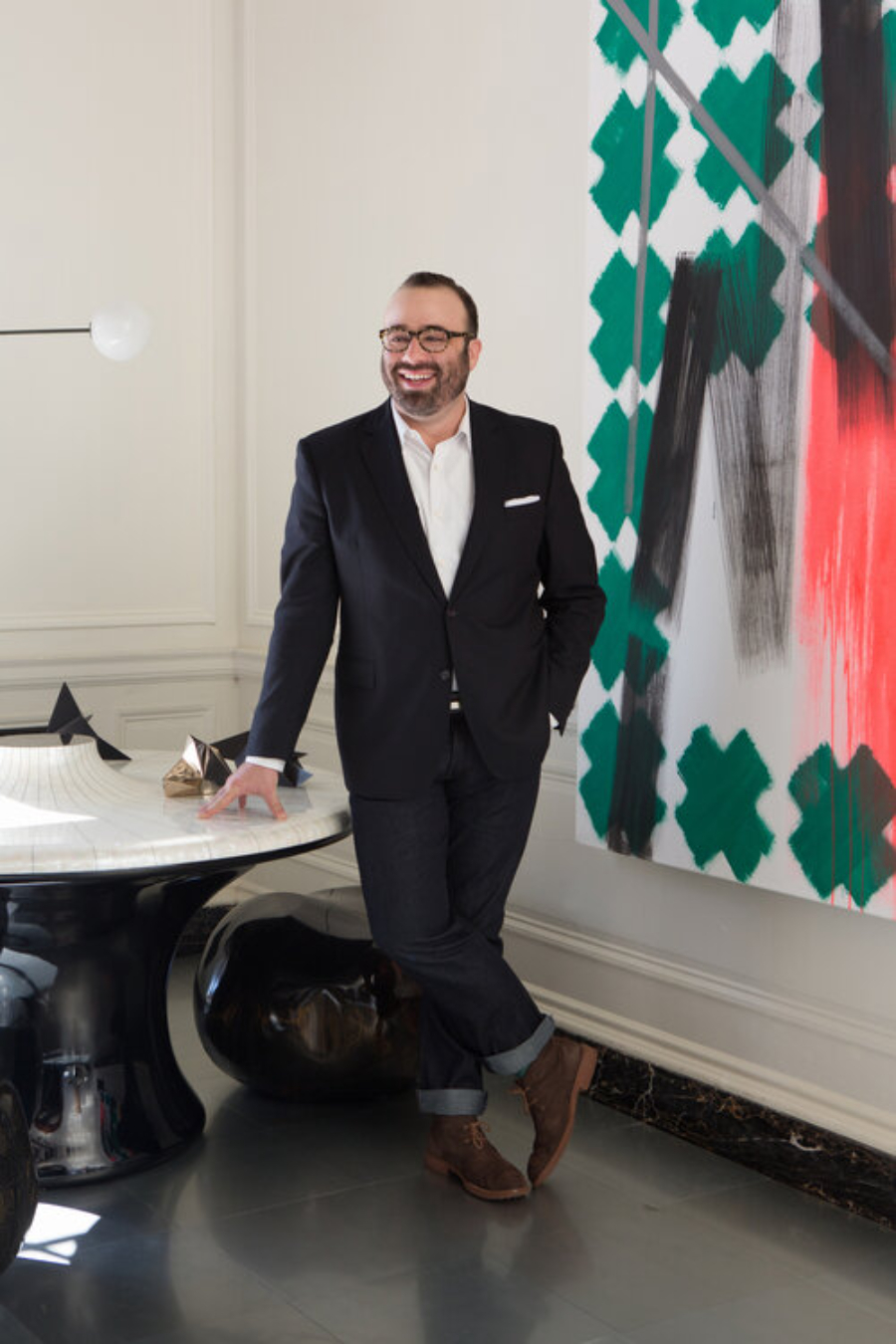 Oliver M. Furth, a fourth-generation native of Los Angeles, is an esteemed interior designer deeply rooted in the city's design and cultural communities. With a career spanning over two decades, Furth has established himself as a prominent figure in the industry. Prior to founding his own studio in 2004, he honed his skills under the tutelage of renowned firms and gained valuable experience in architecture and the decorative arts while working at Christie's Auction House.Furth's expertise extends to both historical decorative arts and contemporary collectible design, earning him a reputation for his comprehensive knowledge in these areas. Beyond his design practice, he serves as a consultant for The Los Angeles County Museum of Art (LACMA) and holds the esteemed position of Chair Emeritus of their Decorative Arts and Design Council. He has curated numerous exhibitions and shows that explore the intersection between fine art and functional design, and his insights on the subject are widely shared through his writing and lectures.Notably, many of Furth's clients are collectors themselves or come from creative backgrounds, which infuses each project with a distinct and often collaborative approach. Currently, Furth and his firm are engaged in residential projects across the country, ranging from Los Angeles to New York and from Omaha to Montecito.Furth's exceptional talent and contributions to the field have garnered widespread recognition. His work has been featured in numerous prestigious publications nationally and internationally. He has received accolades such as being named to Elle Decor's A-List, being included in The Hollywood Reporter's 'Most Influential Interior Designers,' and earning a place in Architectural Digest's renowned AD100, a highly coveted list of industry leaders.With a unique perspective that combines a reverence for classical traditions with a touch of West Coast optimism and irreverence, Oliver M. Furth continues to shape the design landscape, creating exceptional interiors that blend artistry, history, and contemporary sensibilities.
Peter Dunham, a design luminary, has left an indelible mark on the world of interior design with his exceptional talent and international acclaim. Raised in France and educated in England at Stowe, Peter's diverse background has shaped his unique design perspective.After completing his studies in modern languages at Exeter College and business administration at the American University in Paris, Peter ventured into the real estate industry in bustling New York City. However, it was his move to the creative hub of Los Angeles in 1998 that marked a turning point in his career. Seizing the opportunity, he swiftly established his own interior design company, embarking on a journey that would redefine the notion of timeless elegance.In 2003, Peter unveiled his eponymous fabric and wallpaper collection, a testament to his creative vision and passion for textile design. Today, his exquisite creations grace the showrooms of 16 locations worldwide, captivating design enthusiasts with their vibrant patterns and impeccable craftsmanship.Recognizing the need for a space to showcase his growing collection of handcrafted furniture, textiles, and vintage treasures, Peter opened Hollywood at Home in 2007. Nestled within the heart of the Los Angeles design district, this distinguished establishment has become a sought-after destination for those seeking exceptional design pieces.Peter and his team seamlessly transition between the meticulous restoration of historic homes and collaborative projects with esteemed architects. Their current endeavors span a breadth of locations, from a modernist Marmol Radziner house overlooking the Pacific in Montecito to residences in Los Angeles, the Bay Area, Newport Beach, Montana, and even an iconic 1963 Horace Gifford house on Fire Island.The Wall Street Journal aptly described Peter's style as "Merchant Ivory Moderne," encapsulating his ability to infuse spaces with refined restraint while injecting a vibrant twist. His international aesthetic embraces an enchanting interplay of color and pattern, seamlessly intertwining bespoke furnishings, vintage discoveries, and modern luxuries.Peter's extraordinary talent has garnered significant recognition, with his work prominently featured in prestigious publications such as Architectural Digest, ELLE Decor, House and Garden, House Beautiful, Coastal Living, WSJ, Veranda, Domino, Hollywood Reporter, and the Los Angeles Times, among others. His inclusion in ELLE Decor's esteemed A-List and Vendome Press's influential book, "Inspired Design: The 100 Most Important Designers of the Past 100 Years," further solidify his position as a visionary in the industry.Through his captivating designs and unwavering commitment to excellence, Peter Dunham has redefined the boundaries of interior design, leaving an enduring legacy that continues to inspire and captivate design aficionados around the globe.

Reath Design, founded in 2009 by Frances Merrill, is an interior design studio that specializes in creating immersive interiors that reflect the unique stories and enhance the experience of the spaces they design. With a focus on private residences, hotels, restaurants, and leisure spaces, Reath Design believes in the transformative power of design to improve the everyday lives of individuals and families.At the core of Reath Design's approach is a deep appreciation for color, pattern, and textiles. This passion is evident in their commitment to crafting spaces that are both inviting and sophisticated. The studio believes in the enduring quality of good design, steering clear of fleeting trends in favor of timeless aesthetics. They strive to incorporate personal artifacts into their designs, capturing emotional memories and creating spaces that feel lived in and evolve over time.One of the defining features of Reath Design is their versatility and ability to work with diverse architectural styles. By not adhering to a specific era, movement, or genre, the studio can create designs that are tailored to their clients' individual needs and preferences. They aim to create spaces that remain relevant and cherished for years beyond their initial creation.Overall, Reath Design is dedicated to the belief that design has the potential to improve our everyday lives, and their work reflects this philosophy through thoughtful, personalized, and timeless interior design solutions.

Studio Shamshiri is a Los Angeles-based design firm founded in 2016 by Pamela and Ramin Shamshiri. Pamela, with a background in production, art direction, and set design, leads the studio in a wide range of residential, commercial, and hospitality projects, both domestically and internationally. The firm's impressive portfolio showcases their expertise in restoration work, collaborating on homes originally designed by renowned architects such as A. Quincy Jones, Stanford White, Nigel Coates, Rudolph Schindler, Myron Hunt, and Buff & Hensman. They also engage in ground-up projects with contemporary architects including Marmol Radziner and Johnston Marklee.In addition to residential ventures, Studio Shamshiri has made notable contributions to the commercial sphere. They have designed signature boutiques for influential figures in Los Angeles such as Irene Neuwirth and Sonia Boyajian. The studio's diverse repertoire also extends to hospitality design, as exemplified by their work on the Maison de la Luz hotel in New Orleans.Before establishing their own firm, Pamela and Ramin were founding partners at Commune, a design studio, where they received a National Design Award from the Cooper Hewitt Smithsonian Design Museum for their exceptional body of work spanning from 2004 to 2015. Studio Shamshiri operates out of the Thomson Building, an iconic Hollywood landmark dating back to the 1920s, which the Shamshiri team meticulously restored in 2017.Studio Shamshiri's design approach combines a deep appreciation for architectural heritage with a contemporary sensibility. Their work demonstrates a meticulous attention to detail, thoughtful restoration techniques, and a keen understanding of how to create spaces that seamlessly blend history with modern living.
TERREMOTO is a landscape architecture design studio with offices in Los Angeles and San Francisco, California. Their approach to design is characterized by the creation of site-specific landscapes that not only meet client needs but also challenge traditional landscape construction methods, materials, and formal conventions. Operating under a post-internet, critically-regionalist, and respectfully inflammatory design approach, TERREMOTO constantly evolves and reserves the right to revise their design philosophy and statements at any time.The studio embraces an ethos of form exploration, emphasizing freedom from historical shape-giving systems and modes of thought. They draw inspiration from both Modern and Postmodern landscapes, while also envisioning new and inverted futures for architectural styles like the Baroque and the Picturesque. With a deliberate avoidance of a particular identifiable style, TERREMOTO celebrates the diversity of beauty, recognizing that adhering to a single style can be limiting and monotonous.TERREMOTO embraces intentional inexactitude and embraces illegibility in their designs. They often strive to intervene minimally in their projects, respecting the history of landscape architecture while also challenging and questioning its foundations.One significant aspect of TERREMOTO's philosophy is their commitment to acknowledging and portraying the human beings who contribute to landscape projects. They prioritize making the laborer's contributions present, clear, and explicitly visible in their work, along with giving proper credit. The studio believes in the necessity of immigration reform, advocating for structural overhauls within the industry concerning labor practices and standing in support of movements like Black Lives Matter. TERREMOTO also recognizes their responsibility to support Indigenous communities, committing to initiatives for land acquisition and community empowerment.Ultimately, TERREMOTO's goal is to create gardens that transcend the current civilization, aiming for designs that are forward-thinking and transformative. They aspire to challenge and disrupt existing systems with love and kindness, seeking to build a better future through their work.
Night Palm is a highly acclaimed interior design company based in Los Angeles, founded by Tiffany Howell, the head designer. With a strong presence in renowned publications such as Elle Decor, Architectural Digest, The Coveteur, and Vogue Living, Night Palm has established itself as a leader in the industry.Before founding Night Palm, Tiffany Howell enjoyed a successful career as a director, stylist, production designer, and head of the music video agency for iconic fashion photographer Herb Ritts. Her diverse background brings a unique perspective to her interior design work, which is often described as lush, moody, and poetic.Night Palm undertakes a wide range of projects, including high-end residential homes and commercial ventures such as retail spaces, bars, restaurants, offices, and boutique hotels. Their portfolio showcases their ability to create captivating and harmonious interiors across various settings.While Night Palm's design studio is located in the Silver Lake neighborhood of Los Angeles, they collaborate with clients across the country. The company has recently completed notable projects in prominent cities like New York, San Francisco, San Diego, and Miami, demonstrating their versatility and nationwide reach.Overall, Night Palm's work is distinguished by its captivating and atmospheric design approach, driven by Tiffany Howell's artistic vision. With a strong presence in the media and an expanding portfolio of prestigious projects, Night Palm continues to make a significant impact in the world of interior design.See also: SINK INTO COMFORT: TIMELESS ARMCHAIRS IN INTERIOR DESIGNWhat did you think about this article on ELLE DECOR A-List 2023: Los Angeles? Stay updated with the best news about trends, interior design trends, and furniture high-end brands, sign up for our Newsletter and receive it in your email – free of charge, the latest and the most exclusive content from BRABBU Blog. Follow us on Pinterest, Instagram, Facebook and Linkedin!