The Tane Garden House Is Built Upon the Memory of a Place
Inspired by the nostalgic recollections of Vitra's Rolf Fehlbaum, Tsuyoshi Tane designed a "memory of place" on the Vitra Campus.
The places we remember as children – especially those explored unsupervised and guided by our own curiosities – quietly and often imperceptibly go onto shape the spaces we desire to inhabit as adults. A favorite tree, a quiet warm corner to read, a private creek to call our own. Three years ago, architect Tsuyoshi Tane accompanied Vitra's Rolf Fehlbaum on a guided tour around the Vitra Campus in Weil am Rhein, Germany, retracing footsteps where the young Fehlbaum spent his formative years amongst the expanse of fields, the same ground now inhabited by architect-designed structures.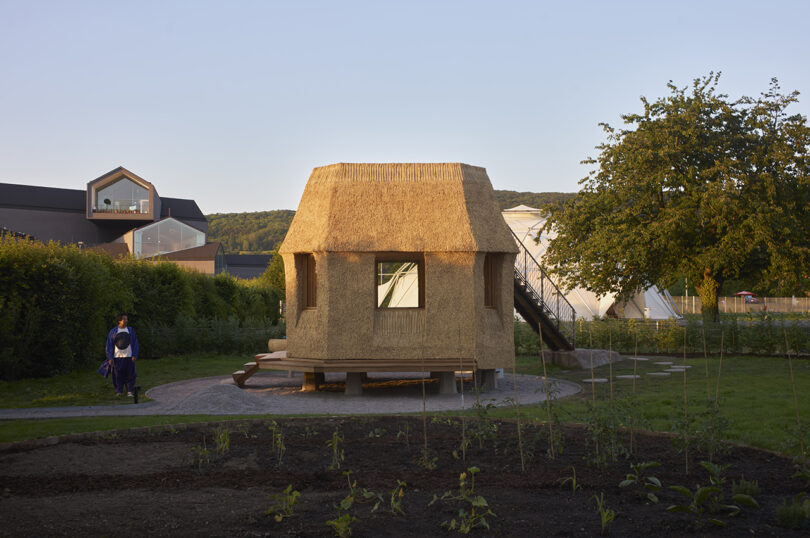 The reminiscence-embellished drive sparked the two to build upon those memories, taking form in a collaboration that would become the Tane Garden House, a small octagonal structure recently inaugurated during the week of Art Basel.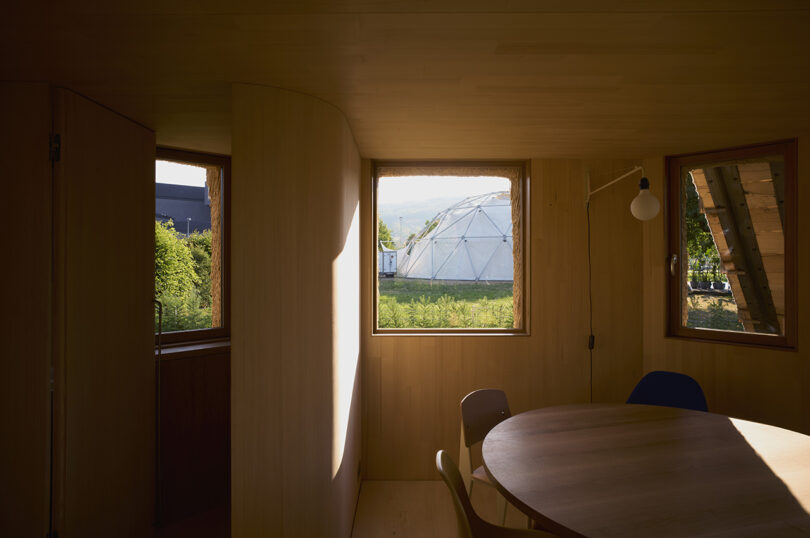 Guided by Tane's concept of "Archaeology of the Future," which asserts architecture is born from the memory of the place where it stands, the Tane Garden House's exterior evokes both yurt and the Japanese thatched roof minka. Locally sourced materials such as stone and wood procured from the nearby forest were transported short distances in the building's construction, with local craftsmen hired to erect the intimate structure at a scale perhaps aligned with Fehlbaum's own childhood memories.
Despite its diminutive dimensions – measuring a mere 161 square feet, just large enough to accommodate eight people – the Tane Garden House is already being adapted for a variety of purposes. Inside a small coffee corner offers Vitra employees a respite served with refreshment. Plans to host workshops in and around the addition are being made. Employees tending to the campus bees use it, and the small hut's outside seating operates as a supplement to the kitchen garden currently being created next to the Garden House. But the small wooden building's primary function currently is storing gardening tools for the Oudolf Garten maintenance team.
"Like archaeologists, we begin a long process of exploration and digging up the memory of a place. It is a process of surprise and discovery, a quest to encounter things we did not know, what we had forgotten, what has been lost through modernization and globalization," explains Tane. "I believe that a place will always have memories deeply embedded in the ground and in history. And that this memory does not belong to the past, but is the driving force that creates architecture."
This autumn 2023, the Vitra Design Museum is scheduled to host a special exhibition presenting insights into Tsuyoshi Tane's work and his Garden House project.