Brooklinen x Zoe Schlacter Collaborate on Bold Bedding Collection
Bedding brand Brooklinen teams up with interdisciplinary artist Zoe Schlacter to drop their boldest bedding collection so far. This latest Artist Series collaboration aims to inject a dose of artistic style and redefine your bedroom aesthetic with eye-catching graphics. Launching in tandem with Schlacter's new designs, Brooklinen will also be launching their bedding in complementary colors Cilantro and Lemongrass, along with bringing back two favorites, Toffee and Raindrop Blue. All four solids perfectly pair with Schlacter's new Contour & Flow, an exclusive pattern to Brooklinen.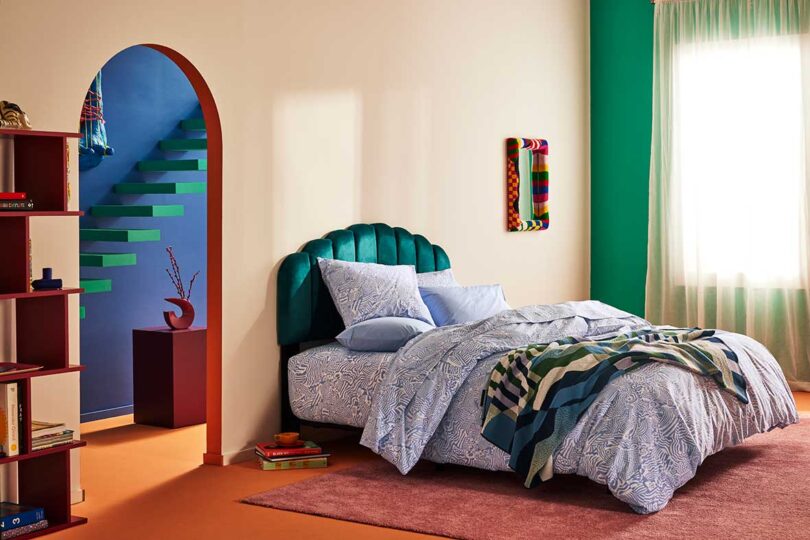 Inspired by movement, Schlacter has designed the Contour & Flow pattern, an "approachable maximalist" design available in shades Toffee and Raindrop Blue. The Contour & Flow pattern has a "topographic element that felt cohesive with the seasonal color story we wanted to tell, while also being its own modern entity," says Brooklinen's Color Designer Jennifer Ertel.
The collaboration goes beyond just sheets and pillowcases. The Brooklinen x Zoe Schlacter Artist Series collection introduces an exclusive Knitted Throw Blanket in Cielo Blue, another example of Schlacter's striking graphics.
Above all, the Brooklinen x Zoe Schlacter Artist Series limited edition bedding collection is an embodiment of pure joy and celebration. Schlacter's intention is to spark joy and create a sense of fun and festivity within your home. "I hope that it makes their home feel more special, more fun, more celebratory – I think we all need a little more fun and celebration in our lives," Schlacter said.
Schlacter's signature Dazzle Throw Blanket and Dazzle Throw Pillow, while not exclusive to Brooklinen, weave seamlessly this collection, allowing you to integrate bold artistic statements throughout your living space.
To learn more or to purchase anything from the Brooklinen x Zoe Schlacter limited edition collaboration, visit brooklinen.com.
This post contains affiliate links, so if you make a purchase from an affiliate link, we earn a commission. Thanks for supporting Design Milk!