Three top architecture firms just revealed new designs for La Brea Tar Pits—including Hancock Park's 12 acres and the Page Museum, which displays ice age relics found on-site.
Last night, the Natural History Museums of Los Angeles County (NHMLAC) unveiled new designs for La Brea Tar Pits—an archaeological site, museum, and active laboratory that keeps the world's most complete records of life during the ice age. A community forum at the El Rey Theatre debuted proposals from three competing architecture firms: Dorte Mandrup, Weiss Manfredi, and Diller Scofidio + Renfro.
The aging museum hasn't been touched since it was built over 40 years ago, and it looks forward to an update befitting its stature in the scientific world—and one that engages the greater Los Angeles area.
"We want to preserve and enhance community use of Hancock Park while making the collection more visible to the public, showing science in action, and adding to our visitor amenities," says NHMLAC President and Director Dr. Lori Bettison-Varga. The architecture firms honed in on community access, the preservation of the site's features, and sustainable infrastructure. Have a look below.
Dorte Mandrup
Copenhagen-based Dorte Mandrup envision the park as one big living laboratory, where visitors can immerse themselves in the story of the Tar Pits. "A visit here should be a journey of curiosity, where sense and imagination are instantly awakened," says the firm's founder and creative director Dorte Mandrup-Poulsen. The design brings attendees closer to the world of natural science, and the firm hopes it will encourage attendees to make new, lasting memories.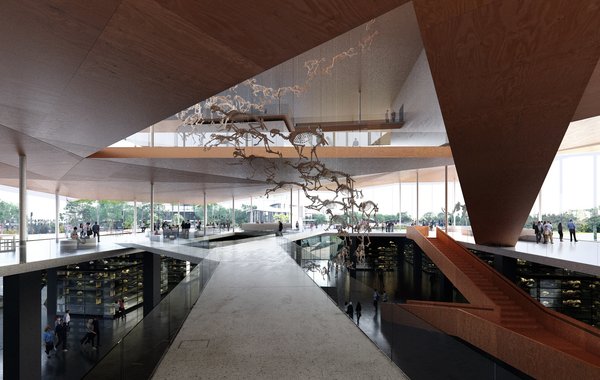 Weiss Manfredi
See the full story on Dwell.com: Take a First Look at the Future of La Brea Tar Pits
Related stories:
After Years of Renting, the Obamas May Buy This $15M Martha's Vineyard Estate
This Year, the Chicago Architecture Biennial Is All About Inclusion
Coney Island's Newest Hotel Is a Miniature Mansion Made of Sand