Adding textural beauty to the bathroom is a task that is often accomplished with tiles that are a touch different from the cultured modern finishes all around. The modern choice in the last few years has been wood with durable finishes making their way into the moisture-rich environment. But that does not mean you undervalue the power of stone and all it can do in the bathroom. With spa-styled bathrooms becoming a hit in contemporary residences, natural stone has once again gained relevance thanks to both its aesthetic and functional value. At its polished best, stone also ushers in an air of luxury and sophistication!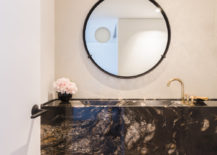 Blocks of natural stone are often used for accents walls in the shower area or it comes in the form of vanity countertops that are otherwise built in wood. But today we take a look at bathroom vanities that are all about stone at its unbridled best! Be it marble, granite or even onyx with its pattern-filled brilliance; best stone vanities blend in with the style of the bathroom even as they deliver that 'something different' in an eye-catching fashion. From the dramatic to the understated, this is a look at the best ideas around –
Textural Beauty in the Contemporary Bathroom
Stone might not seem as apparently 'different' from other curated finishes in the modern bathroom like wood, but it still brings a different visual appeal thanks to its natural pattern. Each stone is different from the other and while marble in white is a classic that leaves the neutral color palette undisturbed, one in black can become the iconic focal point in the bathroom. A vanity entirely crafted in stone needs special care when it is being fitted and one that floats above ground requires even more care. Coupled this with wooden countertop or just a simple bowl sink and you have a dashing and space-savvy vanity.
What Works in your Bathroom!
Different stone bathrooms work in various bathrooms with each stone offering something unique. Marble bathroom vanities are perfect for minimal, contemporary and modern bathrooms while those in granite work with a variety of styles ranging from rustic and farmhouse to coastal and shabby chic. Choices that are rarer like a vanity in Onyx is ideal for exotic bathroom styles like Mediterranean where the splash of opulence and warmth feels perfectly at home. Adding the right lighting next to the stone vanity is essential to accentuate its overall impact.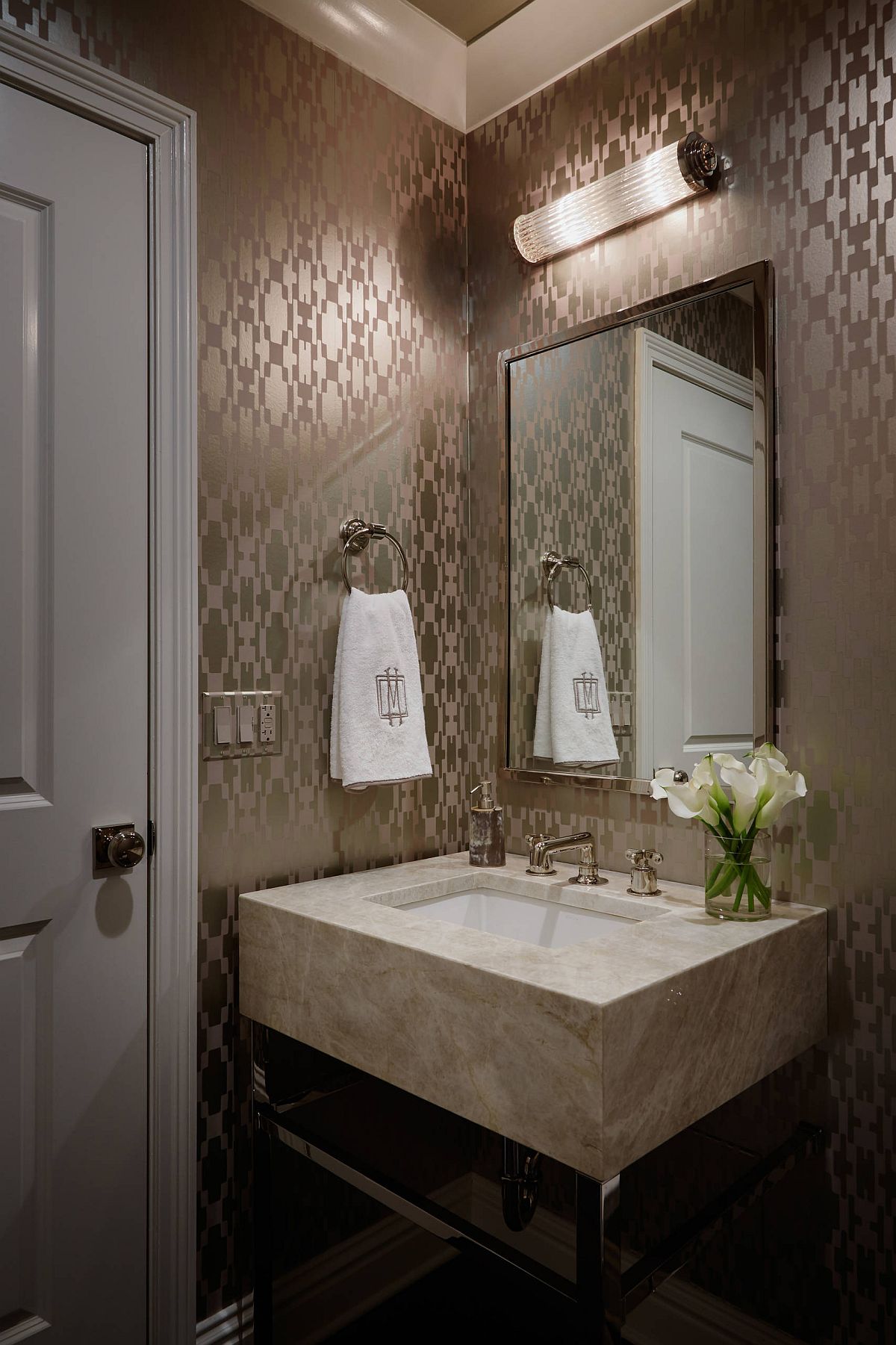 Stone with Other Materials
Even if you are not always committed to stone, you can get a similar look in the bathroom with a vanity in concrete that mimics stone with ease. Combine different materials with the stone vanity makes them even more alluring and you can start off with something as simple as brass fittings for the exquisite vanity. Mirror above the vanity with a similar metallic frame and colorful pendant lights turn the boring bathroom into a smart setting full of life. Wooden accents and a touch of greenery with indoor plants complete these dream bathrooms where stone demands attention!
You're reading Stylish Stone Vanity Ideas: Iconic Trend that Brings Glamour to the Bathroom, originally posted on Decoist. If you enjoyed this post, be sure to follow Decoist on Twitter, Facebook and Pinterest.