We currently live in uncertain times with a global pandemic altering the way we live and keep us captive in our own homes for majority of the time. We have come to accept this as the 'new normal'; even if there is almost nothing normal about it. We have already with our readers many ideas and inspirations that allow them to work from home in a more efficient and organized fashion. Yet, there seems a newfound need for greater 'work from home' solutions that are far more adaptable, comprehensive and provide a dedicated workspace that takes us away from the comfort of our home. It in these times that we are reminded of a brilliant creation like the Minima Moralia designed by Boano Prišmontas.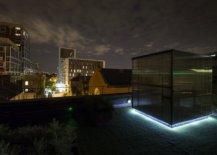 Originally unveiled in 2016, this pop-up studio was designed to meet the changing housing needs in London where young and budding artists are being pushed out because of inflated living costs and rents. This adaptable and modular studio with a translucent skin was designed to serve as an affordable and adaptable live/work studio space that is temporarily occupied by different artists. Yet, in today's world, we feel that this would make the perfect tiny backyard studio or home office that takes you away from your more comfortable living area and allows you to focus on what needs to be done.
The design of each Minima Moralia unit is simple with a smart skylight that brings in natural ventilation, a translucent skin that offers connectivity with the world outside, a highly modular interior in wood that can be rearranged to meet your specific needs and a steel frame that is light and can be easily installed. With a vertical opening that stylishly unfolds to reveal the interior, ample shelf space and a chance for customization, this small delight might well be what you have been looking for in your quest for a cost-effective backyard office!
You're reading Tiny Pop-Up Provides Small Living and Workspace Solutions with Amazing Modularity, originally posted on Decoist. If you enjoyed this post, be sure to follow Decoist on Twitter, Facebook and Pinterest.