Burgatoi: A Nautical-Inspired Apartment With an Unexpected Wall
In the heart of Bilbao, Spain, a modern slash industrial apartment by TENKA ARKITEKTURA has taken shape, transforming a 1960's former office and residence into a unique living space. Named Burgatoi, this renovation project is inspired by the nautical world, where a curved piece of wood, also known as "burgatoi," is used in ship construction. The project's goal is to create a parallel with the curved construction of the living space, adding personality and breaking from conventional design.
The original layout presented challenges with its narrow and elongated L-shaped floor plan, interrupted by vertical structural elements and scattered ventilation "patiejos." However, creative ideas emerged as the project expanded to include adjoining spaces, allowing for a street-facing facade and an outdoor terrace.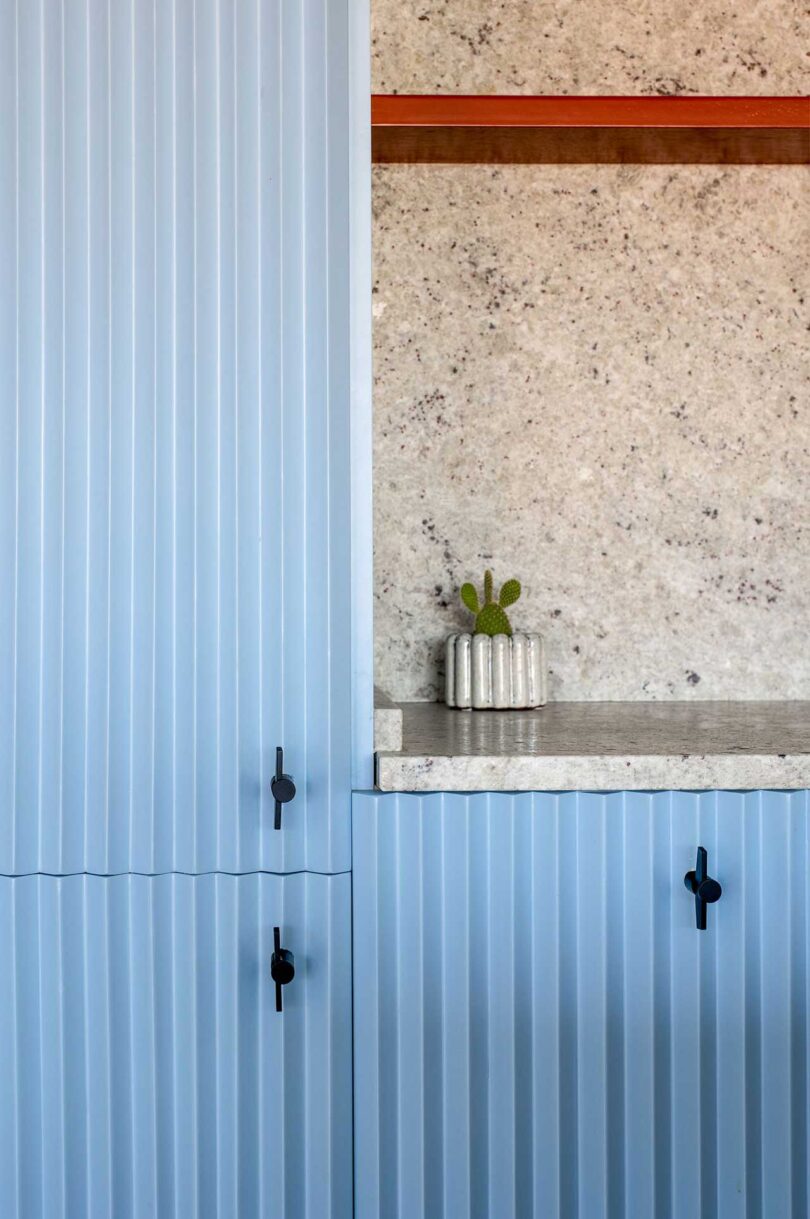 Triangular fluted panels in blue wrap the kitchen cabinets and island, standing out amidst the concrete details and grey epoxy resin floors. The paneling continues through the dining room and down the hallway following the new design's new curves.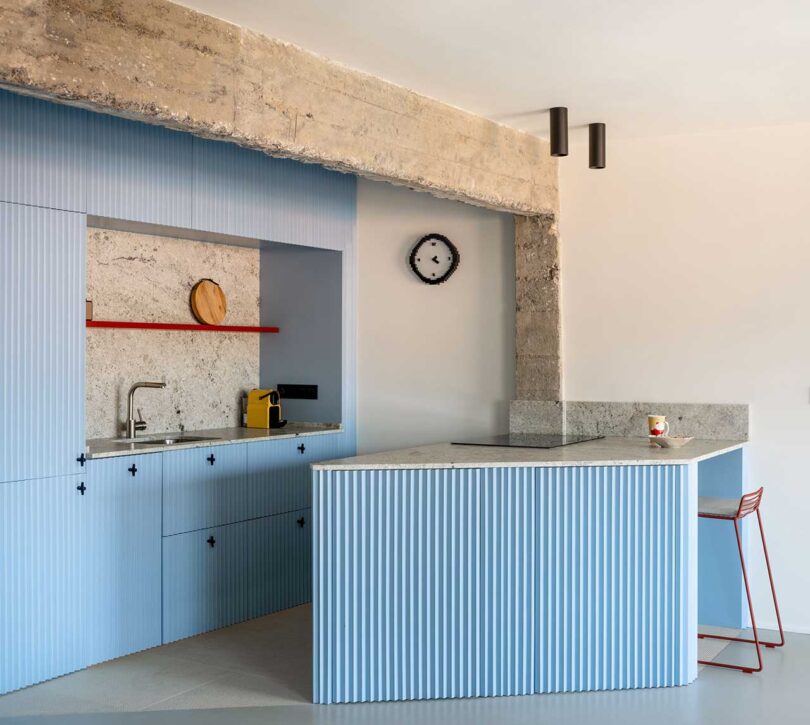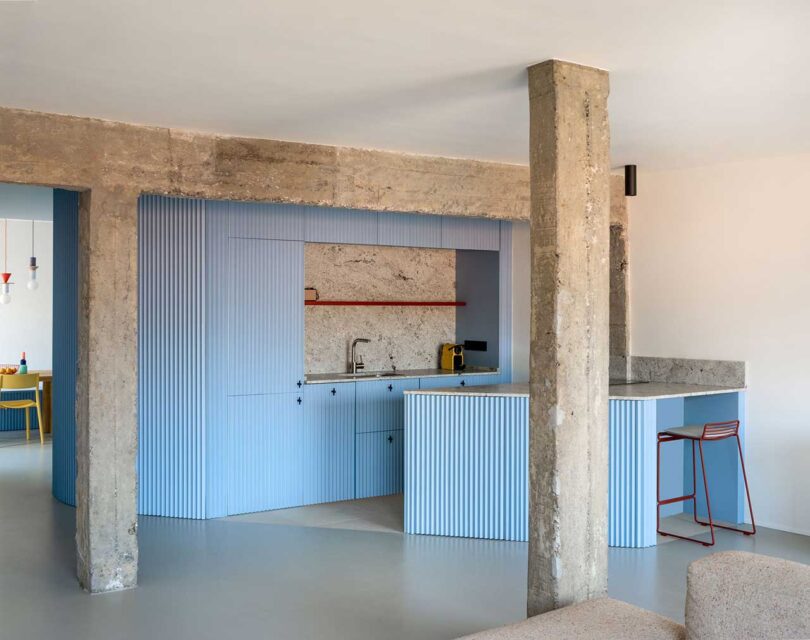 The incorporation of the curve served a dual purpose. Firstly, it allowed for continuous spaces, promoting flexibility in usage and eliminating the need for unnecessary corridors. Secondly, it cleverly concealed the scattered ventilation "patiejos," making use of the hidden spaces for required services and storage. Also living behind the curved walls is the laundry and bathroom.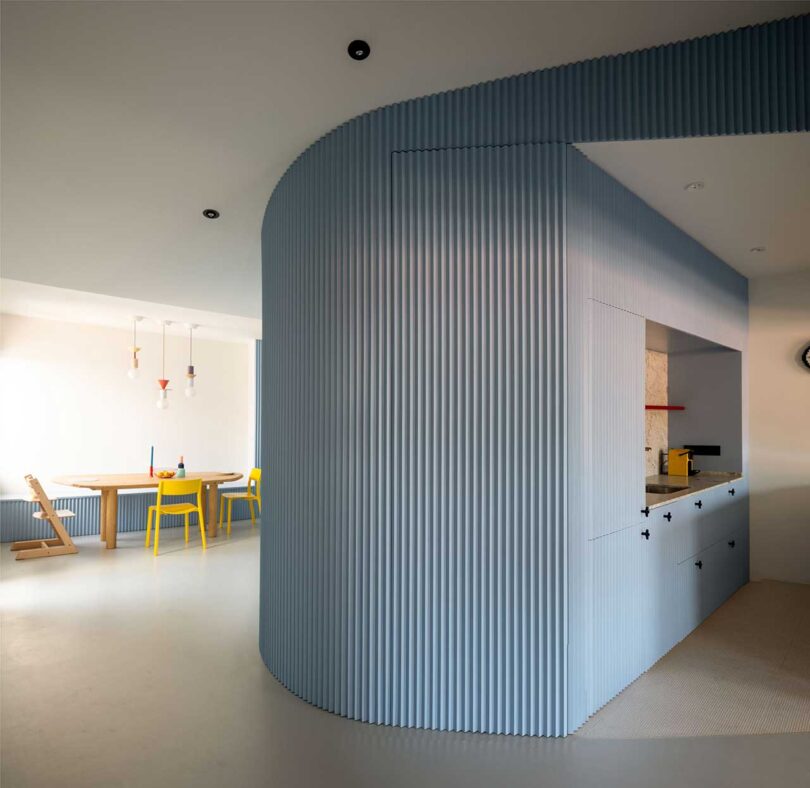 The defining element of Burgatoi is the introduction of a soft curve that shapes the interior spaces, forming a separation between public and private rooms. This continuous, fluted blue wall adds fluidity to the layout and replaces traditional compartmentalized forms, aligning with Le Corbusier's architectural promenade concept.
Following the curved wall from the kitchen into the dining room nook, the color continues with two sunshine yellow dining chairs and a trio of Junit pendants by Schneid.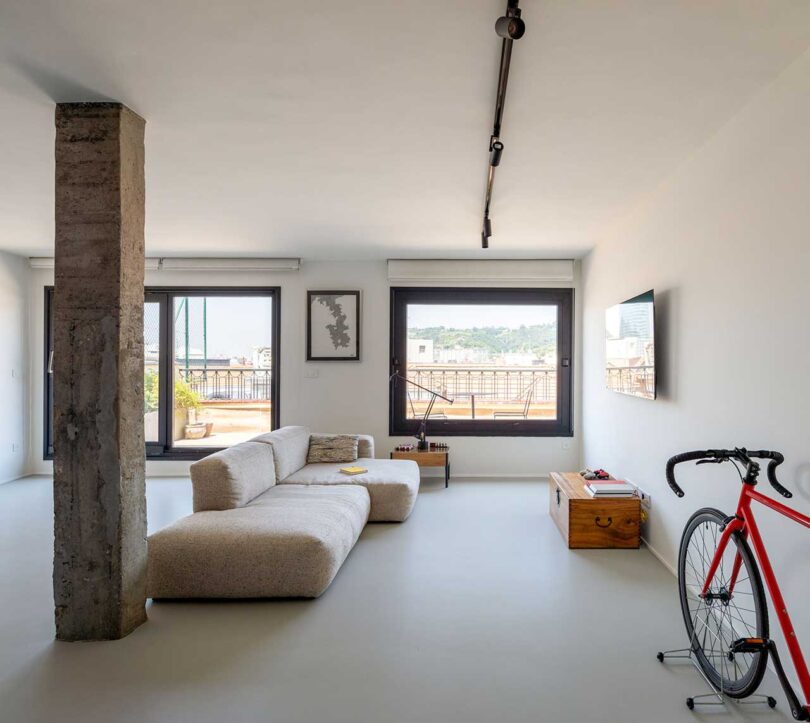 In the bathroom hiding behind the curved wall, dark graphite tiles with specks of confetti-like colors line the floor and shower walls with bright blue shower fixtures that pop.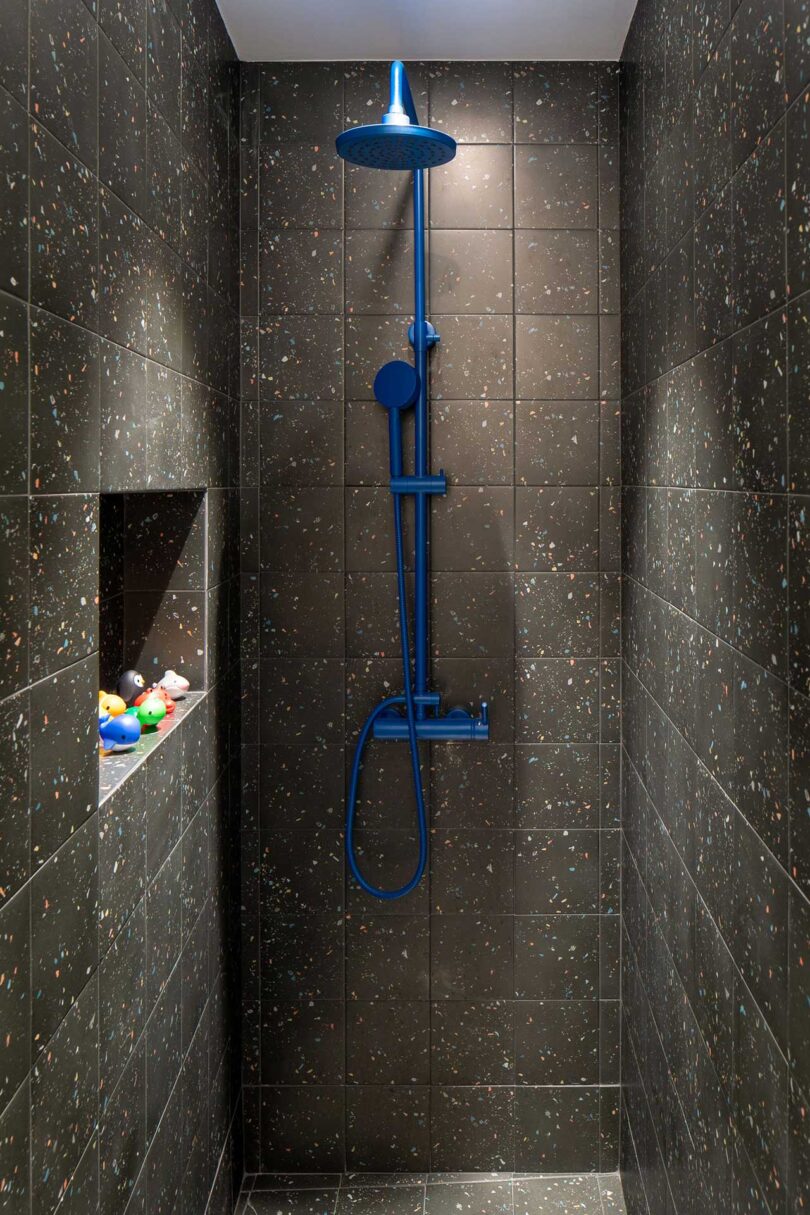 The hallway, or architectural promenade, of Burgatoi culminates in the primary bedroom, emphasizing the transition from the expansive daytime area to the private nighttime zone. The bedroom seamlessly combines different elements, such as an open, step down bathtub/shower, table, dressing room, and bed, creating a visually cohesive space.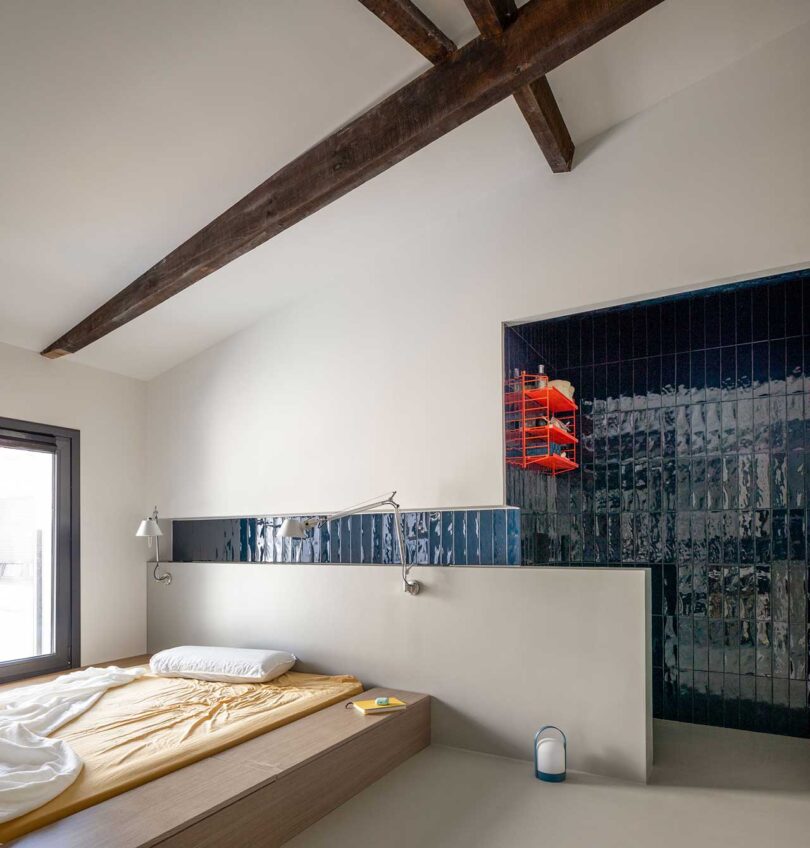 Glossy, ocean blue tiles make the open primary bathroom shine in the neutral bedroom surrounding it.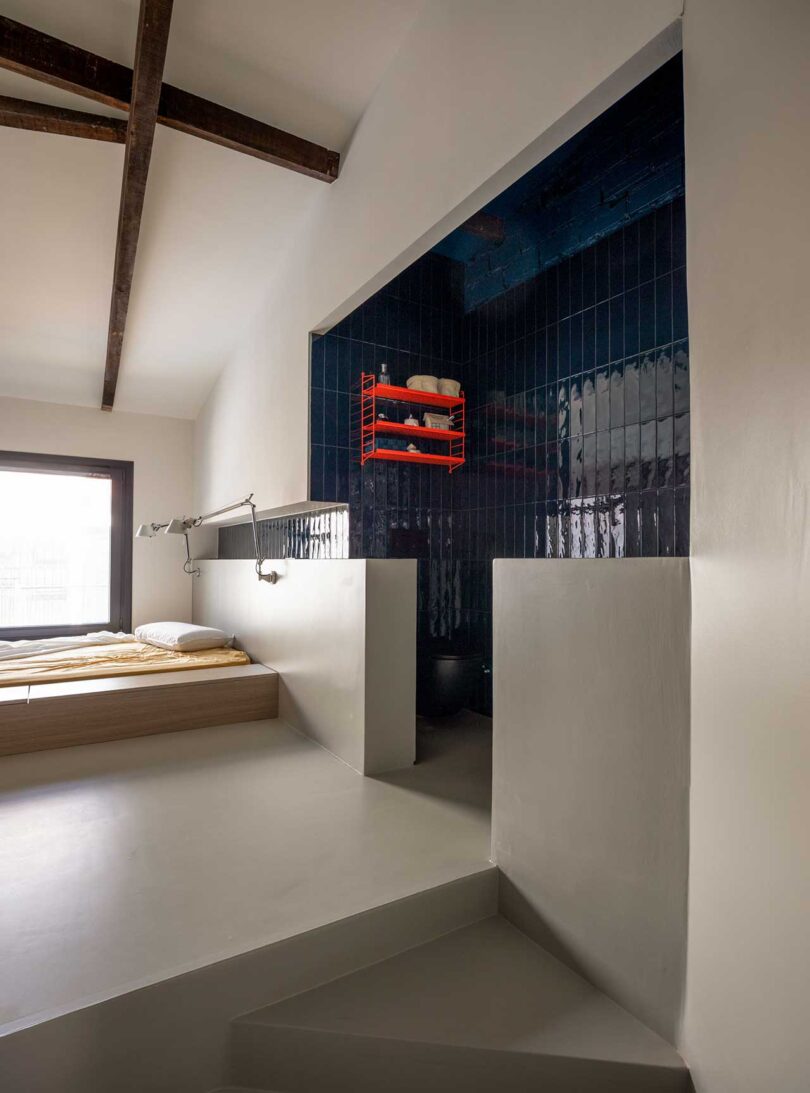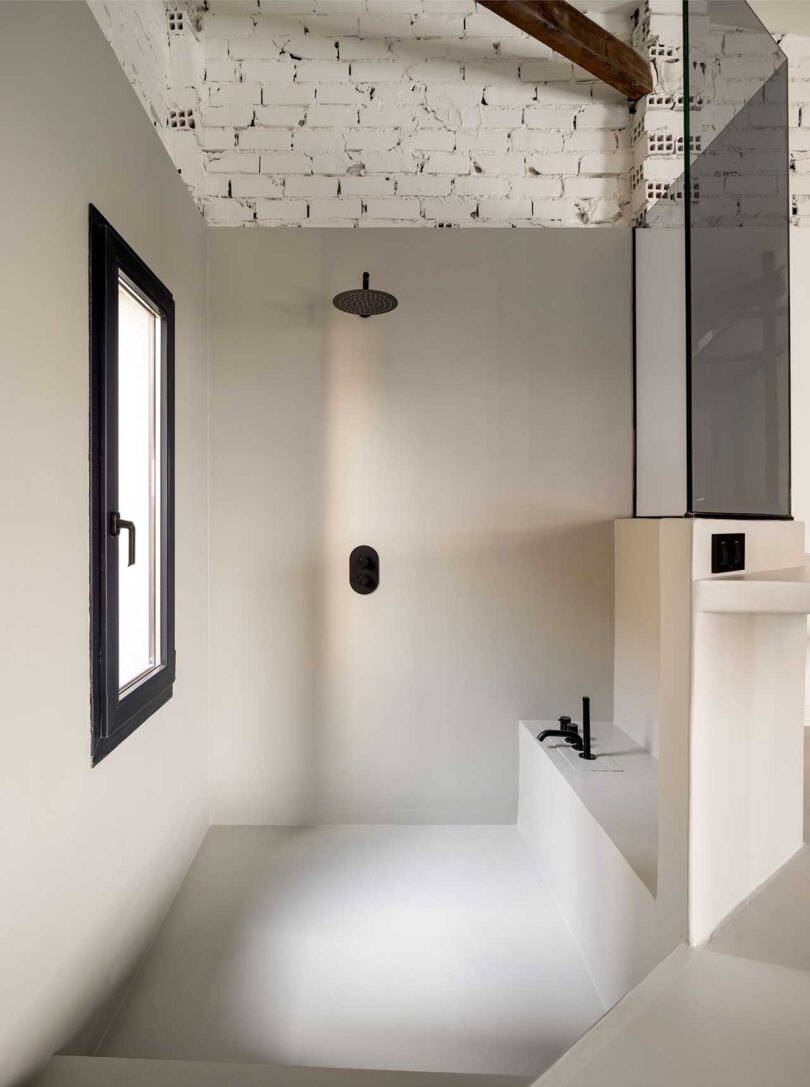 Photography by Erlantz Biderbost.