Budget-friendly and versatile, laminate is a popular choice for kitchen cabinets.
The right combination of kitchen cabinet and countertop materials can create an upscale vibe without busting the budget. Considering major factors like durability, aesthetics, and cost, laminate kitchen cabinets offer a lot of bang for your buck: laminate is relative inexpensive, comes in a wide range of styles and colors, and quality-wise, holds its own compared to wood cabinets.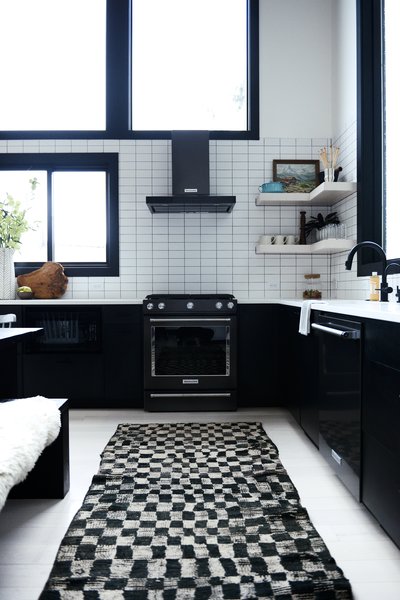 Laminate, a synthetic material fused to particleboard (compressed wood), comes in high-pressure and low-pressure varieties. High-pressure laminates (HPLs), like Formica and Pionite, are higher quality and come in a wider range of color options. High-design brands like Reform and Henrybuilt also offer some beautiful HPL options. Low-pressure laminates, like melamine, are less durable.
"I use laminate cabinets as a less expensive option [compared] to custom wood cabinets from time to time," explains interior designer Casey Keasler of Casework. Keasler also points out that laminate kitchen cabinets are also easy to clean and maintain: "I don't recommend laminates as a countertop surface in a kitchen—but as cabinet fronts, they are perfect."
However, laminate cabinet fronts don't lend themselves to some styles. As Keasler points out, "The edges need to be finished if you want a seamless look, which makes it more difficult to achieve a more traditional or detailed cabinet front." Laminate can also suffer heat or water damage, and chips can be difficult to repair.
Another consideration is your kitchen's long-term value. Kitchen cabinetry can take up a significant part of your new-build or renovation budget, and installation expenses are the same no matter what type of cabinets you choose, so it may be worth it to consider the highest-quality cabinetry that you can afford in the long run. However, if you need to keep costs down—because we all know how renovation costs can quickly skyrocket beyond even the most realistic quotations—it is definitely worthwhile to consider laminates. Here, we round up some of our favorite laminate looks that break outdated stereotypes.
See the full story on Dwell.com: 15 Lustrous Kitchens That Make Smart Use of Laminate Cabinets